An Education Outside The Classroom
Ecology Airboat business takes visitors on a Forgotten Coast ride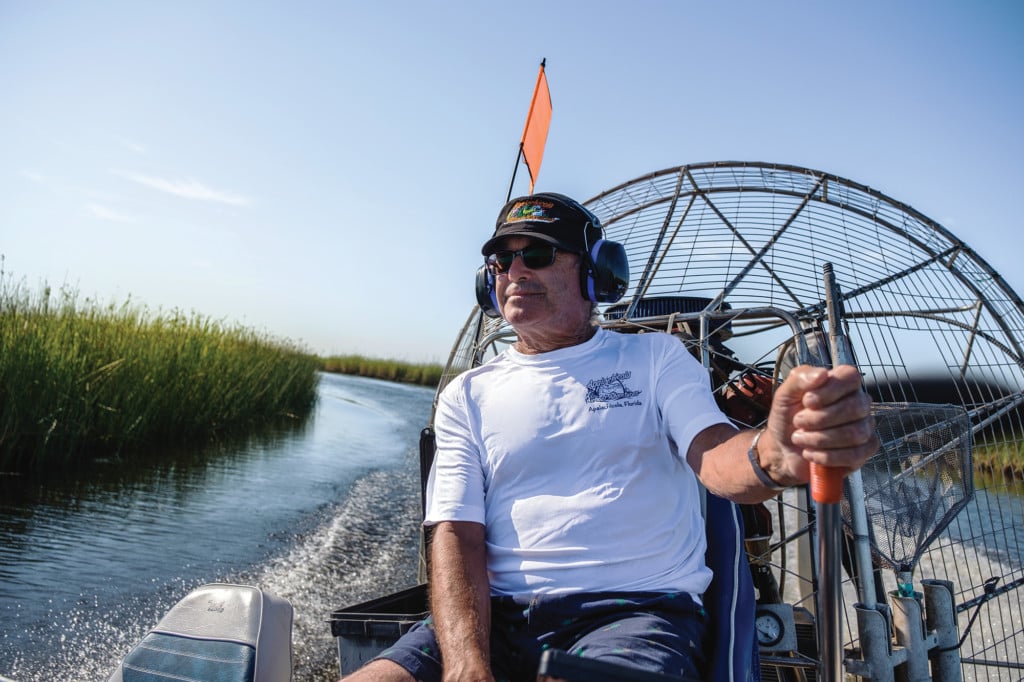 Airboats aren't just for the Everglades.
They're for the Forgotten Coast, too, as Apalachicola Airboat Adventures will show you. And Capt. Larry Covell, who owns the business, boasts that he'll take you where no other boats can go.
"You never know what you're going to see," he said. "But it's all natural."
No show-boater, Covell takes his charge seriously.
He offers one-, two- and three-plus-hour ecotours on the Apalachicola River and Apalachicola Bay, St. Vincent Island included.
"I don't do thrill rides," he said. "I don't do 360s or jumping over logs and that kind of stuff. But you get a feel for an airboat and what it does, like sliding around corners, which is fun. And you get a sense of the area's wildlife, history and ecology."
A third-generation commercial fisherman who served in the U.S. Navy, fished for halibut on a longline schooner in Alaska and operated his own charter boat in his native Washington state, Covell knows boats and boating, as he does the rules and etiquettes of navigation.
He's also very familiar with the Apalachicola region, having lived in the area 20 years and studied its history and ecology.
On a recent Friday, Covell gave me an abbreviated tour upriver. Leaving the marina, he idled the craft in gear to avoid creating a wake until hitting open water, when he went full throttle.
Front end rising and propeller roaring, the airboat skipped across the rippled water, bucking rhythmically to the wavelets.
Soon we entered the river proper and began skirting wide expanses of tidal marshes and seagrass meadows that line either side, sliding around bends and occasionally startling a bird or alligator.
About a mile upriver, Covell decelerated, turned up a narrowing creek to a secluded spot amidst primal growth and shut off the engine — the ensuing silence near absolute save for the chirp of birds and buzz of cicadas.
"We have the highest diversity of plant life anywhere," Covell said, pointing out specific trees. "We also have the highest diversity of reptiles."
Stops and talks are integral to the ecotours, the educational component that serves to enhance the experience.
Covell described his customers as a mix of local, regional and international visitors, the latter of whom he said tend to stop on their way between Orlando and New Orleans.
"We get lots of Europeans, especially from the Netherlands," he said.
They often react with disbelief to what they see. What he shows them is no South Beach or Disney World — the images that shape their ideas about the Sunshine State.
"They say they had no idea Florida could look like this," he said.
Nor did Covell when he ventured into the state in 1998. One day, he decided to motorcycle along U.S. 98 and explore the Gulf Coast. Coming upon Apalachicola, he found himself captivated by its charm and resemblance to the fishing villages of his Pacific Northwest.
"Coming over the bridge, a guy was throwing a cast net, which I'd never seen," Covell said. "I stopped to watch, then drove into town and read the sign at the entrance calling Apalachicola the oyster capital of the world. So I ate some fresh oysters, and sure enough, they were the best. I looked around, saw the fishing fleet, and thought, 'Nice.' "
He continued west to Panama City before deciding to return to Apalachicola.
"West of town, there was a big oyster broker who had semi-trucks, and I stopped to ask if he ever hired drivers," Covell recalled. "He said, 'take your pick.' I said I could be available in two weeks. He said, 'I'll hold the truck for you.' The rest was history."
Covell eventually started a charter-boat business and bought into two restaurants. Then the Great Recession hit. He quit the restaurant business, traded his charter boat for the airboat and started Apalachicola Airboat Adventures.
"I could retire if I wanted," Covell said. "But I like my lifestyle."