Poets and professors share a love language
Accomplished authors David Kirby and Barbara Hamby share a passion for beautiful lines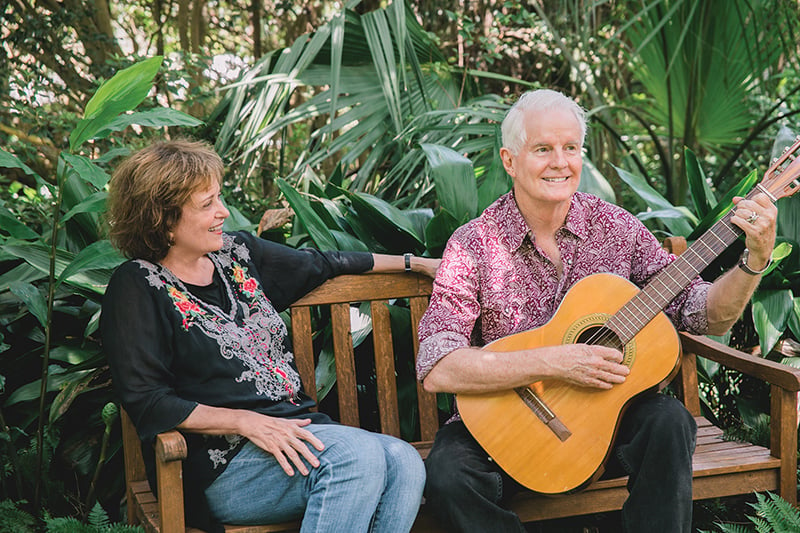 If you didn't know better, you would assume David Kirby and Barbara Hamby were science professors. For 36 years, they have found equilibrium as a married couple, as distinguished professors of Florida State University's English Department and as award-winning poets. What's their formula for balancing love and language? Chemistry.
"Marry someone you can't keep your hands off of," said Kirby jokingly, yet seriously. "When you read advice columns, they say look for someone with similar values, someone you agree with on money and children — those types of things. But I think, if you feel passionately about someone, everything else works itself out. You can't fake chemistry."
They are playful and witty, both in their relationship and in their writing, which is infused with comparisons of Elvis to Tolstoy and of the evolution of rock and roll to Little Richard. They even published an anthology of poetry together, titled, "Seriously Funny." While their humor is well intact, their appreciation of diction and the power of poetry is even more impressive. They are authors of multiple award-winning books of poetry, fiction and non-fiction, Robert O. Lawton distinguished professors and recipients of Guggenheim fellowships.
It is apparent that they adore their jobs and each other; but one is left to wonder if pursuing the same career — especially a creative one — ever becomes a competition. Not for this couple. You will find them composing poems while cooking dinner or talking lesson plans while gardening rather than being spiteful about each other's success.
"In our house, it's all poetry all the time. And it's really beautiful," said Hamby. "The best thing in my life is waking up to David every morning, but also being able to share the love of our careers. We are very supportive of each other, and there's really nothing to be competitive about, because we write so differently."
"If you love someone, things like that don't matter; and we are never competing for the same thing at the same time — it's just worked out like that," said Kirby. "It's pretty much 24/7 talking about strategy. It's so deeply pleasant and rewarding to live with someone who has the same passions and interests you have."
[bctt tweet=""Marry someone you can't keep your hands off of. If you feel passionately about someone, everything else works itself out. You can't fake chemistry."" username="TallahasseeMag"]
Their love of sharing the written word extends beyond the pages they construct in their offices and into the lives of the students they instruct. Kirby describes teaching as an "opium-like addiction." Because they both teach creative writing and poetry courses, their students sometimes overlap, leading some students to refer to the pair as their "poetry mom and dad."
"Without really trying for it, we find ourselves in parental roles, because a good parent is firm with their child and makes demands, but also encourages and nurtures," explained Kirby.
While they are "proud parents" who dote upon their students, they find equal pride in one another, cherishing the small moments of daily life together and celebrating the monumental career landmarks.
"When David was a finalist for the National Book Award, he had to read from his book," said Hamby. "I was sitting in the second row and looked around to see that he had the audience in the palm of his hand. It was so beautiful. That was one of the times I was most proud of him. I know I'm his proud wife, but he's just the loveliest person."
Kirby shares the same enthusiasm for his wife's accomplishments.
"Barbara is a recipient of the Guggenheim Fellowship, which is impressive in itself, because it's excruciating to apply for," said Kirby. "It took me four times to get it. I know one person who it only took one time, and it's Barbara Hamby.
Partners in a supportive marriage, colleagues in a competitive field and avid travelers (Florence being their favorite destination), there must be some aspect of their lives in which they differ.
"We do have different likes and dislikes," assured Kirby. "For instance, Barbara loves champagne and I don't. I love Creedence Clearwater Revival, and she can't stand them."
It is evident that they share a way with words. This couple enlists the capabilities of words on the page, but also in communication with one another. The impact of using language poetically, sincerely, sentimentally and fervently is not lost between these two.