All of a Piece
Beth Appleton is a watercolorist armed with a craft knife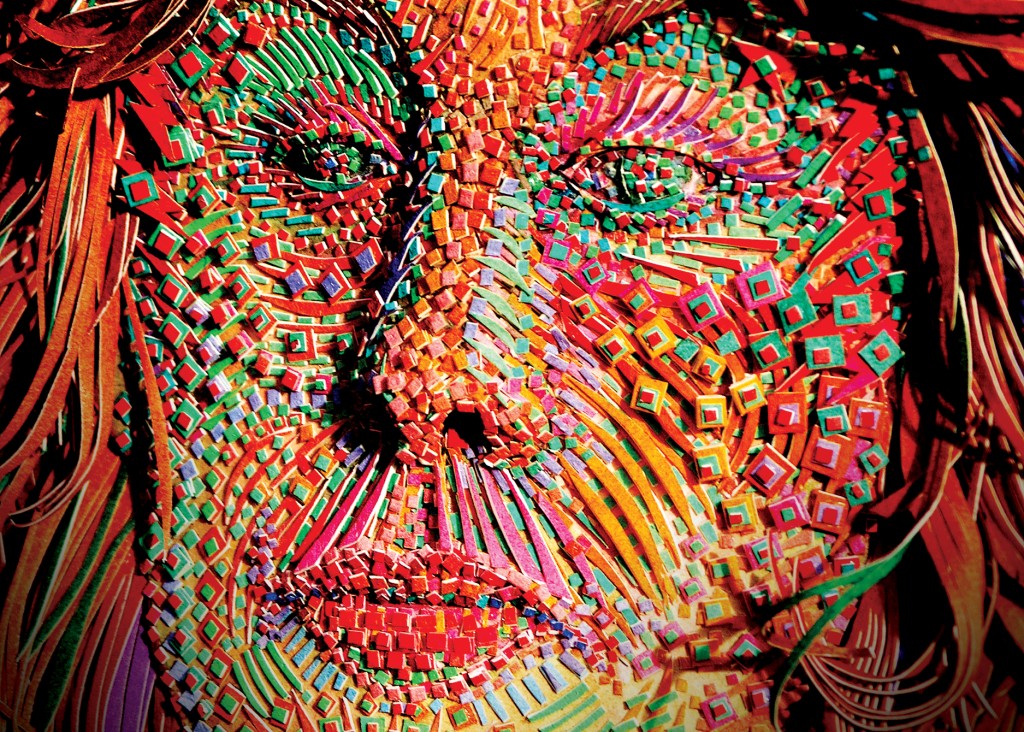 Artist Beth Appleton grew up in "Old Florida" near Ocala, where her aunt maintained a produce and souvenir stand. Among its rows of plastic alligators, orange blossom perfume and such, Appleton found inspiration and began to live the life of a creative. While she never realized her dream of becoming a Weeki Wachee mermaid, she finds that "while lost in art, I can float." She once participated in an artists' exhibit in Atlanta called "Infinitesimal to the Infinite." That, as well as any phrase could, sums up her work. In the smallest life forms, Appleton finds connection, magnificence and grand designs. She lives in coastal Franklin County and in August, fielded a few questions from Rowland Publishing executive editor Steve Bornhoft.
SB: How did you come to art? Who, what or what about you led you there?
Beth: I can't remember a time when I was not creating art; it feels natural, like breathing. I believe everything we see has impact on the art we create, whether we are aware of it or not. Years spent on a farm in Quincy cultivated dragon's blood red and travels to Belize brought out the bright yellows. My life is full of stories that weave through my work. As a young girl, I was verbally shy but discovered so many other ways to express myself. I danced, practiced underwater ballet and played the family piano by ear for hours at a time. I loved my aunt's kitschy roadside fruit stand — it was so delightfully tacky. I sculpted with ditch clay, made clothes for my paper dolls and daydreamed with a pencil in hand. Muses led me to creative writing in high school, and I still illustrate personal diaries and write books. I have always tried to find creative workarounds to solve ordinary problems, which is a kinder way of saying I am compulsive. My life has been rich in adventure and art, always encouraged by my husband David Harbaugh.

SB: What do you try to achieve with your art? How did you intend to affect people?
Beth: The act of making art is intuitive and exhilarating; it is good for my soul. It's healing and keeps me balanced. I hope by sharing it, the viewer will get that spark from it, too. I love the ability to explore a diversity of media; each offers a different opportunity. I try to keep up with technology so I can use the computer as an art tool. Since 1989, I have created watercolor cut paper assemblages. I begin a piece with a general goal in mind but have learned to trust my intuition. If I bog down over spatial issues or question my direction, I sleep on it and wake up with the solution. I never take the ease of that magic for granted. When I am creating an assemblage, I don't really think about how the finished work will affect others. I just get absorbed in the work. Creating art and sharing it are very different. Once completed, many of the macro and microscopic inspired works do become teaching aids. If a person can't see a thing, they might not learn to care about it. The importance of maintaining ecological balance among the tiniest life in our food chain is critical. Everything in nature is connected. I use my art to start a dialog and bring awareness of our hidden world. I do love to see viewers get lost in a piece like I did in creating it. 
SB: How did you arrive at cut paper as your preferred medium?
Beth: By 1989, I was painting with oils on large canvases and drawing on paper with Prismacolor pencils. As a paste-up artist at the Gadsden County Times, a sharp craft knife was the main tool I used to cut and arrange layouts. One night working late in my studio, I ruined the background of an otherwise successful drawing. Without much thought, I just reached for my knife, cut it out and replaced it anew. This simple act gave me the freedom I needed to change my mind, shuffle possibilities and experiment with color. I loved that idea, and my works grew more dimensional with each new piece.

SB: You have written that, "I delight in tiny marine life and stand in awe of infinite sky." Such a beautiful line. You find art in the tiniest life forms. How did that fascination come about? 
Beth: Knowing my love for detail, Dave bought me a microscope in 2010, the year of the BP oil spill. As a boat captain, Dave was familiar with the area, and we volunteered as a team with Apalachicola Riverkeeper to help establish a baseline for comparison. We spent weeks on the water gathering visual data from as many important fragile estuarine nurseries as we could reach in case oil crept into our bay. Later in my studio, I would examine the water samples collected from our bay and all these special places. I was wonderstruck! These images inspired by our micro-world started showing up in my art. I was fascinated then, and I still am.

SB: What are the steps in your creative process?
Beth: 1. Get out of the way. 2. Trust it will flow. 3. Let go and enjoy.

SB: Describe your home and studio. Where do you reside? 
Beth: We have called Franklin County our home for the past 29 years. Our stomping ground has been the estuary surrounding St. George Island, Eastpoint and Apalachicola that lies right at the mouth of the Apalachicola River. Living close to the edge gives us a bird's eye view of the coastline, which can be precarious at times. This has been an amazing place to perch, watch weather and witness change over all this time. Our home and art studio merge, and the space shuffles kinetically depending on projects. We live with two older feral cats that chose us years ago and a rescue puppy we brought home just before the pandemic. We have always grown a garden and live near the wide-open vistas that drew us here. I used to think one day we might build a large studio, but I have come to realize our life and art have always been one and the same. Our home is eclectic and colorful, filled with books, music, computers, microscopes and wonderful works by artist friends. Long tables hold a rainbow of hand colored papers, watercolor palettes and works in progress. I'm like a messy creative storm while Dave makes it all come together: organizing, matting, framing, taking care of the business end of making art a career for us both. We have been a creative team since 1978.

SB: In a world increasingly dominated by social media and ephemeral exchanges, what is the role of art? Can it help heal divides, serve as a source of optimism amid a pandemic?
Beth: I continue to be motivated by other artists; this has been especially true during these months of isolation. Recently I read local writer Susan Cerulean's new book, I Have Been Assigned the Single Bird. Acknowledging she can't save the world, Susan summons activism while honing in on one endangered shorebird. By focusing on diatoms and other indicators of change, I try to do the same with my own art. It's energizing to share this kinship with other artists and we all inspire each other. Art in all its forms has always recorded our history, and as we look back on this chaotic year, we'll find our arts community has found ingenious ways to carry its message forward. As communication shifts virtual, we find alternative ways to share our work.

SB: Among artists, whom do you particularly admire?
Beth: I was profoundly influenced by FSU professor and brilliant colorist, the late William Walmsley. He was always respectfully kind, and I could relate to his quiet ways. His own art amazed me as an art neophyte, and I can still remember his stories. As an educator, it was not really what he said but the unusual way he said it. The fact that he found merit in my earliest attempts as an artist led me to want to pursue it for a lifetime. One person can make a difference. I have always admired our own regional artists and appreciate organizations like COCA, LeMoyne Art Foundation and the Gadsden Arts Center & Museum who stay dedicated to promoting the arts.
SB: Talk to me about the JOBA gallery. How has it been received? What activities take place there?
Beth: Since April 2018, David and I have enjoyed sharing a gallery in Apalachicola with talented visual artist and musician Jenny Odom. The logo letters reflect our initials. Together we bring forth all our talents to make this gallery more multi-faceted than we could accomplish on our own. Along with showcasing and creating our own new works to exhibit and sell, we have featured guest artists. We love helping Jenny host concerts, and we offer exciting forums with poets and writers, too. Before the pandemic, our gallery was growing as a hub for creatives, which thrilled us. The last event we presented was "Sci Café," a collaborative effort with the Apalachicola National Estuarine Research Reserve, which was wildly successful. Because we do occupy a small space, we felt the responsibility to close our gallery to the general public as the pandemic spread, but we continue to look for other ways to help promote the arts. We stay busy producing a documentary that will feature and thank all our past participants, and we're learning how to host Zoom artist interviews. We're just taking it day by day to do what we can to offer an alternative venue where art can continue to inspire.

SB: Please reflect for a bit about your years in Tallahassee and in Gadsden County.
Beth: I have always loved Tallahassee; it was a small college town when I landed there in 1967. I will never forget my first impression driving up from Ocala when the rolling hills started hinting that my life was about to change forever. After graduating from FSU, it was the perfect place to stay and earn my living teaching, and it's where I first launched as a visual artist. After five years of teaching art in Leon County public schools, I left to travel the country trying to find a niche in the art world, but I kept circling back to Tallahassee as my home base. Though I now live 75 miles away, I love staying connected to the Tallahassee arts community and treasure longtime friendships. When I say, "I'm going to town," I mean Tallahassee. While on the road in 1978, David and I read an ad in the Talquin Electric Current: MOVE TO THE COUNTRY! Large old farmhouse nestled in pecan, fruit trees and ornamentals on five very private acres in Quincy. This would become our dream home studio for the next 13 years. During that time, we both worked for the county newspaper while trading our veggies, eggs, pecans and fruit at the former food co-op on Gaines Street. I developed a body of art that we started exhibiting in cities like Miami, Sausalito and Ann Arbor. In 1989, we began transforming abandoned buildings into art spaces around Quincy's Square when we founded "Art in Gadsden, A Regional Exhibition of Fine Art." When its momentum grew past our capabilities, we passed the baton to more capable hands, and it evolved into Gadsden Arts Center, now a museum. We are proud to have planted that tiny seed long ago, but its continued success rests with the dedication of supporters and leaders like Zoe Galloway and the present director, Grace Robinson, who, along with her team, continues to keep arts thriving in Gadsden.
In 1992, we went primitive camping at St. George Island State Park, our favorite getaway. We would soon be moving.