All is Flux
The Nautilus Foundation: Medieval Castle in the Woods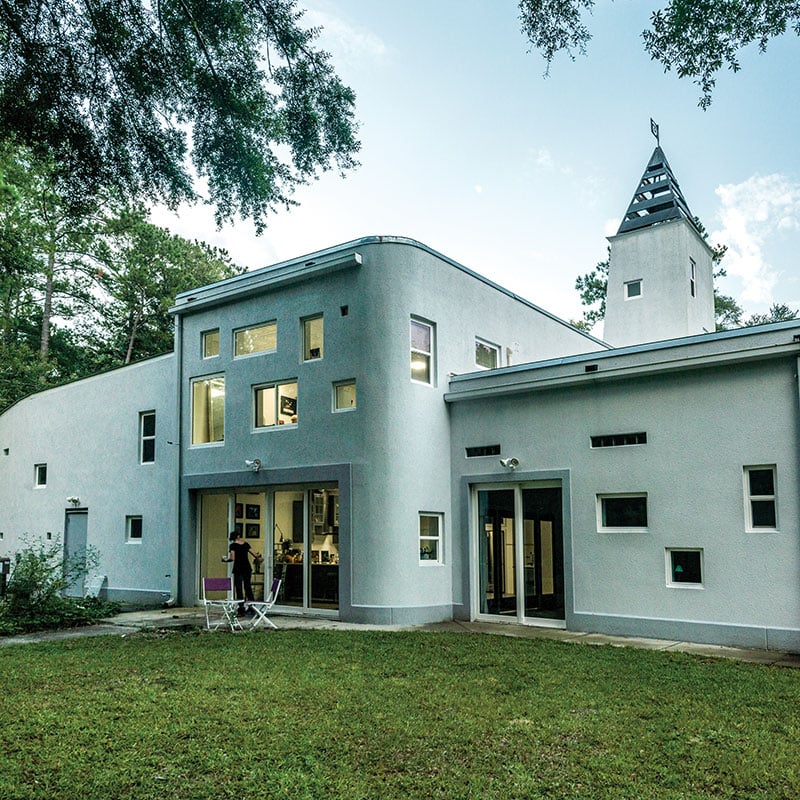 Fiona Hollier was inclined to pitch the large masonry stones she found in her closet — What was she to do with them? Make stone soup? — but they were so weighted with history, she could not.
In 1925, newspaper publisher William Randolph Hearst hired contractors to dismantle the Cloisters and outbuildings of a 12th century monastery in Sacramenia, Spain, for transport to his home in California. But Hearst ran short of cash and the stones made it only as far as a Brooklyn warehouse. Decades later, a year after Hearst's death, two Florida promoters bought the stones at auction and, at great cost, turned them into a Miami tourist attraction, the "Ancient Spanish Monastery."
Stones left over from that project —
it is now owned by the Episcopal Church — were given to an art history professor at Florida State University, François Bucher. Some were placed on exhibit at FSU's Museum of Fine Arts.
Until 2014, the rest were hidden away in a large closet inside Bucher's residence in the woods outside Lloyd, Florida. A scholar of medieval art and architecture originally from Switzerland, Bucher spoke six modern languages (plus Latin) and taught at several universities, including Yale, Brown, and Princeton, before coming to FSU in 1978.
In addition to his home, Bucher built a center for creative research and teaching in Lloyd. His Nautilus Foundation brought exhibits by R. Buckminster Fuller and William S. Burroughs to a campus set on 400 acres of forest. The campus hosted lectures and symposiums by John James, Justus Dahinden, Morris Lapidus, and other major artists and architects of the 20th century. Its Trivium building housed Bucher's 11,000-volume library, including rare books and illuminated medieval manuscripts, plus an extensive collection of paintings, sculpture and other decorative arts amassed during a lifetime of scholarship and travel.
In the two decades since Bucher's death in 1999, the land that comprised the Nautilus Foundation was divided and sold off piece-by-piece and most of his collection sold. What remains are 58 acres and a handful of buildings now owned by a couple from New Zealand, Fiona and Guy Hollier.
A Modern Medieval Castle in the Woods
"I wanted something that had a lot of land. I was happy to have a cabin in the woods," Fiona tells me during a visit to the Trivium, named for Bucher's take on the first three liberal arts: history, the visual arts, and literature. From the outside, the Trivium appears to be a modern medieval castle, with uniquely sized windows and curving walls. Bucher claimed that only the library had straight walls, and that the rest honored Greek philosopher Heraclitus' pronouncement, "All is flux."
A massive circular building lay unfinished nearby in partial ruin. Named for Bucher's version of the other four liberal arts (architecture, design, proportions, and global ecology), the Quadrivium was intended to be the U.S. outpost for the International Academy of Architects. The building, a round auditorium encircled by dormitory rooms, was designed according to the golden ratio, a mathematical quantity considered by architects and artists (such as Le Corbusier) to be aesthetically pleasing. It resembles the curving shell of a nautilus from above.
Fiona and Guy Hollier, a designer of corporate events and shows, purchased the remnant land and all its buildings in 2014 from the Collins Center for Public Policy, a nonprofit organization based in Miami that shut its doors the year before, citing financial troubles. Although the Collins Center employed a caretaker, by then the buildings were in poor condition. According to Fiona, every room needed work. To make the Trivium habitable, extensive repairs had to be made to its floor, roof, and walls, and all of the windows and doors were replaced.
A combination of academic and art volumes left by Bucher and the Hollier's own books are stacked floor-to-ceiling in the library. Many of Bucher's books are still marked with his place, scraps of paper scribbled with notes that may or may not be important.
Fiona pulls out a few items for me to inspect. I leaf through Bucher's own book written with artist Joseph Albers, Beyond Straight Lines. What appears to be a personal photo of Albert Einstein, Bucher's colleague at Princeton, falls from a German-language almanac featuring colorful plate illustrations of wildflowers. Along with all the other books, a thin folder turns out to contain a papal indulgence from 1579, printed in Spanish on some long-ago Gutenberg press. The document grants to the Spanish people "general absolution upon the condition of attending confession once a year, in reward for their service in combating the infidels."
Oh, and those stones in the closet — Fiona decided finally to form a half-arch with them.
The Genesis of an Idea: Junction B
During the '80s and '90s, Bucher lured important writers, artists, and architects of the 20th century to Lloyd. William S. Burroughs, famous for writing the cult literary classic, Naked Lunch, visited and purchased four acres of land from Bucher in 1980. At the time, Bucher envisioned that the property in Lloyd, which he then called Junction B, would nurture a colony of artists and writers.
Claudia Bucher, François' daughter and a performance artist now living in Los Angeles, recalls the beginning of Junction B: "He was like a relentless soccer dad and megalomaniacal auteur obsessed with his grand vision… . I spent many, many hours at the beginning traipsing through the woods marking trees with orange tape while being devoured by mosquitoes to plot the path for the bulldozer to make roads. François and I would trek out in our old green Ford truck, smoking cigarettes and drinking Gatorade and chocolate milk from the Lloyd truck stop, hoping to not get stuck in the mud while arguing on how to do things."
Burroughs visited Junction B several times in the early '80s but ultimately dropped out of the project, purportedly because Lloyd didn't have a methadone clinic. Only two artists could be found to have lived for any length of time on the property: Rick Robertson, a painter who has since passed away; and the sculptor David Heaps, who built a studio where he still molds and fires work for sale in galleries. Bucher invited student artists to install their pieces in the woods to create an outdoor gallery; the shells of these installations are there still.
The land deed for Junction B is not the only evidence of Burroughs in Lloyd. The writer settled a loan from Bucher with manuscripts. When the Collins Center was going under, its personnel invited Florida State University literature scholars to comb through Bucher's papers stored in Lloyd. Out of hundreds of uncategorized boxes of materials, researchers retrieved the Burroughs manuscripts, now available as part of the Special Collections at FSU's Strozier Library. Upon the Holliers' arrival, Fiona donated the remaining papers she found to the library, including Nautilus Foundation plans, research and correspondence. The donation filled a 14-foot U-Haul truck and a large van front to back. These materials are being catalogued by FSU now and will soon be available to the public.
It is not known whether these documents make up all of Bucher's papers. Katie McCormick, the head of Special Collections, notes, "The gap between his death in 1999 and the sale of the property in 2014 means that we don't know who interacted with the material or what may have been moved or thrown away. We don't have a full catalog of the holdings of the Nautilus Foundation at the time of his death."
Nor is it clear what happened to the entirety of Bucher's collection of art, artifacts and furniture, though to be sure, 87 lots were sold at an estate auction in Philadelphia in 2012, including the famous (in Bucher lore, at least) mahogany-frame yellow sofa purchased from Albert Einstein's estate. Not included in the sale were a painting given to Bucher by Josef Albers, his collections of French Impressionist lithographs and Picasso prints, or his illuminated manuscripts, presumably sold separately.
Asked about the collection, Claudia Bucher responds, "I think it is where he put his love. His collection was a container for the love he could not make manifest with real people. I think this is why he was so obsessed with maintaining it into perpetuity. And, I think this is what made his donation of the estate to a foreign, impersonal entity so difficult."
Artifacts of the Past for the Children of the Future
Finding it difficult to populate an artist's colony in Lloyd, Bucher, operating from his Tallahassee home on Groveland Hills Drive, began recruiting a board of directors for a new, more ambitious project around 1986. The Nautilus Foundation incorporated with renowned Swiss architect Justus Dahinden as vice president in 1987 and achieved nonprofit status the following year.
Bucher described the Nautilus Foundation as formed in reaction to the cultural decline of the '80s, performing the service of monasteries that maintained the study of language and literature during the Dark Ages. "The Nautilus, a magnificently proportioned (Fibonacci series), ever-expanding shell would become the symbol of a Foundation which would preserve artifacts and documents of the past for the children of the future, and through symposia, performances, tutorials and fellowships generate solutions addressed to uncertain times," he wrote following his residence in California as a Getty Scholar.
Soon the first construction on the Lloyd property was erected, an audiovisual building dubbed "The Turtle." Tallahassee builder Bill Garrison helped Bucher complete the Foundation's main building, the Trivium. Constructed of steel and reinforced concrete, Bucher claimed it was designed to last 500 years or more. Nevertheless, the building was plagued with cracking walls and a leaking roof. David Heaps remembers Bucher's obstinacy concerning the project: "One of Bucher's specialties was medieval castle foundations. He wouldn't listen to anybody."
George Brooks, one of Bucher's students and now a professor at Valencia College, describes one class meeting in spring 1990. "He came to class with his shirt unbuttoned halfway down, sweaty, and looking like he had been doing manual labor all morning before class … which he was!" That morning Bucher had solved the problem of lifting a heavy roll of rubber sheeting to the roof without the aid of heavy machinery by using a system of pulleys, he told his students. "He was pleased with himself at applying medieval building know-how to getting things done in the modern world that most people would have to hire expensive machinery to accomplish. And that was how Bucher was — he felt a kinship with medieval builders and tried to bring their creativity and skill into his own works."
The Nautilus Foundation officially opened on October 28, 1990, with an exhibit of R. Buckminster Fuller's designs and models. Later exhibitions included William S. Burroughs' "Shotgun Paintings" and "Chernobyl Insects" by Cornelia Hesse.
The Nautilus Foundation's Dark Ages
The Quadrivium was still incomplete as Bucher made a last frantic push to secure funding in the mid-'90s, scouring other organizations' donor lists and submitting multiple requests to foundations. Even after suffering a stroke in 1996, he continued seeking funds to finish the building. He also began searching for an heir to carry out the mission of the Nautilus Foundation.
In February 1996, the Board of Trustees agreed to transfer the Nautilus Foundation to Florida State University. Bucher signed a gift commitment to FSU in June. At an estimated worth of more than $3.1 million, FSU announced the bequest as one of the largest gifts to its Capital Campaign. But the deal ultimately fell apart. By March 1998, Bucher realized that the university was unable to commit the funds needed to finish, repair, and maintain his buildings.
A desperate man entering the last year of his life, Bucher asked the Board of Trustees to approve a donation to the foundation run by Ted Turner and Jane Fonda. That, too, fell through. Finally, with assistance from FSU, the Collins Center for Public Policy brokered a deal with Bucher. On April 9, 1998, Bucher wrote to the Nautilus Foundation's board of trustees asking them to sanction the transfer. "I have decided to donate my personal holdings of land, art, books, and cash to the Collins Center," Bucher wrote, "based on its proposal to operate an Institute for Advanced Study in Lloyd."
In November 1999, Bucher died at home. The Collins Center handled his burial on the property, first in an aboveground sarcophagus according to his wishes, and later in a raised gravesite. The Collins Center made many repairs to the Trivium over the following years. They removed many of the small, oddly sized windows, applied stucco to the outer walls, and installed a fountain in the pond that Bucher himself had dug and stocked with fish.
In 2001, the organization known as the Collins Center for Public Policy split into the LeRoy Collins Institute, based at FSU, and the LeRoy Collins Center for Public Policy, based in Miami. The latter organization, which owned and maintained the former Nautilus Foundation property, tucked an article into one of its 2003 newsletters titled "Lloyd Creek Retreat Open for Business" that offered the Trivium up as a rental space for businesses and associations to use for meetings. Later on, the space would function as a call center, but mostly it went unused. By the time the property went up for sale in 2011 with an asking price of $620,000, its owners were in real financial trouble. Most of the land had already been sold. Bucher's art and collectibles were slated for a separate sale. The buildings and all they contained had to go, too. The Holliers purchased the property for a fraction of its original value.
In Claudia Bucher's assessment, her father allowed misplaced ideas about his legacy to consume him. "He was like a man going down with his ship, and there was no way to stop it," she says. "I believe his impulses were admirable, but he was just too flawed in the end to find the right people to help him realize his vision."
Civilization Is a Theory
"He was trying to incarnate the golden ratio in a form, like the pyramids and the Parthenon," architect and fashion designer Deborah Desilets tells me in her living room, as we read through years' worth of correspondence from Bucher that Desilets has saved. "Architecture is not about bricks and stones, it's about the spirit," she responds to my question about the success of her friend Bucher's projects. "François used to say, civilization is a theory."
Fiona Hollier plans to install a roof garden on the Trivium. She envisions a repaired Quadrivium as a bed and breakfast and an event center as well as a place to host artists as they pursue creative works. While the Holliers have made the Lloyd property their home, the spirit of what Bucher wanted to build is also present. On one visit, as Fiona and I walk past the apple, pomegranate, and fig trees she has planted, she tells me that it seems that "time disappears" while on the property. Bucher designed the Nautilus Foundation to provide precisely that effect for its visiting researchers.
I find it hard to miss the unfinished Quadrivium casting its long shadow. But the Trivium's repairs are as brightly obvious; the building is in better shape now than it was in Bucher's day, and still filled with many of Bucher's books. Behind the scenes at Strozier, the respectful work of cataloguing his correspondence and creative work continues.
A scholar of medieval art, Bucher viewed civilization using a scope of 500 rather than five or 50 years.
"There is of course no way to predict the vagaries or tempests of human history, and to assess which institutions will succeed better than others in the long run," he wrote during the period when his idea for the Nautilus Foundation was fresh. "There can be no doubt that there was and is very little luck involved in the planning of seminal, past and present islands of creative thought … . If they succeed and continue to inspire, and none may, they will deserve our respect and support for their attempt to surmount impossible odds."
---
Select Nautilus Foundation visitors and exhibits:
Paul Sharits
Jean Krille
Paolo Soleri
John James
R. Buckminster Fuller
Spaceship Earth
World Future Society
Hafis Bertschinger
Williams S. Burroughs
Sinclair Beiles
Justus Dahinden
Georgi Stoilov
Jean Marie Bottequin
Katherine Peikert
Jack Dann
Hank Virgona
FSU Dance Repertory Theatre
Cornelia Hesse
Morris Lapidus