All In The Family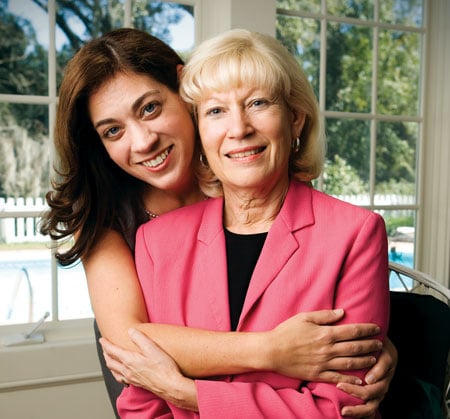 Mother-daughter fundraisers Paula and Angela Fortunas give back every day
Photo by Scott Holstein
Like Mother, Like Daughter
Boundless Energy and a Desire to Serve Their Community Characterize the Work of Paula Fortunas and Her Daughter, Angela
By Dorothy Clifford
They like people.
They are dedicated workers.
They have drive and contacts.
No 9-to-5 hours for Paula Fortunas or her daughter, Angela Fortunas.
They work until the job is done – to their satisfaction. Neither quits until she believes she has given it her best effort.
For Paula, that translates into 65 or 70 hours of work some weeks. Angela simply says it takes more than 40 hours.
Paula's success as president and CEO of the Tallahassee Memorial HealthCare Foundation earned her the Big Bend's 2007 title as Outstanding Fundraising Professional of the Year.
On March 17, she was honored by Tallahassee Community College as an "Outstanding Community Woman" in TCC's program celebrating national Women's History Month.
Angela, CEO and chief development officer for the Big Bend Hospice Foundation Inc. since July 2007, hopes to reach that same pinnacle of success.
"My mother is a big role model for me," says Angela. "I didn't realize it until about five or six years ago. It is important for me to do something I feel good about. I now know how goal-oriented I am, as Mother is."
She also inherited her mother's blue eyes. They're clear and bright. They twinkle, as the two women do when they're excited about a project or a work of art.
Both give a lot of credit to Paula's mother, 92-year-old Pauline Gay. She inspired their love for music, art and history.
"She watches the news with a globe by her side," Angela says with obvious pride.
Paula and Angela arrived at their career choices by different routes. Both have degrees from Florida State University. Paula's bachelor's degree is in music literature and her master's is in finance and accounting. Angela earned a bachelor's degree in history and later completed a master's degree in social science education at the University of Central Florida in Orlando.
An 'Intellectually Stimulating' Environment
It was Tallahassee Memorial CEO Mark O'Bryant's offer to join his administrative executive team that drew Paula away from her beloved Florida State, where she was vice president of planned giving. She had been with FSU for 28 years and raised more than $100 million for the university, but the idea of learning about the hospital and its inner workings firsthand was so "intellectually stimulating" she could not resist making the change, she says.
O'Bryant expanded the duties of the Tallahassee Memorial HealthCare Foundation head, and the idea of learning something new appealed to Paula. Each member of the administration executive staff is on call one day a week to help in the emergency room or other assignments within the hospital.
"That is what intrigued me," Paula says. "We are expected to cover the entire hospital. I always come home from the hospital feeling as if I have really accomplished something."
Her mentor, Ray Solomon, the retired dean of the FSU College of Business, approached Paula at a Homecoming Breakfast in 2003 about interviewing for the hospital job. He was on the Tallahassee Memorial Foundation Board of Trustees and had led the search committee that hired O'Bryant.
"I have known Paula 40 years," Solomon says, "and had worked with her in fundraising. She excels in that area because she has great expertise and great rapport with people. She's a people person and makes people around her feel at ease."
In addition, he says, she has an analytical mind, is superb at solving problems and is a dedicated person.
"That is what makes her very successful," Solomon says. "She's willing to go that extra mile."
Fortunas joined the TMH Foundation in February 2004 and since that time has increased annual giving from $2 million to nearly $9 million.
"Paula has taken the time to learn the complexities of our industry and the operational challenges we face," O'Bryant says. "The TMH Foundation has witnessed unprecedented success under her direction. For that I am tremendously pleased and grateful. But I am equally appreciative of what she brings to the hospital. She has become a familiar face among our colleagues as she makes rounds through the departments and visits our patients."
The money has benefited many functions in the hospital including gestational diabetes services, digital mammography, oncology programs and the cancer center, heart and vascular services, neuroscience center, medical music and art therapy, diabetes center, the Woman's Pavilion, pediatric services, nursing scholarships, renovation of the physical plant, allied health education and the family medicine residency program.
Health care, education and jobs centered around people obviously attract the Fortunases.
Paula's husband, Timothy, retired as a financial counselor for Tallahassee Memorial to become a patient's advocate. Their son, James, or Jamie as they call him, is an
attorney for the state Department of Business and Professional Regulation.
Paula was chief financial officer for the FSU Foundation for 12 years before becoming vice president of planned giving, a position she held for 16 years.
She was a driving force in both of FSU's capital campaigns, raising $35.7 million in the first campaign and more than $50 million in the second.
"Raising money for Tallahassee Memorial is much more local," Paula says. While at FSU, she was out of town a lot, visiting alumni in Chicago, Miami, San Francisco – all over the country.
"After 9/11, travel was much more difficult," she says. That added to the Tallahassee Memorial position's appeal.
She always will have special ties to Florida State, though. Paula has been awarded FSU's prestigious Circle of Gold and the Council for the Advancement and Support of Education's Lifetime Achievement Award.
Retired history professor Donald Horward, who taught both Paula and Angela, remembers them as excellent students. Horward, former director of FSU's Institute on Napoleon and the French Revolution, delights in describing Paula's creative approach to her fundraising job. When Napoleonic scholar and author Ben Weider visited the campus, Paula joined Horward's wife, Annabel, in the kitchen to turn out favorite French dishes for Weider and 18 students.
Later, Weider made a $2 million donation to Florida State.
"I have very pleasant memories of that evening," Paula says today, although she can't recall what they served. Her most gratifying recollection, though, is that "Dr. Weider's interactions with the students and Dr. Horward during the course of that dinner had an exceedingly positive influence on Dr. Weider's decision to contribute so handsomely to FSU."
Paula still can be seen at many important FSU functions. She is on the executive committee for Seven Days of Opening Nights as well as the University Center Club Board of Governors, the FSU DeVoe Moore Center Oversight Board for the Study of Critical Issues in Economic Policy and Government, and the College of Medicine Dean's Advisory Council. She also serves on the Southern Scholarship Foundation Board of Directors.
In addition, Paula is a member of the National Association of State Troopers' board of directors. (Her father was a state trooper from Gadsden County.)
In the community, Paula is a member of the Tallahassee Kiwanis Club, Zonta International, the Economic Club of Florida and the Tallahassee Regional Estate Planning Council. She is a volunteer for the Dyslexia Research Foundation at Woodland Hall Academy. She is very active in her Christian Congregation church. She leads home Bible studies and participates weekly in other Bible-education programs.
"Although she takes her work seriously, Paula enjoys life," says Mary Call Proctor, who has been serving on the TMH Foundation Board for three years. "I've known of Paula for a long time, but serving on the board has allowed me to know her better and appreciate her. She is very thorough. She's always responsible and responsive to whatever comes up. There seems to be nothing she won't or can't tackle … She is truly remarkable."
Pulling People Together
Twelve years spent dreaming up ways to finance projects at two museums and in her classroom convinced Angela that she wanted to follow in her mother's footsteps. She wanted to raise money for a not-for-profit organization that helps people.
Angela had been self-employed as a Realtor for several years, which she says honed her organizational and management skills.
"I'm keeping my license, but I learned that I really like developing programs that educate or help people," she says.
Angela taught high school history in Lakeland from 2000 to 2004. Before that, she was curator of education at the Polk Museum of Art for two years and for five years at Appleton Museum of Art in Ocala following a three-year stint as assistant curator of education and event coordinator at Appleton.
"Museums never have enough money," she says. "Every time I brought up an idea, I was told, 'If you can find the money, you can do it.' Somehow, I always managed to find a way."
Angela also raised more than $50,000 for the Junior League of Greater Lakeland to sponsor literacy programs.
In the early 1990s, arts programs were suffering in schools, she points out. She worked with teachers to devise ways to underwrite instruction and competitions.
One of Angela's most powerful experiences was with the Polk Museum of Art. She developed and managed an educational Holocaust program for 8,000 students. That meant she had to find grants at the local, state and federal levels to pay for the activities. She also found local donors.
The faces of survivors of Nazi concentration camps during World War II and the stories behind those faces will remain with her forever. David Bergman, who lost his entire family at Auschwitz when he was only 12 years old, especially touched her, she says. Bergman, born in Bockow, Czechoslovakia, is part of the United States Holocaust Memorial Museum exhibit in Washington, D.C.
While with the Polk Museum, Angela established a partnership between the U.S. Department of Education and the museum to buy student art for their offices. She
conducted a direct mail campaign for student scholarships at the museum.
Both in Ocala and Lakeland, Angela reached out to individuals and organizations for financial and emotional support. She planned, did the behind-the-scenes chores and welcomed guests for receptions and other social events.
She had grown up attending similar events with her mother – at the Metropolitan Museum of Art in New York City, the New York City Ballet and, of course, at Florida State.
They have to make time for each other today. "We do a lot of planning," Angela admits. Sometimes it works out; sometimes one or the other of them has to beg off at the last minute, she says.
Paula acknowledges a flaw each of them shares. "We both are almost incapable of saying 'no,'" she says. "We have a tendency to take on more projects than we should." Almost as an aside, she adds, "There are so many good things that need doing."
The two enjoy going to musicals and theater productions together. They delight in comparing reactions to art exhibits. They head for the beach around Panama City as often as possible; each has an enviable shell collection.
They like to grab a quick lunch or dinner and swap fundraising ideas.
"Angela has the same drive that her mother has," says Eleanor Smith, a Big Bend Hospice board member. "She does her homework. She's good at pulling people together."
Observers say Angela is as comfortable speaking to civic groups as she is in motivating board members to support activities.
Big Bend Hospice provides compassionate care to individuals with a life-limiting illness, comfort to their families and emotional support to anyone who has lost a loved one. Its services are extended to eight counties: Franklin, Gadsden, Jefferson, Liberty, Madison, Taylor and Wakulla as well as Leon.
"I still have a lot to do to help people in all of these surrounding counties become aware of all that we offer," Angela says.
The Big Bend Hospice Foundation raises more than $1 million a year to finance programs not covered by Medicare, Medicaid and private insurance. Those include some of hospice's most helpful programs: music therapy, the Caring Tree (to meet the unique needs of grieving children and teens) and additional pastoral support and grief and loss services not required by federal and state hospice rules.
Angela is excited about the coming capital campaign to raise money for additional beds and office space at Hospice House.
"I am finding this job enlightening," she says. "People die at all ages. It makes you think how fragile life is … how valuable your time with people is."