All Aboard the Monotooth
David Ekrut's novel grabs readers like a hand on a hilt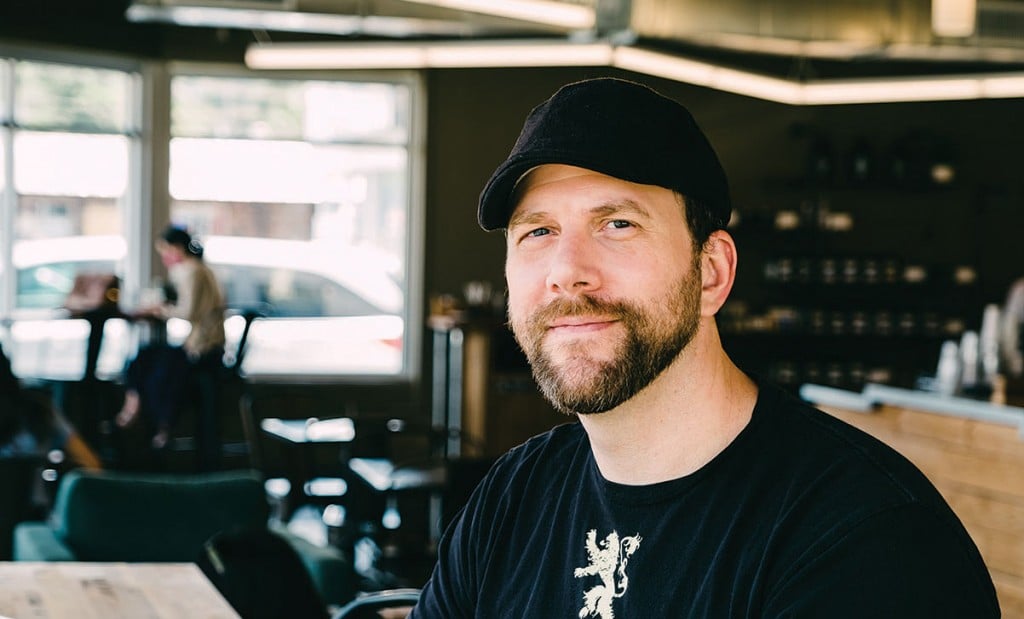 Jaxton Fliste is a stranger in a strange land. He is an outlander, an Alcoan in a place called Kalicodon that is governed by a rulebook, which while portable, details seemingly countless ways in which one might dishonor Virasti, a mythological god of the sun who is believed to mete out punishments for infractions — most especially sins of pride — and prescriptions for restitution and restoration of standing.
Adherence to code translates to worthiness and reward. Departures are dealt with harshly. Fortunes may turn on a dime.
Fliste, or Jax, is the chief protagonist in By the Blade, a novel described by its author, Dr. David Ekrut of Tallahassee, as a blending of Raiders of the Lost Ark and classical epic poetry. Indiana Jones, meet Aeneas. Too, there is an element of L. Frank Baum. Jax is a principled warrior, but he is also Dorothy, traveling nervously about on foot and trying to find a way home. Virasti, an invention of mere mortals, is Oz-like enough.
Journalists choose from among the information, observations and utterances at their disposal and compile stories they may view as objective. Publication editors determine which stories the consumers of magazines and newspapers get to read. Heady stuff. Plausibility is a concern for most writers of fiction, but the fantasy writer is free to create new worlds. What matters most is whether the story works.
Ekrut is a fine storyteller. His writing is vivid, well paced and often scary. A reader of By the Blade finds himself looking over his own shoulder at turns, fearful that an aggressor wielding dirks or a dagger or a drawn bow may be right behind him.
It surely helps that Ekrut has a lot of experiences to draw upon. A product of small-town Arkansas, he has been many things — a thespian, a wanderer, an engineer, a cancer researcher, a martial arts instructor. He holds a doctorate in biomedical mathematics from Florida State University. He can bench press 350 pounds, so give him no grief about the berets, appropriately medieval in aspect, that he likes to wear.
There is much hand fighting in Blade. Characters get cut and sustain gruesome wounds. (Ekrut, it is clear, knows something about taking people down.) Kalicodon is a harsh desert environment of contrasts — riches and sand. There, the slow-footed beasts of burden are monotooths, rhinoceros-skinned with pearly white horns.  
Jax is physically and philosophically attractive. He stands opposed to slavery, which is fundamental to life in Kalicodon. He is clever and cunning and given to an almost reckless sense of humor with which he mostly amuses himself — and Ekrut's readers.
Jax's attitude, always nearing disrespect, gives his rival Aerumod confidence that the outlander will mess up.
He assures Jax, "It's only a matter of time before you defile the Virastian code, master. When the time comes, I will perform my duty and restore my own name. Your very rejection of my property and slavas (slaves) walks a fine line of dishonor. If you were not an outsider, I would call your disdain for my home pompous. But you are an outsider, and you do not belong here."
Quite suddenly, Aerumod's palatial home has become Jax's. Aerumod, the leader of a legion of huntsmen, challenges Jax to a duel, saying, "Before these witnesses, I, Aerumod of the Ironclad, challenge your honor to uphold the Virastian code."
Jax, smarmy and sure, replies, "And I challenge your ability to speak in sentences that make sense." Aerumod grips the hilt of his saber and lunges. It's on.
There is, sure enough, a woman to blame, sort of. Yena is betrothed to Aerumod, but she has fallen in love and in bed with one of her husband's guards, Daren, with whose child she is pregnant (or so Daren wants to believe). Along with getting the "abyss" out of Kalicodon, Jax is resolved to free the imprisoned Daren and Yena, whom Aerumod is hauling around by a chain fastened to a collar when our hero encounters him, so that they might live peacefully together. 
Jax prevails at the duel and, to him, go all the spoils. He is now Aerumod's master and the owner of all that he owned. Aerumod rationalizes that Virasti caused him to lose the fight because he had become too prideful, and Jax is convinced that his new subordinate is slave to all this code stuff.
"A man must know his worth, but he should never revel in it," Aerumod says in defeat.
There are two world views at play in the book: one in which a man or woman may achieve rank by his deeds or be condemned to slavery by his code violations; and another, the case in Alcoa, where — in Yena's estimation — people are born into privilege and lord over others who are more worthy. Both approaches need work. 
Despite his victory over Aerumod, much separates Jax from his goals: palace intrigue, the need to dance around a slave master, an uncomfortable alliance with a bounty hunter and a loyalty undisclosed until the book's end.
Ekrut provides a wild ride. Engrossed, we are trapped aboard a rogue monotooth, but when finally it comes to rest, we are ready for the next installment in his Elwin Escari Chronicles to arrive.
Read More
Books in David Ekrut's series, the Elwin Escari Chronicles, are available at Amazon in audio, print and digital formats. The engaging, well-paced tales combine elements
of adventure, humor and intrigue and remind us that no system of rules, no matter how rigid, can eliminate human weaknesses and character flaws. It's hard to read people. Their intentions may not be clear. Are they clever, mad or both? Ekrut holds a doctorate in biomedical mathematics from Florida State University. He resides in Tallahassee and is an occasional contributor to Rowland Publishing Inc. magazines.
photography by Saige Roberts