Aletheia Lange Moved to 'Cave Country' to Feed Her Diving Habit
Exploring Underwater Worlds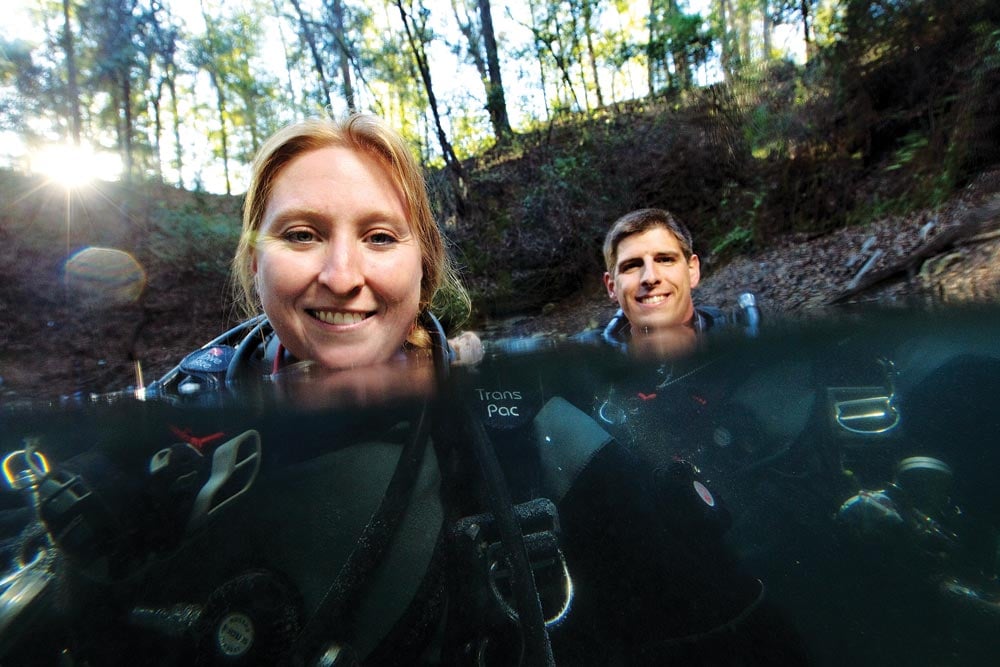 Experienced divers from around the world come to North Florida to gain entrance to its enormous maze of underwater caves. In Tallahassee, for instance, the Leon Sinks cave system spans two counties and includes Wakulla Springs. Mississippi native Aletheia Lange and her German husband Andre moved to Tallahassee from Ft. Lauderdale this year solely because of the area's reputation for great cave diving. Tallahassee Magazine writer Lilly Rockwell sat down with newcomer Lange, who is 37, to learn more about one of Tallahassee's lesser-known environmental attractions.
I have always wanted to live in Tallahassee because of the caves. This is the central location of cave country. Most of the caves are just west of Marianna and all the way to the Gainesville area. There are so many caves in this area it's unbelievable. They are all along the rivers, in lakes — everywhere. There are over 450 sinkholes here, and I don't know how many have caves in them. A lot of them are unexplored.
My father was a scuba diver and so I have been scuba diving since an early age. I got officially certified as a scuba diver in 1997. I had watched films on cave diving and seen things in National Geographic and I said, "You know what, I want to do that." You have to be advanced open-water certified first. Then there are different levels of cave diving.
There are not many of us. People are afraid of it and they don't understand it. Actually only 1 percent of the world's population dives to begin with. And only 1 percent of that 1 percent cave dives. Not that many women do it. Even fewer women can dive and teach, like I do. It's very physical because you have such heavy tanks you have to carry around. Like yesterday, we were (carrying) five tanks with us. Two of them weighed 52 pounds apiece.
I love the beauty of it, the challenge. Not many people get to see what I see. Cave divers are pretty much conservationists. We like to keep everything as we found it. We don't want to disturb anything so when we go into caves we are very careful. I teach my students to take only pictures and leave only bubbles, and kill nothing but time.
I was lost once during one of my training sessions, which was great. My instructors were not lost, they did it to me to teach me a lesson. And we do that to students. You train them not to get lost. You train them not to do "trust me" dives, where your buddy says "We are going to go here and here, do you trust me?" Your answer to that is always "No." You are supposed to gradually learn the cave system.
There are so many caves out there, but certain caves are policed. You go in and have to show your cards and what you are capable of. You also sign a release saying you and your family cannot sue should a death occur. There are a lot more landowners around here that could actually make a lot of money with the caves on their land if they would open them up. You could charge $10, $15 a person to gain entrance to the property. We also do surveying. We will go into the cave system, line it with permanent guide line and then we map it. We can give landowners a map of their cave.
I love to lay line in virgin caves. That is what cave divers love to find the most because it's so untouched. No one else has been there."