Alan Hanstein
From the community of Southwood to high-profile events throughout the world, he's the man you want to know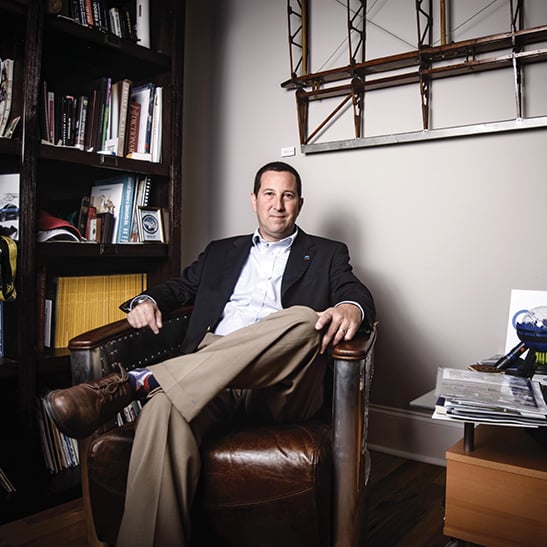 He's a man on the go, and the places he goes are, frankly, amazing.
From the ski slopes of Whistler, British Columbia to an inauguration ball in Washington, D.C., you never know what will turn up next in Alan Hanstein's Facebook feed. He's attended — often with privileged access — the U.S. Open, the White House Correspondents' Dinner, too many shuttle and rocket launches to count, countless Google private parties, races at Churchill Downs and NFL awards dinners at the Super Bowl, just for starters.
How does a father of two from Tallahassee build such an impressive portfolio of selfies and star shots?
Hanstein is the type of person whom people love to know. He seems to be on a first name basis with everyone in town, and yet nobody can quite tell you what he does and what makes him so darn connected to the Who's Who.
Hanstein is actually more reserved than you might think someone who attends Barbara Bush's birthday parties, with the Secret Service looking on, would be. He's most at home in an FSU shirt and shorts, and you're most likely to find him at a local event or watching his kids play sports at Florida High.
He's an aviation nerd and a technology geek, and many areas of his house display the sports and event paraphernalia he's collected from all over the world.
As his wife, Amy, points out, "He never meets a stranger" — and it may well be Hanstein's fearless conversational skills that are one of his biggest assets. They certainly must've helped when he almost turned away a certain high-profile guest at a 2008 Google inaugural party in D.C.
"He told me he wanted to get in to see his brother, Ben," Hanstein explains. "I said, 'You have to be on the list,' and wasn't going to let security bring him in. He kept saying he could see his brother right there (pointing into the room), and I said, 'Who are you again?'
"'Casey,' he said. 'Casey Affleck.'"
In the course of his job, Hanstein has also nearly denied access to the likes of multi-instrumentalist and musician Questlove and actor Joaquin Phoenix.
You might think Hanstein is in event security, but you'd be wrong.
Hanstein is the director of business development for one of the world's most innovative events registration companies, E-vents Registration, LLC. In a nutshell, he provides The List that event management firms use to manage event access.
E-vents handles the online and on-site registration for hundreds of top-shelf events worldwide, for clients such as the NFL, Google, Delta, Target, Discovery Channel, Sony, The Barclays golf, Baron Funds, CBS, the Barbara Bush Foundation, BlizzCon and the International Franchise Corporation.
As the onsite troubleshooter and company representative for E-vents, Hanstein rubs shoulders with the biggest international names in sports, tech and entertainment.
Hanstein was an early part of the company's founding, but his career in events management goes way back to his teen years.
Hanstein hails from Spring Valley, New York, where his mother was deeply involved in events management. (His father was in textiles.) He worked for the Blenheim Group PLC, a large trade conference and exhibition marketing and management firm out of New Jersey.
In facilities such as the New York Coliseum (now closed) and the Jacob Javits Center in NYC, Hanstein cut his teeth on events like the PC Expo — millions of square feet of exhibition space occupied by thousands of companies over four days — where he helped managed the registration and exhibitors of multi-million-dollar displays.
It was at the PC Expo in 1995 that he met Adobe's Chris Warnock and pitched the first-ever commercial application for the early-stage Acrobat program. It happened like this:
In the course of his work at Blenheim Group, Hanstein was responsible for creating mega-binders, called the "conference proceedings," for each conference participant. These would be anywhere from one to three thick binders filled with the presentation notes and appendices from onsite educational sessions.
After printing several thousand copies of these binders, Hanstein knew there was better way to collect and deliver the information that conference attendees required. He founded his own production company, Paragon, and began to consider his options. He liked the idea of putting materials on a CD-ROM (yes, this was 1995), but the medium could not hold enough without great compression.
So, after speaking on a panel at the 1995 Expo with Warnock and a woman from Macromedia, which Adobe later bought, Hanstein approached Warnock about using the Acrobat compression program to create copies of materials that would easily fit on a compact disk.
The idea took off, and so did Adobe Acrobat and Paragon.
Paragon continued refining the CD-ROM materials distribution, and Hanstein continued looking for other ways to use available technology — a topic that intrigues him to this day.
He found one opportunity at the RecruIT job fair in New York City, when he scanned 10,000 printed resumes into Acrobat and made them searchable through the then-bleeding-edge technology of optical character recognition, or OCR. Job fair employers could now use Paragon's CD-ROM to electronically comb applicants for the attributes they wanted.
Offering recruiters an alternative to manually thumbing through thousands of paper resumes took off in a big way. At the height of the program's success, Hanstein was selling his CDs with various types of content across all kinds of conferences for $14 each and producing them at just $0.70 each.
In 1997, Hanstein was asked to create a simple web page for a conference. He was intrigued by the Internet, and, as he was apt to do, he jumped in with both feet and learned how to put conference proceedings online instead of on compact disks.
It was at this time that he also starting doing online conference registrations — his "bread and butter," even today.
Adults of a certain age will remember that back in '97, conference registration forms were distributed in trade magazines with the expectation that they would be filled out and faxed back to the event organizers. Information was manually typed into a computer, and name badges were printed from that list, onsite, using a big box printer.
When Paragon began using online registrations for Blenheim Group events, errors were reduced dramatically and wait-times for event check-ins plummeted. Not only could attendees skip the long lines, Blenheim Group and other clients could staff just six onsite registration terminals instead of the usual 60.
The world of conference registration and management — and conference attendee experiences — changed almost overnight.
In 2005, Hanstein's childhood friend and colleague at Blenheim Group started E-vents Registration, an onsite conference check-in and registration company.
As the director of business development, Hanstein sells the company's services and online registration product to Fortune 500 companies and associations worldwide.
One of their larger event clients, BlizzCon, is a cosplay conference dedicated to connoisseurs of Blizzard Entertainment, a game developer and publisher known for its Warcraft, Diablo and StarCraft series.
The event sells out to its 30,000 registrants in about three minutes.
Because registration fraud is rampant — people will bring their own graphic design software and laser printers to their hotel rooms — E-vents has designed an ever-evolving suite of security features for attendee badges, such as custom fonts, holograms and even U.S. Treasury-value paper stock.
At The Barclay's golf tournament, Hanstein and crew oversee entrance lists for the "million dollar tent" and use state-of-the-art barcoded wristbands that can, on the fly and on demand, tell exactly how many people are in the tent as well as give the identities of those people. It's easy to imagine how valuable this information would be for caterers, fire marshals, etc.; the opportunities for event planners and hosts are almost limitless.
Google is E-vents' most high-profile client, though, and E-vents represents one of just two authorized registration companies for the tech giant. The multi-step, yearlong process that E-vents underwent for approval by Google was grueling, but absolutely worth it, according to Hanstein.
E-vents also manages registration for the "TV up-fronts" in NYC during the third week of May, in which the major broadcast networks announce their fall primetime schedules, including tentative launch dates (e.g., fall or midseason) for new television programming, which may have been "picked up" as recently as the week before.
E-vents also provides badges and onsite services for TechCrunch Disrupt events nationwide, which entered the mainstream consciousness via the HBO series, "Silicon Valley." As the designer for TechCrunch attendee badges, HBO requested E-vents manufacture a thousand mock badges for the series' scenes during its first season.
Hanstein is an integral part of selling E-vents' core business product: on-demand, onsite badge printing and registration, plus capturing and reporting attendee data for show management. However, Hanstein's original company, Paragon, still exists and is now a part of E-vents Registration.
Through Paragon, Hanstein has provided innovation for organizations and companies closer to home — and closer to his heart.
Paragon built the Florida Scorecard system for the Florida Chamber of Commerce, which captures and graphically reports economic data for planners and stakeholders. They also built the University of South Florida's OSHA SafetyWriter program, which "lets (businesses) 'click' together a safety plan" and produces a complete draft of that plan — including policies and procedures — customized with company information.
In working with so many businesses, Hanstein has developed his own philosophy of business, which is, "If you do the right thing, provide a good product and create good relationships, the revenue will come." This philosophy — resulting in a different type of "revenue," perhaps — can be applied to Hanstein's personal life, too.
In Tallahassee's SouthWood community, he's a man who needs no introduction.
SouthWood is home to some heavy-hitters in Florida's political and regulatory classes; but here, these people prefer to throw baseballs with their kids and generally stay under the radar.
Hanstein seems to know everyone and can make the connections between their day jobs and their downtime passions. He's just as at ease with a new mom who is pushing her child's swing at the Central Park Lake playground as he is putting out luminarias with major-league lobbyist Nick Iarossi.
It's these connections that help Hanstein give back to the state, city and local schools that he loves most.
"No other state can compare to Florida for events," he says. "There are more bowl games, spring training camps and major college and professional football teams here than anywhere else."
For that matter, Tallahassee keeps Hanstein and his family very, very busy. They take every opportunity to get out and see the sites.
"It's a great place to raise a family and enjoy outdoor activities, sporting events, education, entertainment and the arts," he says.
Lots of people ask Hanstein how he always seems to know what's going on around town.
"I read the Democrat every day, Tallahassee Magazine every issue and, of course, social media," he explains. "A great secret is the FSU app that shows all the events going on around campus every day, including athletics — but also theatre events and more. And they're almost all free of charge."
Hanstein's job often requires him to be on the road (he doesn't even want to calculate the time he spends away from home); but thanks to his wife, Amy, the family is always connected. As the Director of Employee Relations at FSU Boosters, she does a fair amount of juggling, herself.
"I can't tell you how much our family depends upon Amy," Hanstein says. "She keeps us organized and balanced."
Perhaps through her influence, Hanstein really holds himself to a strict rule when it comes to family time. "I do travel a good bit," he says. "But when I am home, I try to be really home — and present."
The Hansteins have two children at Florida High: Hunter, a junior who plays football (a long-snapper ranked 52nd, nationally) and throws shotput; and Hannah, an eighth-grader who plays the mellophone and French Horn in the school bands. Both kids have great academic records that Hanstein attributes to their diligence as well as their environment.
"We love Florida High because the K–12 setup is a great environment for kids, with the synergy between the smaller and older children," he explains.
Hanstein held the position of Chairman of the Board at Florida High, and he's heavily invested in the community in many other ways, such as through his support to the Challenger Learning Center, the Stacey Webb Arts Foundation, Making Awesome, the LeMoyne Art Foundation, the Florida Disabled Outdoors Association, Honor Flight and Sharing Tree. He has also served on the FSU College of Education Development Board and the University Center Club Board of Governors, is a former elected official on the Capital Community Development District (SouthWood's CDD) and is a former KCCI Catalyst.
His newest passion is The First Tee, a national organization that seeks to bring the lessons and skills of golf to children in schools. Hanstein has helped to get the organization into 17 Tallahassee schools, so far, with a goal of having a full chapter in place within the next year.
The golf analogy — practice and diligence — fits with one of Hanstein's belief that kids today need to be OK with hard, slow work.
"A large portion of my job (at E-vents) is troubleshooting," he says. "I think it may be the biggest challenge for our youth today. They need to learn how to encounter a problem and calmly and methodically go through the steps to solve it, one step at a time."
Hanstein is the type of person who soaks it all in, no matter what he's doing or where he is. Living life to the fullest is his modus operandi, and it creates a vibrancy that you can feel when you see him interacting with his family and neighbors.
Whether he's proudly appreciating Hannah's music or he's off on his own watching the Miracle League for disabled athletes at Messer Park, you can be sure that Alan Hanstein is "all in" — and he will document it with a selfie.
---
As an international traveler, Hanstein recommends taking the time to get outside and explore whenever possible. As an international traveler who is also a tech guru, Hanstein offers these specific, tech-friendly travel tips:
» Use SeatGuru to choose your airline seat based on the plane's actual specifications and seat pattern. SeatGuru employs crowd sourcing that allows users to "rate" a seat based on traffic around it, legroom and more.
» Get and use the American Express Platinum Business Card, because it gets you into many airline executive clubs. The credit card that you already have may also offer its own set of travel benefits. Look into them and use them!
» If you're looking for something to do, go to StubHub, an online ticket exchange for local events of all kinds. They have great guarantees and customer service.