Al Lawson Takes the Lead for Senate Democrats
Legislature's 'Dean'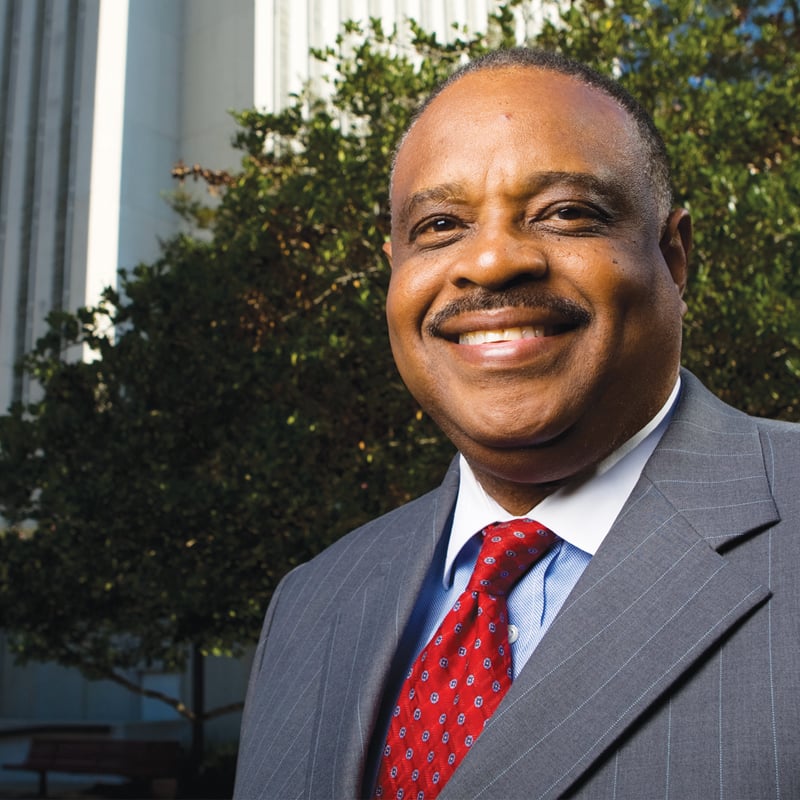 At the age of 8, working the Gadsden County tobacco fields for a dollar a day, Al Lawson never dreamed he would one day rise to one of Florida's most powerful political posts.
But stepping into the role of Democratic leader of the state Senate this fall, the 60-year-old Lawson took a prominent seat at the legislative table of power, where he'll work with Republican leaders to plot Florida's public policy course over the next two years.
Influenced in his early years by historical and contemporary greats including Abraham Lincoln, John F. Kennedy and the Rev. Martin Luther King Jr., Lawson decided to turn his sights to righting some of the wrongs he saw while growing up in North Florida. He remembers standing at the side entrance of the McDonald's on Tennessee Street in Tallahassee to get a hamburger, wondering how it could be possible to contaminate the courthouse's "white only" drinking fountain with just a sip of water, and staring at tattered textbooks with missing pages that were hand-me-downs from the white schools.
During a 26-year career in the Legislature, Lawson has battled to help the poor get better medical care, fought for more school dollars and won state compensation for the black victims of the 1923 Rosewood Massacre in Levy County.
An insurance executive whose Senate district crosses 11 counties, including Leon, Lawson recently sat down to talk with Tallahassee Magazine writer Linda Kleindienst about his career, his accomplishments and his disappointments.
TM: Because of your 18 years in the House and eight in the Senate, you are now the longest-serving member – the "dean" of the Legislature. What does that mean to you?
AL: It makes me realize I've been in the process a very long time. I think I have a responsibility to show good leadership qualities … and encourage members to work hard on issues. I need to be there as a person they can look up to.
TM: Why did you go into politics?
AL: When I was 6 or 7 years old, I used to read a great deal about Abraham Lincoln being a country boy and all the problems he had getting elected. I kind of identified with being in the country, from a poor family, and I thought that maybe I'd have the opportunity to be like Abraham Lincoln. That kind of stuck in the back of my mind. In high school I was not only an athlete, I was president of my sophomore, junior and senior class. I decided to major in political science in college (Florida A&M University) and pursued a master's in government and public administration (Florida State University).
TM: What was the atmosphere at the Capitol like when you were first elected in 1982?
AL: This was the first time people looked around the House chamber and saw a large influx of African-Americans and women. The good ol' boy network was showing signs of cracking. You had lobbyists wondering, "Who is this new group? How are we going to interact with them?" This was not what they were accustomed to. It took everyone a while to get adjusted.
TM: What was your legislative district like?
AL: I was the first African-American to get elected to the Legislature since Reconstruction. And the majority of my constituents were white. They used to call me a "black redneck."
TM: What is the biggest challenge you'll face over the next two years working with the Senate's Republican leaders?
AL: Our biggest challenge will be the budget. How can we work together to stabilize the budget so we don't have to make too many cutbacks in education and health care? And how do you stimulate the economy to keep people working?
TM: Have you had a major disappointment?
AL: The lack of commitment by the Legislature to fully fund education in this state. We're still struggling. Teachers aren't paid well and now they're even being laid off.