Aiming to Serve Those Who Served
Eric Barron Has Big Dreams to Serve Vets in Tallahassee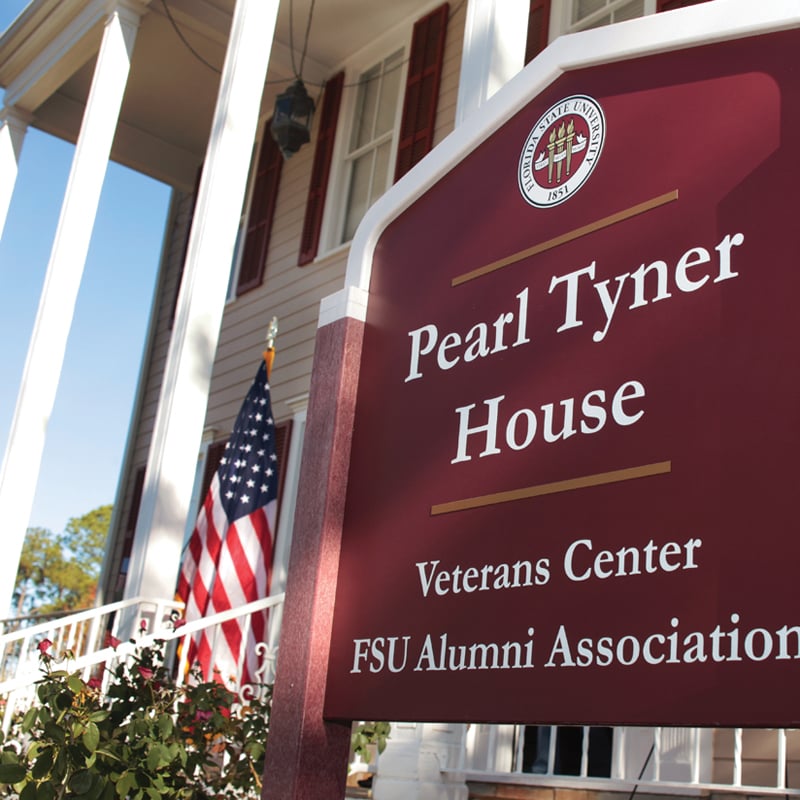 Eric Barron has big dreams for serving veterans in Tallahassee
The president of The Florida State University, Barron wants FSU to be the most veteran-friendly public university in the nation. He's making progress, but there's still work to be done and money to be raised.
It was just a year ago that Barron and the FSU chapter of the Collegiate Veterans Association held a press conference to announce several initiatives to assist veterans, including establishment of a campus Veterans Center where all services and resources geared toward veteran success could be housed under one roof. Temporarily located in the Pearl Tyner House at the FSU Alumni Association complex on West Tennessee Street, the FSU Veterans House will ultimately share space with campus ROTC and the World War II Institute in a new building on campus. Retired Vice Admiral Gordon S. Holder is leading the fundraising drive for the 35,000-square-foot facility.
With the hiring of retired Air Force Col. William "Billy" Francis to lead FSU's Veterans House, student-veterans have an administrator who knows their issues. A 1986 FSU graduate in economics who went on to earn three master's degrees in a 25-year military career, Francis had been a professor and chairman of FSU's Department of Aerospace Studies.
One of the first things he implemented was a special red, white and blue cord denoting military service to be worn by veterans and ROTC cadets during graduation ceremonies.
"We wanted to offer this special recognition to show the university's respect and gratitude for our student veterans' service to our country and for the future service of our ROTC graduates," Francis told a reporter at the August graduation ceremony. "The cord is important because it is worn by someone who wrote a check payable in an amount up to and including their life to the people of the United States of America. It is a salute to this most honorable commitment."
The School of Communication Science & Disorders, a part of the College of Communication & Information, is raising money to open a Veterans Specialty Clinic on the fourth floor of its new home in the renovated Warren Building in downtown Tallahassee. Currently, veterans in the Tallahassee area have to travel to Pensacola or Gainesville for treatment of speech and hearing problems, often the result of concussion blasts and other combat injuries, but sometimes related simply to the aging process.
"This is another initiative in the effort to make Florida State the most veteran-friendly campus in the country," said Larry Dennis, dean of the college. "We strongly believe that our vets have traveled enough in serving our nation, and they and their families deserve to get their speech and hearing care closer to home."
According to the U.S. Department of Veterans Affairs, 923,836 service members and veterans received federal education benefits in 2011. Of that number, almost two-thirds served after the 9/11 terrorists' attacks. The number of veterans taking advantage of the educational benefits under the latest version of the GI Bill, passed in 2008, is expected to increase.
But the overwhelming majority of veterans are not completing their degrees. According to a report released by the University of Colorado at Denver earlier this year, 88 percent of veterans drop out during the first year, and only 3 percent go on to graduate.
Student-veterans tend to be older than other students, and they have been out of school longer because of their time in the military. With the United States fighting wars in both Iraq and Afghanistan for much of the past dozen years, most veterans have seen combat and bear the scars of their sacrifice. The transition from military to civilian environment can be difficult, and adjusting to the unstructured life of a college student even more so. Studies have shown that student-veterans progress at the same rate as non-veterans at schools with support services tailored to their unique needs.
Nathan Basford Jr., a financial aid specialist at FSU, said sometimes in the course of dealing with students, he learns something that doesn't pertain to financial aid but still can affect student progress and well-being. For example, a young man recently came to check on his financial aid and mentioned that his mother usually kept track of his benefits. Through the course of their conversation, Basford learned the mother had died three days earlier. Basford alerted a colleague in the Office of Undergraduate Studies to the situation.
"It takes the entire campus working together to create a supportive network," Basford said. "Veterans often won't ask for help, so we have to make sure they know it's available."