Aging in Nearby Places
Independent living, moments from caregivers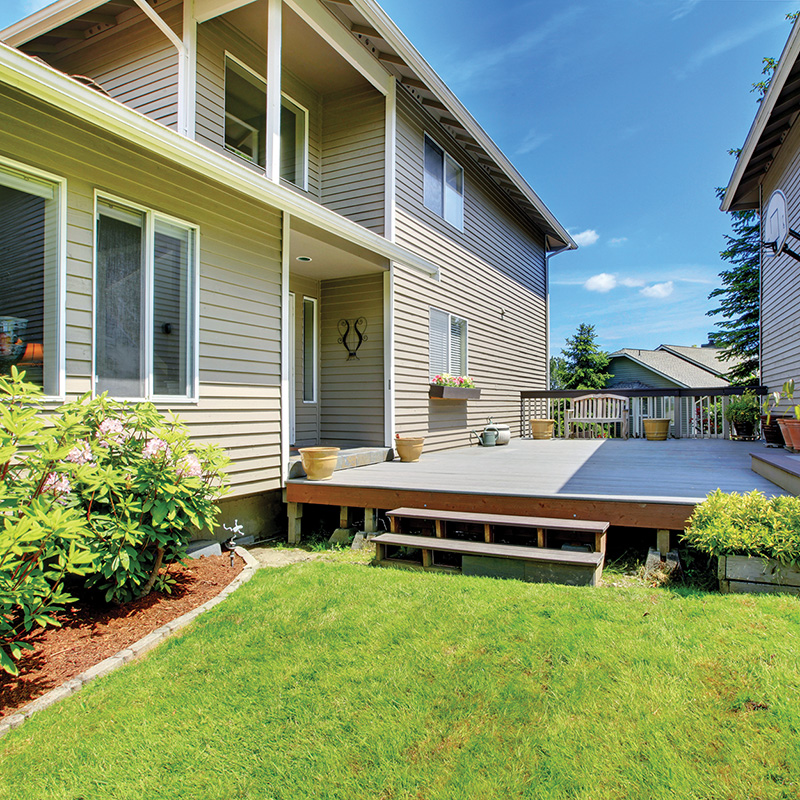 As the cost of care at nursing homes and assisted living facilities gets more and more expensive, the need for an alternative is clear. And an obvious alternative might be the traditional ol' "mother-in-law" quarters, whether it's some form of semi-attached dwelling or stand-alone cottage.
Right off the bat, we can say that "granny pods" aren't a solution for everyone. Many adult children live in apartments, townhomes, duplexes or other places where space (and zoning) is restricted. But if you have your own home on, say, an acre or more of useable land, your local zoning board and building codes are OK with your plans, and you have the funds to do it, then it becomes feasible to set up a modest living space where your loved one can "age in place" in private.
Clara Chandler, 77, of Tallahassee, said she enjoys life in the 1,000-square-foot "home" that her daughter, Traci Jones, and son-in-law, Pat, built for her around 2009. She moved in because her old home and property were getting too much to handle by herself. She sold the house and used the proceeds to build the "addition" in the Jones' backyard. In exchange, Traci and Pat agreed to be her caretakers, even though Clara is still quite independent. The multi-generational family situation works well for them.
"I don't think any of us have (regretted it). I reap the benefits more than they do," Clara said. "I get to see my kids and my grandkids, and yet I have my privacy and so do they. So it's a very positive thing, as far as I'm concerned. The tradeoffs I made were minimal. I don't have to take care of an acre piece of land or re-roof my house or replace my water heater."
Pat said that Clara's place is described by Leon County as a "granny flat." This particular dwelling is independent from the main house and is "connected" via a screened-in walkway/porch. The dwelling has most of the comforts of a regular home, with added safety features of walk-in shower, wide hallways and easily accessible cabinets. Even though she doesn't use a wheelchair, these features might come in handy if she ever does.
"We were anticipating the long run," Traci said. "It's really an efficient space."
Staying in place is becoming a real issue, according to the AARP, which reported recently that 87 percent of adults age 65 and up want to stay in their current home as they get older. Among people age 50 to 64, 71 percent of people want to age in place.
It's probably a no-brainer to think that most people would prefer the comfort of familiar surroundings to living in a strange new place, but there's no doubt that financial factors are involved, too. The average cost of nursing home care is $50,000 a year (or more) and rising. Such a recurring cost could be devastating for some folks. By contrast, Clara's dwelling cost somewhere in the $130,000–$140,000 range to build, and it's an actual home instead of a single room at some facility. Traci said her mother was fortunate to be able to fund the custom-built abode; not everybody has that chance. In the long run, she's recouped the costs of monthly nursing home care. The only other costs are food and utilities, which are taken care of for her.
"We pay one utility bill. This is really two houses, but it's all built as one," Pat said. "We have lived here before the addition and after, and it makes a difference, but not much."
---
Extended Families
Multigenerational homes refer to several generations living together in one dwelling. This often consists of grandparents residing in the same homes as their children and grandchildren. More often than not, the grandparent moves in.
57 million – The number of Americans living in multigenerational households. (2012)
18.1% – Percentage of United States households that are home to multiple generations. (2012)
22.7% – Percentages of adults ages 85 and older living in multigenerational households. (2012)
---
Source: Pew Research Center