Agenda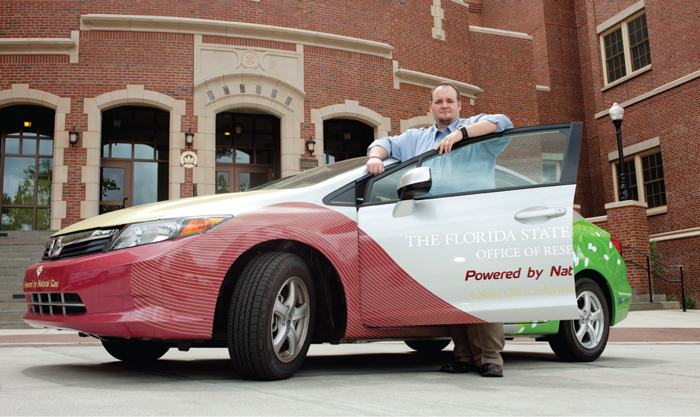 A compendium of business news.Praise for the Appraiser▪ Leon County Property Appraiser Bert Hartsfield and his staff will be honored with the Certificate of Excellence in Assessment Administration in September. Just 10 appraising offices have ever won the certificate, presented by the International Association of Assessing Officers, and Leon's office is the first to do so on its first try. The award recognizes appraisers for best practices, teamwork and achieving a high level of satisfaction among peers, employees and the wider community. "We have built a team of educated, courteous and forward-thinking professionals," Hartsfield said, "and this award validates all of our efforts." Connie Zeigler, director of Real and Tangible Property, coordinated Leon's application. Her work took 15 months and required extensive detail on data collection, technology, GIS mapping and valuation of property — 13 categories in all. — Marjorie Menzel
Heard on the Street Marc Thomas with FSU's natural gas powered Honda Civic. Photo by Michele Edmunds
▪ The garnet and gold is going green with the addition of a Honda Civic to the Florida State University vehicle fleet that is completely powered by compressed natural gas. Researchers say the fuel is cleaner than gas or diesel and costs about half as much. The car is hard to miss around campus, with a colorful wrap job designed by Marc Thomas, a multimedia design specialist at FSU.
▪ Local attorney and community philanthropist Sean Pittman has been selected as chairman of rapper T-Pain's If I Could Change the World Foundation. Interested persons are asked to submit ideas on how they would change the world to the foundation's website (changeworlds.org). T-Pain will review entries and choose an initiative to dedicate the Foundation's funds and resources to.
▪ A local favorite lunching spot, MAD About Food, transformed into the Fickle Pickle Café in early March.
The new owners, Karen and Don Chatman, have 20 years experience in the food business, including owning the Best of Tallahassee-winning Klassic Katering. The décor and menu have changed, but many MAD favorites are still available, including the chicken and wild rice casserole, broccoli and peanut salad and the chicken chicken salad. New favorites include a Fried Green Tomato BLT, Fickle Rueben and What the Fickle sandwiches as well as Cajun Fried Pickles.
▪ Two of historic Havana's long time anchors — H&H etc and Wanderings — have knocked down the wall between their two stores to create a new 10,000-square-foot venue, HW Furnishings. The new store will offer a variety of furniture styles and feature custom upholstered and leather lines, quality wood furniture and a large selection of accessories, art and lighting with a focus on products made in America. Wanderings will still exist as a boutique inside the store and feature jewelry, scarves and small ethnic accessories, say co-owners Terri Paul and Matt Thro. The original H&H will continue business as usual at its main location across the street.
▪ After a few years living and creating in Charleston, S.C., artist Blair McDaniel is returning to his hometown of Tallahassee. He creates art in a variety of mediums through drawing, painting, composing music, writing, cooking (his mother is Melinda McDaniel, owner of the local catering business, The Marinated Mushroom), photography, performance art and graphic design. Three of his vibrant paintings are on display in COCA's annual Creative Tallahassee art exhibit at the City Hall Art Gallery — but only through May 14.
▪ Leon County Commissioner Bryan Desloge was recently appointed chairman of the Early Learning Coalition board of directors by Gov. Rick Scott. Other Tallahasseans earning gubernatorial appointments include: Alia Faraj, a partner and executive vice president of Ron Sachs Communications, to the Florida Elections Commission; Kelly A. Layman, executive director of communications for the Florida Board of Governors, to the Apalachee Regional Planning Council, Region Two; and Edwin Moore to the board of directors of Workforce Florida Inc. Moore has been the president and chief executive officer of the Independent Colleges and Universities of Florida since 2003.
Florida State University's College of Business has received a $5 million gift from Dr. William T. Hold and the organization he co-founded, The National Alliance for Insurance Education & Research. The gift launches "The Risk Initiative," an upcoming campaign to establish Florida State as a national leader in a number of academic fields that involve risk.
▪ A handful of veteran lobbyists have joined together to form a new lobbying firm in Tallahassee called Adams St. Advocates. The lobbying partners, who will also continue to own and operate their individual firms, include Barney Bishop III, formerly of Associated Industries, Dave Ericks, owner of Clydes & Costello's, Candace Ericks, Claudia Davant, Robert Beck, Tanya Jackson, Jim Henry, Marty Cassinni and Chelsea d'Hemecourt.
▪ FSU students held their Dance Marathon Feb. 17–19, and on March 16 organizers of the event presented the proceeds — a $595,472 check — to Children's Miracle Network at Shands Hospital for Children at the University of Florida.
▪ Brian T. Cook has been named chief executive officer of Capital Regional Medical Center. He brings several years of healthcare experience to the role, most recently as chief executive officer of HCA's Parkridge East Hospital in Chattanooga, Tenn.
▪ Longtime state government communications director Jon Peck has joined Ron Sachs Communications as a senior account manager. Peck spent more than eight years in daily print journalism before embarking on an award-winning 26-year career in state government, highlighted by his service as press secretary to Gov. Bob Martinez.
▪ Alan Hooper, a 1985 FSU graduate, has assembled all of the financing and permits to break ground and develop College Town. His professional career has been based in Fort Lauderdale, where his reputation is stellar — and he's bringing jobs and growth to the Gaines Street corridor.