Agapanthus, improved
Esposito's new favorite plant has beauty and survivability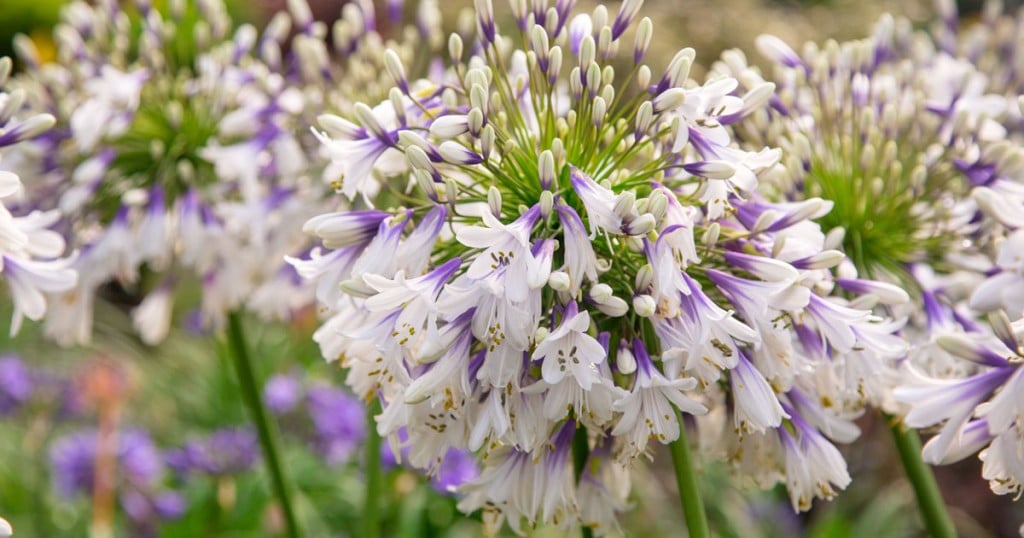 Just when we thought agapanthus couldn't get any better, Southern Living releases the new and improved Ever Twilight Agapanthus. A common sight within the medians along California's arid roadways, agapanthus is as drought tolerant as they come, and Ever Twilight is no exception. Agapanthus requires virtually no supplemental water after the first year, is hardy to 10 degrees Fahrenheit, and carries no major pests or diseases. The only way you can go wrong is by planting your agapanthus in poorly drained soil or by overwatering — agapanthus is not a fan of soggy roots.
Speaking of soggy roots, if you are having trouble with drainage, give us a call at (850) 386-2114. Esposito specializes in drainage solutions ranging from correcting minor soil imbalances to installing full scale French drains, but that's a topic for another article! Back to the star of the show:
Unlike standard agapanthus, the improved Ever Twilight blooms continuously from spring through fall, providing landscape color longer than any other flowering plant in our lineup. The giant bicolor white and violet blooms attract hummingbirds and butterflies, and the evergreen foliage is naturally deer resistant which is excellent news for homeowners in wooded locales.
Ever Twilight Agapanthus reaches a mature height of 30 feet and may be planted in any area that receives partial or full sun. This plant requires no pruning whatsoever and thrives in crowded beds and containers. It's the plant that does it all and asks nothing in return.
Esposito's landscaping team uses Ever Twilight as an accent plant near the front of mixed garden beds, as a compliment to large shrubs like bloomstruck reblooming hydrangeas in the partial shade garden, or alongside bright orange canna lilies in the full-sun garden. Agapanthus may be planted in mass as a maintenance-free groundcover or paired with flowers like black-eyed susans, Echinacea, and Firebush as part of a maintenance-free butterfly garden. Use Ever Twilight to frame walkways and pergolas, or combine it with "spillers" such as Bubblegum Petunias or Purslane to create an easy-care container garden.
Every three to four years, you may dig up and divide your agapanthus clusters in mid-October. After dividing, cut the foliage back by half, replant and water as needed until established.
The beauty of agapanthus extends beyond the yard; the gorgeous cut flowers perform exceptionally well in the home. Sturdy long stalks topped with blooms that last up to two weeks after trimming makes agapanthus a fabulous addition to any arrangement or bouquet.
Due to its ease of care, unmatched drought tolerance, exceptionally long bloom period, benefit to native pollinators, and numerous applications in the garden, agapanthus is a must have in any Tallahassee garden. Stop by Esposito, open seven days a week, to see these beautiful blooms in person; we'll help you pick out the perfect combination to satisfy your specific gardening needs. We'll even deliver your plants and soil amendments directly to your doorstep for a small fee. Give us a call at (850) 386-2114 if you have further questions; the Esposito team is always happy to help when it comes to making Tallahassee lawns and gardens as beautiful as can be.
Esposito Garden Center | EspositoGardenCenter.com | (850) 386-2114