After Her Daughter's Murder, Pat Tuthill Crusades to Track Parolees Between States
The 'Voice of the Victim'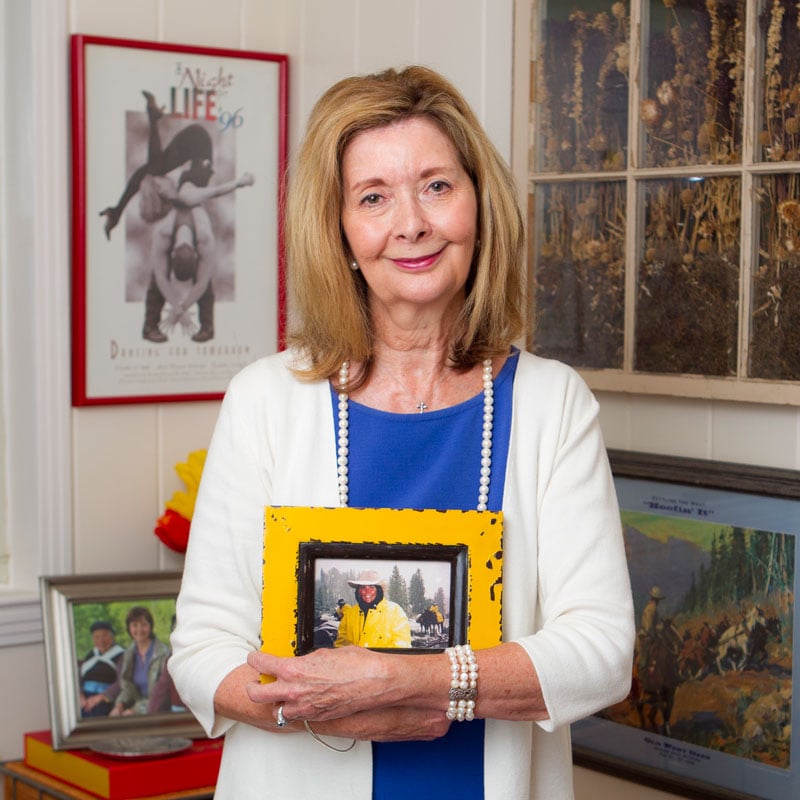 Tallahassee's Patricia Tuthill has fans in all 50 states. The Chief Justice of the Supreme Court of North Dakota calls her "the nation's voice of the victim." A National Judicial College faculty member says "her public policy impact on our nation is rivaled by none." A U.S. Department of Justice bureau chief credits her with inspiring a "change in thinking" about public safety.
Tuthill would trade all of the accolades for one more minute with her firstborn.
Peyton Tuthill was 23 in 1999 when she was raped and murdered in Colorado by a convicted felon from Maryland who was, on paper, under close supervision by authorities in both states.
"Peyton was athletic, and she loved the outdoors," Tuthill said, so Denver seemed like a good choice for graduate school after she got her bachelor's degree from College of Charleston in South Carolina.
Peyton phoned home often with vignettes about the many friends she was making as she settled in to her new life out west. Back in Fort Walton Beach where the Tuthills had lived for 27 years, Peyton's mom was focused on her younger daughter, and on her career as a human resources executive.
Then, Peyton was gone, and for a while, so was Tuthill's ability to function. Filled with "rage and hate," she considered suicide, but most days could not muster the energy to brush her teeth.
Eventually, Tuthill's professional training and religious faith kicked in. "A criminal had taken my child away from me and from her sister. How could I think of leaving my other child?" Tuthill said. "I had been so overcome with grief and sadness, I could not grab hold of the anger I needed to survive. I prayed for anger."
Her prayers were answered one morning with an unsolicited condolence call from her state representative, Jerry Melvin: "He asked if there was anything he could do to help."
That was the motivation Tuthill needed to get out of bed.
"I had to understand how and why" Peyton's killer had been sentenced to 22 years for violent felonies in Maryland but was released with a Greyhound bus ticket to Denver after just 22 months.
First, she educated herself. Tuthill was appalled to find that the movement of parolees from one state to another was governed by an interstate compact developed in 1937 that had, for years, been paid attention to only when it was breached. Peyton had been tortured and killed because nobody in Maryland and Colorado had been paying attention.
Tuthill's metamorphosis from hard-charging career woman to grief-stricken basket case to mourning mother on a mission was complete. She wanted change. She wanted a meeting with then-Gov. Jeb Bush.
"I remember her," Bush said. "She was compelling and tenacious."
Tuthill's next stop was Department of Corrections official Bob Porter, the state's point person on the interstate compact. "Give her whatever she wants," Rep. Melvin advised Porter, "because she is not going away."
"I unloaded on him pretty hard," Tuthill said of their first meeting. But if Porter felt like a punching bag, he didn't let on. "Bob Porter became my champion and my mentor. He asked me to go to New York and address the American Parole and Probation Association. (APPA)."
Unsure of her ability to keep herself together while telling her story in a hotel ballroom, Tuthill drew on her professional experience and prepared a PowerPoint, because "that's what an HR person does."
As the presentation wound down, Tuthill went off script. "That was a good talk, wasn't it?" she heard herself say to the crowd. "You understand what I'm saying, don't you?"
The APPA's executive director certainly did.
In nominating Tuthill for the Ronald Wilson Reagan Public Policy Award, Carl Wicklund said she was "instrumental in the development, passage and operation of the newly constituted Interstate Compact for Adult Offender Supervision … a powerful and poignant voice for the importance of having a coordinated and enforceable way to transfer probationers and parolees from one state to another [and] successfully exhorting for an automated method of victim notification to accompany the transfer process."
Those efforts have now been realized with a National Standardized Automated Victim Notification System directly linked to the Interstate Compact Offender Tracking System. It enables surviving crime victims and the families of victims who, like Peyton, did not survive, to receive real-time updates regarding proposed changes in location for "their" offenders.
By 2005, the new Compact had been ratified in all 50 states, and Tuthill was looking for a new way to keep Peyton close. To that end, she created The Peyton Tuthill Foundation, which has thus far awarded $30,000 in scholarships to 23 young people who have lost loved ones to violence. Tuthill has close bonds with past scholarship recipients and takes comfort in helping them achieve their dreams.
In September, Hotel Duval was the site of the Foundation's annual fundraiser. For additional information about the Foundation's activities as well as information about victim notification, visit peytontuthill.org.