After a Vagabond Life, Dancer Tyrone Brooks Has Found a Home at The Tallahassee Ballet
Right Time, Right Place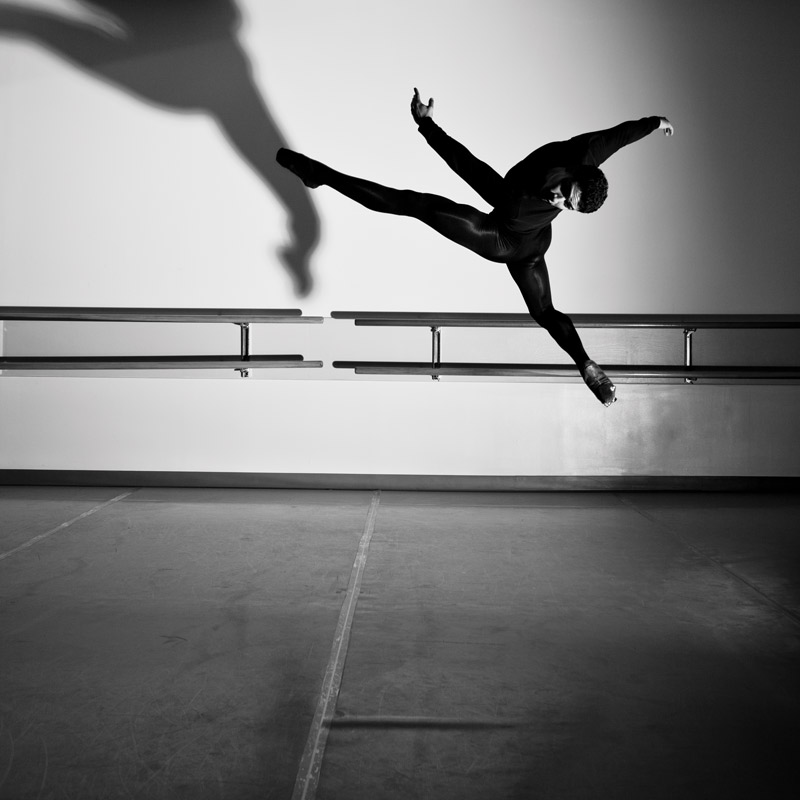 Matt Burke
After a successful career in ballet dance, instruction and administration, Tyrone Brooks is sharing his talents here as executive director of The Tallahassee Ballet.
Tyrone Brooks remembers well the day he discovered his life's work.
"The Dance Theatre of Harlem came to Hampton University — at the time it was the Hampton Institute," he recalled. The dancers were wearing brown tights — to match their flesh tone — and their pointe shoes were different shades of brown, not pink.
"I had never seen people of color on the stage, and that did something to me. I had never seen people of color in a tutu," said Brooks, who is wrapping up his first year as artistic director for the Tallahassee Ballet. "If you open up a book and see ballerinas, they're white, with pink tutus and pink legs."
After that enlightening performance, the teenager turned his focus from gymnastics to dance and, a year later in 1979, he would be invited to an eight-week summer program at the Dance Theatre of Harlem. Later that year, he was asked to dance with the company, traveling the world and banking a series of once-in-a-lifetime experiences for 18 years.
Members of The Tallahassee Ballet's semi-professional company show their athletic abilities (above) as well as the simple elegance the dance provides even when they're standing still (below).
"In Johannesburg, South Africa, I was fortunate to be in the presence of Nelson Mandela — he was a guest of honor opening night — we did the 1984 closing ceremony at the Olympics in Los Angeles … I did a White House dinner during the Reagan years," he said.
And when that career ended, he moved on — spending five years at the Virginia School of the Arts, but mostly continuing his travels as a vagabond teacher, including several stints as a guest teacher at Florida State University. He would also make a guest appearance as Herr Drosselmeyer in The Tallahassee Ballet's production of "The Nutcracker."
But, finally, the rootless life was wearing on the now 53-year-old Brooks. "I was exhausted. I needed to stay still," is how he put it. He had a job offer in hand from another ballet company when he was considering joining The Tallahassee Ballet, but once he met with Executive Director Janet Pichard and the board, "I got excited." 
Brooks called the first months in his new position "a learning year for me." Learning, he said, "the culture of the institution, the culture of Tallahassee. I'm still searching for that one thing … people are passionate of around here — besides football."
Going forward, he said, "(I) want to implement — to do things different that haven't been done." And that's something he's not afraid of. In his first year as executive director of the Virginia school, a private boarding school for high school students in Lynchburg, he upended the mostly classical dance curriculum, requiring classes in modern, jazz and contemporary dance as well as conditioning and musical theater to make his graduates more marketable. It caused a brouhaha with some parents, but Brooks said today even the most traditional ballet companies are embracing a more expansive repertoire.
"Now they're doing diverse programs, they're implementing contemporary works that are on pointe," he said. "The New York City Ballet — of all companies which most people thought would never change their repertoire, they did something called the Diamond Project where they started contemporary works, but they're still doing the classical and the neoclassical works."
Brooks said he sees his mission as training his students to be not just successful dancers, but also well-rounded people.
It's a lesson the "country boy" learned after his arrival in the Big Apple from Arthur Mitchell, the first African-American principal dancer in the New York City Ballet, who started the Dance Theatre of Harlem in 1955.
"We were nurtured. He treated us like we were his children," Brooks said. "We had to dress well … on tour or at the airport. Whenever we traveled and we had a couple days off, that first day we always had to do something that was cultural. He had people come to the theater that he thought it was important for us to meet. He would drill us in regard to introducing ourselves.
"We were totally well-rounded; we knew how to conduct ourselves," Brooks said. "We were caught up on current events. If we were at the White House, if we were at an embassy, we could speak and be articulate. It's all those things that I'm a product of, and I got all that at a young age."
Brooks recalls one instance he called a "life lesson," when Tallahassee Ballet dancers visited children at Tallahassee Memorial Hospital during the holiday season. He said he told the group, "You're blessed, you're doing what you love, what you're passionate about. Always remember, you're a person first, because with just one slip of a chromosome, that could be you."
Brooks calls himself a "playful" and "joyful" teacher, who's also firm when the situation calls for it. Again, much of what he knows is based on his firsthand experience.
For example, when he tells an aspiring ballerina she's not ready to dance on pointe yet, her disappointment is something he can relate to.
Ballet should not only train dancers in the beautiful art, but also how to be well-rounded people, says Tyrone Brooks.
Early in his career, Brooks was cast in the lead role of Alan in "Equus: The Ballet," a dramatic work based on a play that was psychologically complex and very intense. He was, however, in the second cast.
"I rehearsed and rehearsed and never had a chance to dance it and (at the time) I never understood why," he recalled. A few years later, Domy Reiter-Soffer returned to restage the ballet, and Brooks got the role. When he was rehearsing, Brooks said he realized that, while he had mastered the steps when he was younger, he wasn't mentally prepared for such an emotional performance or to face the attention received when it opened in London. He would ultimately appear in the ballet at a Salzburg festival accompanied by a 108-piece orchestra. "That was quite a highlight," he said. "But when I thought I should have been doing it, I wasn't ready." 
One of Brooks' memories is a comment made by Nelson Mandela during the company's six-week visit to South Africa. According to Brooks, the South African president observed, "The beautiful thing about the arts is you can go to the theater and enjoy it for two hours and forget about the troubles of the world." The teacher/danseur feels the same way about The Tallahassee Ballet's headquarters at the Northwood Mall. "This is our sanctuary; you leave that out there, you come here and you … can be creative."