After a Bahamian Boating Accident, Long-Distance Medical Care Saves the Day
Dire Straits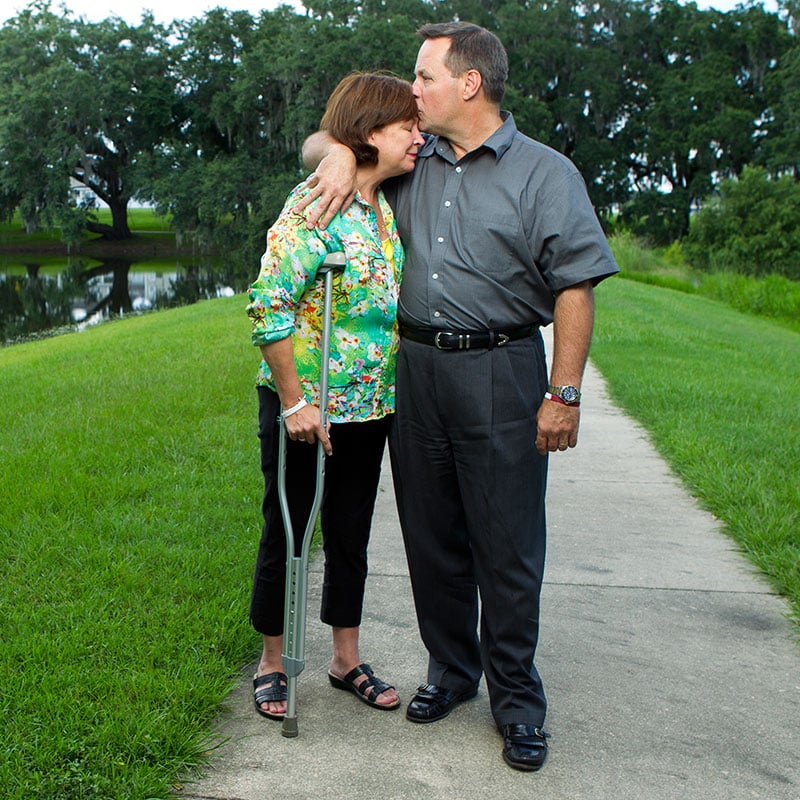 Worst. Trip. Ever.
This is how Chris and Kellie Kraft might describe their last vacation in the Bahamas. For more than 30 years, the Krafts — prominent members of the community and owners of Kraft Nissan — have gone to the Caribbean island nation to get away from it all. It's a great way to kick back, relax and enjoy the company of good friends.
But now, they can't look at those sparkling waters the same way. Especially after what happened on one dark Wednesday night in October 2012.
"She's happy to have her legs," Chris says as he considers the boating accident that seriously injured his 53-year-old wife. Two other couples — Ray and Jennifer Green from Tallahassee and Mike and Carol Carter from Jacksonville — were seriously banged up as well, and Chris himself suffered a punctured lung and broke a shoulder bone.
Ordinarily, a trip to the islands is smooth sailing. Chris has run big boats for many years in the same area without a problem. Ray, Northwest Florida Regional director for the Florida Restaurant and Lodging Association, is another well-seasoned seaman.
But accidents can still happen.
In this case, it took long-distance phone calls in the middle of the night and no small amount of personal initiative to get the whole crew back home to receive proper — and for Kellie, lifesaving — care.
On The Rocks
After attending the FSU-USF game in Tampa on Saturday, Sept. 29, 2012, the Krafts and friends chartered a plane in New Smyrna and the next day were in Marsh Harbour, Abaco Islands, in the Bahamas. The island is located about 200 miles east of West Palm Beach and 100 miles north of Nassau. The three couples stayed in the resort community of Hope Town, across the Sea of Abaco from Marsh Harbour.
On arrival, the crew of friends rented a 24-foot, center-console, twin-hulled powerboat, which they used to explore the islands and sightsee for the five days they planned on being there. It was on the fateful last night of their trip that they decided to motor west across the bay to Marsh Harbour. By the time they left the dock, it was already dark. So at the last minute they decided to go to Sea Spray Resort & Marina, located just three miles south of Hope Town. But instead of taking a familiar route, Chris decided to cut through a small group of islands called the Parrot Cays, just west of Hope Town.
The Parrots consist of three or four rocky islands and coral reef, and there were no illuminated channel markers. Chris had to rely on GPS to tell him where he was, but the unit on the boat was not quite what he was accustomed to. He also had to awkwardly hunch over to look at it and was in this position at the helm when the accident happened.
"It was my fault. I wasn't where I thought I was," he said. "I probably should have pulled the throttles back and figured out where I was."
When the boat ran up on a piece of submerged reef, the Carters were in the stern behind Chris; Kellie, along with Ray and Jennifer Green, was in the bow. At the last second somebody shouted out a warning and Chris saw something out of the corner of his eye, but it was too late.
"I pulled the boat hard and pulled the throttles back and at that point we caught one of the edges of the reef that was underwater," Chris said. "And when we hit it we kind of bounced off of it but Kellie went off the bow of the boat to the starboard side."
Jennifer and Ray Green were ejected into relatively safer and deeper water, but Kellie smashed into razor-sharp coral rock. Chris and the Carters were thrown forward and bounced off the console.
"When it happened, it knocked me out for 30, 40 seconds," Chris said. "We're not quite sure how Kellie landed, but obviously it was on her knees and little bit (on her) head, and arm, and (she) was face-down in the water."
When he came to, the Greens were going to Kellie's aid. Chris heard his wife call out and with his head still swimming, jumped in after her.
"God knows what I was jumping into; I was just going to find her," he said.
Ray had a better view of what happened as the sudden impact launched him from the boat.
"Kellie ejected more straight on and the angle of the boat threw her onto those rocks, on her knees," he said. "Jennifer went over slightly to her left, and I went slightly to the left of Jennifer. Both of us went into the water and not onto rock."
Ray said when he and Jennifer surfaced in chest-deep water, Jennifer saw Kellie and got to her first, followed by Ray, who made a quick assessment of her injuries. It didn't look good.
"I turned her over and saw that the injuries were to (her) knees and elbow and surmised there might be the possibility of other injuries that were not apparent. So I grabbed her underneath and cradled her in my arms and took her to the stern of the boat and floated her on her back and kept her head out of the water," he said.
The friends gathered at the stern, resting Kellie's head on the top step of the swim ladder to keep her head and face out of the water. There was considerable bleeding; Kellie's knees, feet, arm and head looked like they had been in a meat grinder. Ray said that both of her knees were "exploded," and all the skin and flesh on top of her kneecaps was gone. She had a cut above her right eyebrow and the coral had gouged a hole in her right arm. Shock was setting in and she was passing in and out of consciousness. They had to get her back into the boat — but carefully.
"This was all gone," said Kellie, pointing at her knees. "They had to take a calf muscle and rebuild a leg for me. Soft tissue was gone, there was nothing there. The only time I screamed was when I looked down and could see inside my arm; and my face, I hit the reef with my face, and had (my right eyebrow) split open."
When Chris saw the extent of her injuries, he admitted that he started to "freak out."
"When we brought her around to the back of the boat and floated her up, cause we were worried about her back and neck, and I saw the legs, I thought she was missing one. It was that bad," Chris said. "It was like … my God, what have I done? That's where I was at."
That's when Chris credits Ray for stepping up and exercising some initiative. "Ray said, 'Hey, this is no time for pity. It's time for a rescue,' and started directing."
Mayday, Mayday
"I'm an old power boater and sail boater dating back to my teens, and all my powerboat and sailboat training, navigating and helmsmanship kicked in," Ray remembered. "I started barking orders and told the Carters to get on the VHF radio and to call mayday on Channel 16, marine radio."
Ray said Mike Carter jumped into the water with shirts and a towel and soon Kellie's legs were wrapped up to stop the bleeding. The idea that the blood in the water could be attracting sharks was farthest from their minds.
Once the mayday calls went out, all they could do was wait. It was a lonely place to be, Ray recalled in a rapid-fire stream of consciousness narration as he told the story.
"None of the channel markers in that part of the Abacos are lit, so you're basically in pitch black darkness. We could see lights at a distance, but there were no boats in the vicinity; no one was there. We were basically by ourselves," he said.
Miraculously, the beleaguered party didn't have to wait very long for help to arrive. In what Ray describes as the most "unbelievable, improbable and amazing" part of the entire trip, within 15 minutes not one, but two, rescue boats from the Bahamas Air Sea Rescue Association (BASRA), a nonprofit voluntary organization, arrived on the scene. (There's no Coast Guard in the Bahamas and no 911).
"I picked Kellie's knees up as the first boat arrived and showed the captain what we had going on and said, 'Do you see these injuries? Do you understand the severity of what happened?' And he said 'Yes sir, I do,'" Ray said. "He turned his boat around, our stern to his stern, and we very gingerly transferred Kellie with the help of his crew."
Within minutes Kellie, Chris and Ray were in one boat being taken to Abaco Medi Centre, a small clinic in Marsh Harbour, 20 minutes away by boat. Jennifer Green and the Carters went in the other boat back in the opposite direction, to Hope Town.
Chris said he and Kellie arrived at Medi Centre between 11 and 11:30 p.m. At the clinic, a lone general practitioner, Dr. Lathesha McIntosh (who had graduated from University of Miami's medical school), tended to Kellie's wounds by stabilizing her leg injuries and stitching up her forehead. She also stitched up the gash on Chris' head. But the clinic was designed more for prevention and health maintenance than trauma care and didn't even have an X-ray machine. While the doctor staunched the bleeding and cleaned Kellie's wounds, Ray worked to calm Chris down and formulate a plan for getting out of there.
"It became apparent we needed to get Kellie better care, and Chris kept saying, 'We need to get her outta here, this isn't the right place. Help me. We're going home, where we know people,'" Ray said.
Getting Kellie back to world-class trauma care in Tallahassee, however, was easier said than done. They were onshore and out of immediate danger, but their wallets and cell phones were floating somewhere in the Sea of Abaco. Then Ray remembered the number of friend, neighbor and CPA Jim Thielen. He used Medi Centre's landline phone and dialed the number — which came up as "unknown" on Thielen's phone at 4 a.m. Thursday.
"I woke him up and said, 'Thielen, this is Ray, you need to wake up and stand by. A boating accident has happened in the Bahamas and Kellie and Chris, but especially Kellie, are severely injured, and we need your help arranging an air ambulance to come get her and get us the hell out of here and back to Tallahassee,'" Ray said.
Thielen, senior partner of Thielen Tax & Business Consulting, distinctly remembers that far-away call for help.
"Ray told me to get squared away, and he expressed to me that something really bad had happened, and how everybody pulled together at the site and were worried about losing Kellie's legs," Jim said. "Chris was trying to get a hold of the charter they flew in on and I said, 'Stop. If she is that bad, being on the floor of a puddle-jumper isn't going to work.' So Ray asked me to do a Google search (for air ambulance companies), and I said I'm on it."
Jim quickly started Googling. After a couple of dead ends, he found Trinity Air Ambulance International, located in Fort Lauderdale. Trinity sprang into action and arranged for an air ambulance jet to be in Marsh Harbour around 7:30 a.m. The dispatchers also got on the horn to the local airport to alert them and have them turn on the runway lights — which are usually turned off overnight. When that was arranged, Jim started waking up doctors in Tallahassee.
As a Trinity flight crew was rounded up in Fort Lauderdale, Kellie's initial treatment became a long-distance, coordinated effort between Dr. Steve Cremin at Tallahassee Memorial HealthCare's emergency room and the doctor at Medi Centre.
"The doctor (in Abaco) talked (with Cremin) and explained everything," Ray said. "Dr. Cremin actually suggested a few things medically and a checklist of things that should be happening, to treat Kellie."
The Clock is Ticking
Once the doctors in Tallahassee understood the severity of Kellie's wounds (thanks to cell phone photos taken at the Abaco Medi Centre), the clock really started ticking. The early morning overseas consult took place some time after 4 a.m. and suggested they had to get her back home quickly, or doctors wouldn't be able to save her most seriously injured leg. That's when the clock started.
"They said, basically you need to get her back here in the next 12 hours or we're probably going to lose that left leg," Chris said.
The Kraft party was airborne at daybreak and headed for Florida. But a collective sigh of relief became a groan on landing in Fort Lauderdale where a customs agent commanded the Krafts to get off the plane so it could be checked out for contraband.
"I couldn't go anywhere," Kellie said, exasperated. "I was unconscious."
Time was wasting.
"We've got some guy who must be new at his job because he wants us off the plane," Chris said. "I said, 'What do you think is going on?' I mean, we're not smuggling drugs. We were in bad shape."
Fortunately, a supervisor realized their plight and sent them on their way. Still, what should have taken 30 minutes, took an hour and 15 minutes before the plane could continue its journey to Tallahassee.
Back Home
The accident happened on Wednesday night, and Thielen said the Krafts arrived in Tallahassee around 1 p.m. Thursday afternoon, beating the 12-hour deadline by about four hours. They were met at Tallahassee Regional Airport by a TMH ambulance, which whisked them to the hospital where a trauma team was waiting.
Among the doctors and surgeons present were Drs. David Bellamy, Hector Mejia and Steve Jordan with Tallahassee Orthopedic Clinic (although they were not the only ones involved in her care). Mejia remembered Kellie having "very significant open fractures of both knees" and that much of the soft tissue was lacerated and open.
"It was certainly a very bad injury. She had a patella tendon laceration as well, and multiple open toe fractures on both feet. A knee joint was exposed to the air and she also had multiple lacerations on her legs with coral imbedded, coral in the legs and knees and feet," he said. Lacerations aren't an uncommon sight in an E.R., but the imbedded coral rock was a unique component and added to concerns about infection.
"Coral and ocean is not one of the cleanest environments, so infection was the No. 1 concern," Mejia said. "That's why she was taken urgently to the operating room to clean out her wounds, and she had multiple surgeries to clean out her wounds."
Over time, Kellie endured several reconstructive surgeries, not only to her knees but to fix fractures in her feet and toes as well.
"And you know, she did very well, didn't have any infections and underwent the long rehab process. She has made huge strides for what we originally thought she was going to be able to do. We didn't think she would be able to bend either of her knees," Mejia said. "There are people with these (kinds of) injuries and they go on to amputations. Originally, the chances of her losing her legs were quite high."
Her recovery has been difficult. Doctors treated her wounds with V.A.C. Therapy, a form of negative pressure therapy used to heal deep wounds from the inside out. In Kellie's case she was virtually covered with suction pads, tubes and machines. And the packs had to be changed on a painful, regular basis.
"It was not a simple or easy process," Kellie said. "It was four hours of me literally crying."
"They had to redress the wound VAC packs every other day," Chris explained. "Each took four hours to redress and replace the sponges. The worst part about the left leg is the coral sliced off her patella tendon, just took it right off. They had to rebuild it. It was about four months before she could really start walking again. She was in a wheelchair the whole time."
Between the hospital stay and rehab, Kellie spent most of the following two months recovering from her injuries, and only recently was able to begin driving herself to her appointments. She came home right after Thanksgiving, to a home decorated for Christmas by a host of neighborhood friends. The Kraft's four adult children helped in Kellie's recovery, as well as her parents.
Today, her gratitude runs deep for the people who saved her life, and for the many friends and neighbors who gave their support during this trying time.
"The staff and nurses and everyone was incredible," Kellie said. "No words to describe it. Everybody was phenomenal, our friends especially. And you want to talk about a bond with people, the people that save your life, that's a bond and there's no way you can thank them enough."
Today, Kellie can walk around the house unassisted, but uses a single crutch when going out in public, said Chris. Both legs are scarred, but her right leg has been repaired and full flexibility has returned. She is still undergoing twice-weekly therapy for her more seriously damaged left leg. After the accident, Dr. Mejia predicted she would probably get about 75 degrees of flexibility back in that leg. She currently has about 95 degrees and is hoping to improve to 105 degrees, which would allow her to take normal steps.
Chris said she no longer takes pain medication, although she is sometimes troubled by "ghost pain" in the area of her calf where they removed tissue to repair her knees. The snow skiing she loved is over, and the family planned to return to the Bahamas for a vacation this summer.
The truly amazing thing, according to Chris, was the incredible long-distance coordination that made her recovery possible.
"It's not possible to overstate what a great job the doctor did in the Abacos, and the coordination between her and the medical team in Tallahassee, and probably it did save her leg," he said.
Eventually, the family will go back to the islands. Kellie said it will be a "gut check," but it's something she wants to do.
"I want to go and thank all of the people who helped, and thank the doctor who worked on me, the rescue workers, and I want to give them a big hug because they saved all our lives," she said. "If they hadn't shown up, there's no telling what would have happened."