Advocacy and Research Provide Hope to Those Living with Parkinson's Disease
Until There's a Cure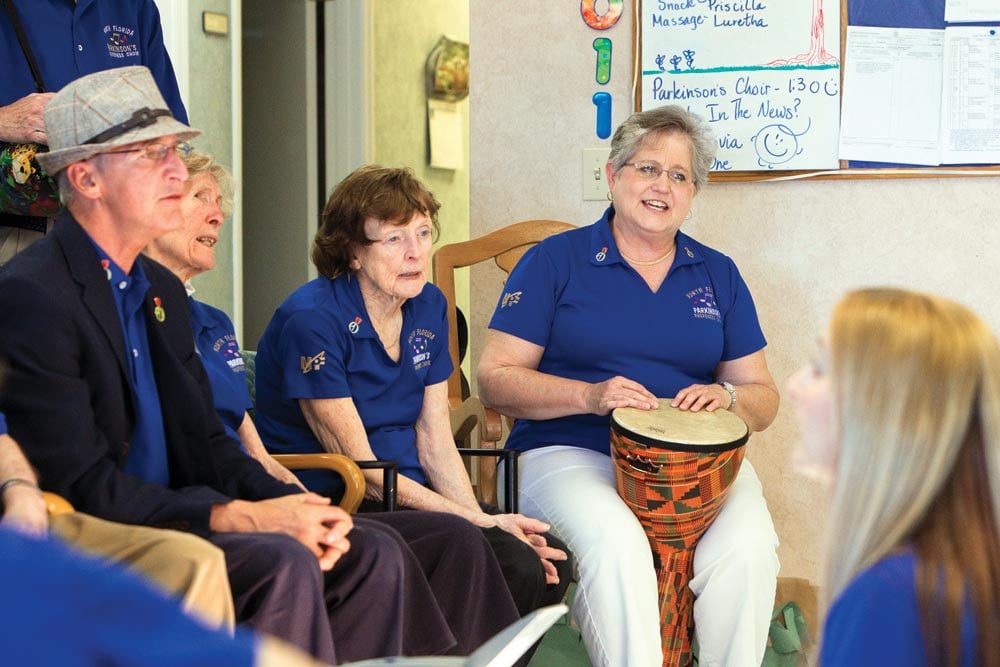 Bob Pedler leans on his wife's shoulder for support as he shuffles across the room. Vicky Hayse smiles as she gracefully takes her seat. Sitting opposite of Hayse is Steve Sandler, who appears to be perfectly normal, aside from the occasional shaking of his arm.
These are the faces of Parkinson's disease (PD), and they can be male or female, old or young, shaky or still.
The world has become better acquainted with Parkinson's through actor Michael J. Fox, who has had the disease for 20 years and started the Michael J. Fox Foundation to find a cure and ensure development of improved therapies for those living with the disease.
According to the foundation, at least a million people in the United States and more than five million worldwide have Parkinson's. The disease was first studied extensively by English doctor James Parkinson in 1817, and today Parkinson's is understood to be a disorder of the central nervous system that results from the loss of cells in various parts of the brain, including the substantia nigra. These cells produce dopamine, a chemical messenger responsible for transmitting signals within the brain that allow for coordination of movement. Loss of dopamine causes neurons to fire without normal control, leaving patients less able to direct or control their movement.
Motor symptoms of Parkinson's include resting tremor, slowness of movement, balance problems, rigidity, gait problems and reduced facial expression. Non-motor symptoms range from memory and sleep difficulties to depression and anxiety. There is no definitive test for PD and, because its symptoms are similar to those of other neurological conditions, the misdiagnosis rate is significant.
Just ask Sandler, who was originally told he had a pinched nerve before the correct diagnosis of Parkinson's was determined in 1999.
"I went to a local neurologist here, who did a nerve conduction test and told me that I had a pinched nerve in my neck," Sandler said. "And I said, 'Is there any way I could have Parkinson's?' because I began to suspect it by then because of the numbness and the twitch. And he said, 'You're too young, and I don't have time to explain it. Just trust me — you don't have Parkinson's.'"
Sandler remained unconvinced and made an appointment with a Jacksonville neurologist.
"He had me walk across the room, walk back, walk on my toes, do this, do this, touch your nose," Sandler said. "He says, 'You've got early stage Parkinson's. You've got all five classic symptoms: slowness of movement, stiffness, flat aspect of your face — unusual smile, tremor, voice was whispery.'"
Vicky Hayse, who was diagnosed with Parkinson's in 1998 and Lyme disease in 2005, is still mystified by her condition.
"I'm doing very well at the moment," Hayse said. "I have tremors some … but I don't know whether it's Lyme or Parkinson's. I've been to Shands (Hospital in Gainesville) several times with the desire for them to check it off my list, but they continue to say that Parkinson's affects people differently …. And so I haven't had anything conclusive, to really tell me whether it is Lyme that is manifesting itself as Parkinson's or whether it's Parkinson's disease. I could have either or both."
Sandler said his first symptom was depression.
"I went through a pretty severe depression, and I blamed it on my job," he said. "I wasn't happy with my job, and I found out later it was because I didn't have enough dopamine. It wasn't the job's fault, and after I was finally diagnosed properly, I started to take Sinemet. The depression went away, and for several years, I was virtually symptom-free."
Sinemet is currently the gold standard drug prescribed for Parkinson's. It has been recognized as the most effective treatment for motor symptoms, but it has its drawbacks. It has not been shown to slow disease progression and can cause dyskinesia — involuntary movements and tics — for some patients. And as PD symptoms progress, patients are put on elevating doses of Sinemet.
"Notice me — I'm wiggling around a lot — that's not Parkinson's," Sandler said. "That's dyskinesia from the Sinemet."
Sandler takes a total of 13 different prescription drugs to treat his disease and the side effects of his medication.
Richard Hale, who was diagnosed with the disease in 1986, said his first symptom was lack of arm swing.
"I went to a neurologist here in town, and he said, 'Let's give you an MRI just to check what it is,'" Hale said. "I came in and had an MRI and went back to him the next week, and he says, 'You've either got Parkinson's disease or a tumor in your brain.' And they put me on Sinemet to eliminate one or the other. If Sinemet helped with the arm swing, then it's Parkinson's."
Since there is no test that diagnoses Parkinson's, many doctors will look for a patient's responsiveness to PD medications, as in Hale's case.
Despite medication, Hale's symptoms became so severe he turned to deep brain stimulation (DBS) surgery. DBS uses a surgically implanted neurotransmitter to deliver electrical stimulation to targeted areas in the brain that control movement, blocking abnormal nerve cells that cause some PD symptoms, according to the National Institute of Neurological Disorders and Stroke. But DBS is only for a lucky few.
"Only 10 to 12 percent of people who apply for the deep brain stimulator will qualify physically and mentally because there're so many tests," Hale said.
A local effort to combat Parkinson's comes in the form of the North Florida Parkinson Awareness Group, Inc. (NFPAG), which was founded by patient Randy McCoy and is led by President Pat Hunt and Vice-President Janice Pedler. The group aims to provide support, information, education and advocacy for all people with the disease as well as their caregivers, family and friends.
"This is a disease that steals who people are," said Hunt, whose husband was diagnosed with Parkinson's in 2002 and died in 2008. "They're still there, and they know who they are, unlike Alzheimer's, but they're still vital and responsible and involved people, but they can't do what they used to do."
Pedler's husband, Bob, was diagnosed with Parkinson's in 2001. When Pedler was asked how having a family member with Parkinson's has impacted her life, she was speechless for a moment as her eyes welled with tears, showing the toll PD takes on caregivers of patients.
"The first thing that happens is, you are in denial," she responded. Because he had few visible symptoms, Bob Pedler dismissed his disease for about six years after he was diagnosed. "And all of a sudden, it really hits you," said Janice Pedler. "This is where you are, and I think, at that point, you really don't know what's going to happen. Then, you enter reality, and that's sort of where I am right now."
It's difficult to know how many people have been diagnosed with Parkinson's in and around Tallahassee. Because of medical privacy laws, NFPAG must wait for a patient or his or her family to reach out to the group.
Scott Holstein
Members of the North Florida Parkinson Awareness Choir share information about the disease during a performance at Tallhassee Memorial Adult Day Care.
In the North Florida Parkinson Awareness Choir, a program of NFPAG, Parkinson's patients exercise their voices by singing to the public. The choir formed in 2002 as an outreach of the neuroscience center at Tallahassee Memorial Hospital and the Florida State University music therapy program, and it grew into a PD awareness choir. Olivia Swedberg leads the group as the music therapy coordinator and is collecting research for her FSU dissertation on the effects of music therapy on speech and balance in PD patients.
"There's some really interesting research in Parkinson's and neuroscience that shows that listening to music and singing increases dopamine production … and based on what we've seen as a group and some things that are scattered throughout the literature, there's a really strong case for music as a treatment for Parkinson's," Swedberg said. "There are stories of people who've forgone medication or have decreased the amount of medication because listening to music or singing in their head during daily activities is helpful."
Among therapies currently in development for Parkinson's, cell replacement therapy — designed to replace the neurons that degenerate in PD — is probably most widely known. Although there are a variety of different cell sources for this therapy, most work focuses on stem cells, which have the potential to differentiate into any cell type in the body, including healthy dopamine neurons. These healthy neurons can then be transplanted into the brain to replace the malfunctioning neurons. Government restrictions on stem cell research have led researchers to focus on other treatment options. These include the use of proteins and compounds to protect and regenerate healthy neurons in the brain.
A diagnosis of Parkinson's disease can elicit feelings ranging from fear and anger to relief at finally learning the cause of unexplained symptoms. Friends and family often share these emotions. While there is currently no cure for PD, new therapies and research offer hope for a brighter future. Advocacy groups like NFPAG provide support to patients and caregivers alike. Hunt said a long-term goal of the group is to raise enough money to create a "Parkinson's house" that would serve as a one-stop shop for therapies, counseling, group meetings and classes.
"My faith is something that keeps me going and strong," Hayse said. "But I have also enjoyed, first of all, the support group …. These guys are my family; we are a family together."
---
Walk, Run and Roll for Parkinson's Disease
For a second year, the North Florida Parkinson Awareness Group (NFPAG) is sponsoring the Tulip Trot 5K on Saturday, May 14 at Tom Brown Park. In addition to the race and a 50-yard "Victory Dash" honoring those with Parkinson's disease and their caregivers, the event will feature music by the NFPAG Choir and the Tuesday Bluegrass Jam Group. Proceeds benefit NFPAG and the NFPAG Choir. Pre-registration cost (postmarked before May 9) is $12 and includes a T-shirt. Race day registration is at Pavilions 1, 2 and 3 at Tom Brown and the cost is $15. Registration begins at 7 a.m., and the Victory Dash is set for 7:45 a.m. The race begins at 8 a.m. Awards will be presented for overall, master and age groups. For more information, visit nfpag.com
---
Reaching Out in Song
While most of the songs in the North Florida Parkinson Awareness Choir's repertoire are crowd-pleasing classics, its shows also include a couple of tunes that share information about the disease with the audience. This one was written by Steve Sandler, who has Parkinson's disease.
Reaching for the Sky
We've come to sing for you
We could have stayed at home
Sitting in our easy chairs
Silent and alone
If we could dance, we would
Hey, maybe we could try
Though we're slow and shaky
We're all reaching for the sky
Though we're slow and shaky
We're all reaching for the sky
Though our faces show no smiles
We are smiling from within
Smiling as we softly croon
The melodies we spin
We'll sing our songs the best we can
We're glad you came to hear
Our simple tunes and harmonies
Help us speak loud and clear
We've come to sing for you
We could have stayed at home
Sitting in our easy chairs
Silent and alone
Since we can dance, we should
Hey, let's give it a try
Though we're slow and shaky
We're all reaching for the sky
We're all a little shaky
But we're reaching for the sky