Advice From the Pros About Professional Skin Care Services
Not Just Skin Deep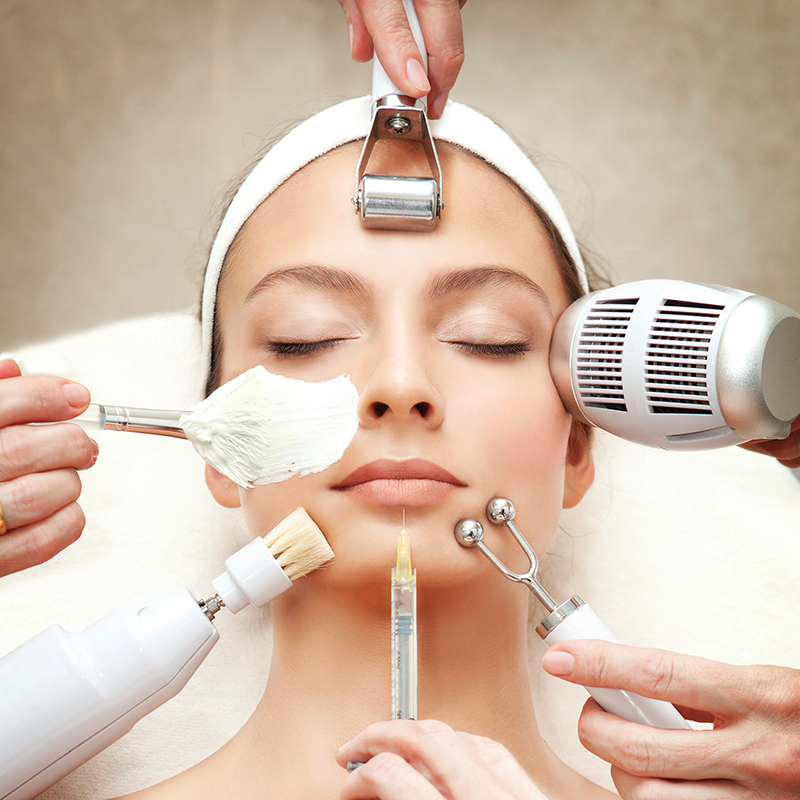 Let's face it: Skin care is one of those Mom-always-said responsibilities that you know is important, but never seem to prioritize — or even really understand. From choosing the right products to boning up on the latest treatments, knowing how to separate fact from fiction can be overwhelming.
Enter the world of skin care professionals. We aren't talking multi-level marketing companies and infomercials here. Instead, these are licensed, highly-skilled cosmetologists and medical staff working in traditional spas and medi-spas. Their blend of technique and knowledge of skin care ingredients — and access to the best products — make having a facial more than just pampering.
Whether it's because of money or time, most of us reserve facials for "girls' nights" and bachelorette parties. Maybe we pick up an exotic-sounding mask at the grocery store or find a delicious facial scrub online. At best, many drugstore products and DIY recipes do nothing but smell good. At worst, those Pinterest concoctions can cause irritation for sensitive skin.
Jaime Hernandez, skin care therapist at Tallahassee's Citrine Spa & Body Shop, has seen her share of DIY gone wrong.
"In the word of Pinterest, I've seen it all," she laments. "But many people do actual damage to their skin when they attempt waxing, (blemish) extractions and other home remedies for skin care."
This is your skin, the largest organ in your body, and arguably one of its most important. It's worth it, then, to understand the differences among the types of professional skin care and which is most important for healthy skin.
"At some point, most people need help with an uneven complexion, such as redness, uneven tanning, freckles/brown spots; imperfections; and fine lines and wrinkles," Angela Franz explains.
Franz, a physician assistant and skin care expert, manages The Cosmetic Center at Dermatology Associates. She teaches that facials are more than just cosmetic — they rid the skin of toxins, safely resolve breakouts and buildup, and also offer a good dose of education for clients.
The Do-Over
Hernandez offers a full array of skin treatments in the relaxed, aroma-therapeutic rooms of Citrine. She practices what she calls an ancient art and considers to be a key part of personal grooming.
When she sees a client who has taken matters into their own hands, sometimes the results are less than stellar.
"Extracting comedones (whiteheads) and blackheads, popping pimples and removing ingrown hairs can cause permanent scarring," Hernandez explains. Instead, she uses steam heat and plant-based enzymes to open the pores and gently tease out the blockages.
Other clients are guilty of over-waxing or over-teasing eyebrows, and even razor shaving (for women), which can result in coarse hair growth in unappealing facial areas. Hernandez offers precise depilatory treatments with the delicate skin (and cosmetic concerns) of the face in mind.
Perhaps the most important offering in the professional salon is education — and a methodical approach to skin care personalized for each client.
Like most spas, Citrine's process includes a complete analysis of skin care needs and budgets, and then formulating an individualized plan for maintenance. Professionals have access to products with quality ingredients at much higher potencies than available over-the-counter. But this doesn't have to mean they are priced out of reach.
Hernandez believes there are a few must-haves when it comes to skin care regimens, and it pays to spend a little more for potency. A great moisturizer (daytime and/or nighttime) and specialized products like those formulated for acne and the delicate eye-area are her priorities. At Citrine, products run $40–50 each that will last you around six weeks.
The truth is, you're probably spending an equivalent amount on drugstore brands — without the guaranteed results offered by the pros, and most will even offer samples you can try before you buy.
Going a Little Deeper
These days, many medical practitioners are also offering facials and spa services. Many of the "surface" treatments are similar to what you can get at a spa. However, if you think you might need extra help from the fountain of youth, it can pay to get facials from a medical facility.
Certain preparations and techniques are only available from a licensed physician's facility, such as higher-strength chemical peels, stronger microdermabrasion, and specialized light and laser therapies. In addition, cosmetologists are confined to "above the skin," while medical staff can provide more invasive services such as injectibles and lancing to remove larger infected areas.
Franz explains that many aesthetic procedures offered today are medical in origin, but they have the side effect of being cosmetically complimentary. Blue light therapy, for instance, is used for precancerous lesions on the face, but also reveals revitalized skin after treatment.
She warns that safety is the most important factor in finding a good skin care professional. Especially if you are having laser treatment, fillers or Botox, understand that these facilities must not only be licensed by the state of Florida, but also a medical professional should evaluate every patient. Often, horror story side effects happen in cases where a non-medical or unsupervised person injected products in areas contraindicated by medical standards.
Kristin Costa, physician assistant at The SPA at Southeastern Plastic Surgery, agrees. She points to the overarching premise that medical facilities are results-oriented and use medical evidence to recommend procedures and treatments.
At Southeastern, they use a holistic approach to skin care, including nutrition and hydration counseling, specialized and medical-grade procedures — which is far more than the dim lights and sound effects offered at some day spas.
Bottom-Line Basics
Seeing a pro for skin care won't break the bank — services start at about $50 per half hour in Tallahassee — but it can make a big difference. It's worth pointing out that even 30 minutes every couple of months can pay big dividends in your skin care regimen. Relaxing under a professional's touch can reduce your stress hormones, help sleep patterns and dramatically improve your skin's health.
And the secret to great skin, decade after decade? Sunscreen. All professionals will say that preventing sun damage in the first place is the best way to ensure a beautiful complexion for years to come. Turns out, Mom really was right when it comes to taking (skin) care.