Advice for Getting Your Child Ready for Summer Camp
Is Junior Ready for Overnight Camp?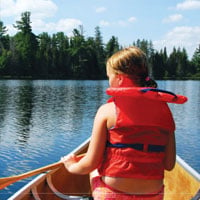 The outdoor activities, the s'mores and bug juice, the new friends, the independence … many of us treasure the life-changing experiences we encountered at overnight summer camp and would love to pass that tradition down to our children. For parents, many questions surround camp — the main one being, "How do I get my child ready to go?"
Age is the first issue — how old should a child be on their first trip? The answer depends on the child, but Derek Hart, owner and director of Camp Indian Springs in Crawfordville, advised that if your child can already stay overnight at friends' or relatives' houses with ease, that is a positive sign. Generally, he believes kids age 7 and up are probably ready.
The most rewarding aspect for young campers, Hart continued, is the chance to establish a sense of self-confidence early in life.
"One of the main experiences at camp is the skill of independence," he explained. While kids who do not go to camps often must wait to establish independence until their teen years, when they begin spending time out with friends, campers get to explore their own identities, morals and virtues as children — in a supervised, engaging environment.
Once your child is ready, and you have selected a camp that fits their needs and interests, it's time to start prepping both your child and the packing list. A few weeks before camp starts, start talking about all of the fun activities and classes that await at camp. Emphasize the positives, and address any worries your child has. If your camper is worried about leaving home, explain that you will be there when he or she gets back. To engage your child in the camping process early on, Hart suggested shopping for camp together and letting the camper make some of the packing decisions and pick out camp goodies to boost confidence.
A few days before camp starts, write a few letters in advance, and send the first to camp so your child will have mail from you on the first day. Hart advised parents to focus on encouragement and affirmation in their letters, and not to say too much about how much you miss your child, or ask, "Do you miss me?" Stay positive so that your child will, too. On the first day of camp, Hart stressed that while you should definitely stay and help unpack and set up, you should also give your child a chance to get excited and settle in alone.
"You don't want to linger," he urged. "Less than an hour" should suffice.
Finally, it's important to make sure you're prepared, too. Hart cautions that many children will be homesick on the first day or two and might mention it in letters. The important thing is not to panic if you start to hear from your child about homesickness. Hart emphasized that above all else, parents should avoid showing up at camp, and instead call to speak with administration about any problems or concerns. Most camps have a homesick policy that parents can become acquainted with. Camp Indian Springs calls theirs the "Wednesday Rule": if a child is still homesick by Wednesday of their first week, then it is time to give parents a call and work something out.
Most camps, including Camp Indian Springs, are run by counselors who were once campers and were trained from within. They truly loved their camp experience and are there to make sure your child makes their own great memories. The parents' job is simply to make sure that the camper is ready for it.
Florida Camper's Packing List
Time to pack the duffel bag! Here are some must-haves, particularly for camps located in hot and humid Florida.
Bug spray (and lots of it!)
A water bottle or canteen
Plenty of shorts, socks and undies (you never know when it might rain!)
Multiple towels
A miniature battery-powered fan for the bunk!