A Week for the Children
A Cascade of Colorful Handprints and Other Activities Put the Needs of Youngsters Before the Legislature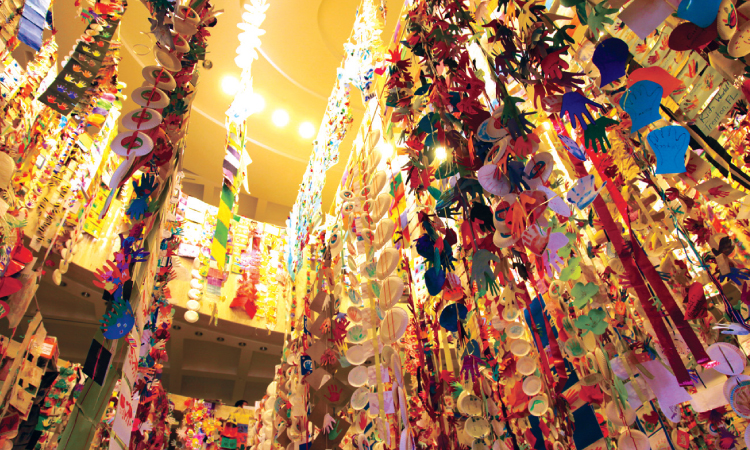 The 17th Annual Children's Week will turn the Capitol into a living, breathing classroom for kids, parents and lawmakers alike. The goal of this annual event held during the legislative session is twofold: raise awareness among lawmakers about issues that concern children and families, and promote civic education among Florida's youth.
"We're really wanting to educate young people about how they can make a difference — how they can get involved with community outreach projects and make a difference in the lives of others," explains Jason Zaborske, who coordinates the special event. This year Children's Week provides many events to promote that education and involvement.
Children's Week kicks off Sunday, Jan. 29, from 12:30 to 4 p.m., with the Hanging of the Hands, where more than 100,000 paper cutouts of children's hands collected from childcare centers, schools and organizations across the state stream down through the Capitol rotunda.
The colorful paper handprints are decorated by children and their teachers and remain in the rotunda throughout the week as a stunning artistic display and reminder to lawmakers and advocates of the importance of representing and protecting children. Locally, children and families are invited to participate and hang their own hand cutouts.
On Tuesday, Jan. 31, from 10 a.m. to 3 p.m., the Capitol rotunda and courtyard will be transformed into a lively center for fun, interactive civic education. Guided tours of the new and historic state capitols will provide information about their history and the legislative process, as well as offer opportunities to meet local legislators. At the Legislative Reading Corner, policymakers and legislators will be reading to young children and giving away free books. A press conference and the "Hanging of the Hands" Dedication Ceremony at noon will dedicate the art display to the 2012 Florida Legislature.
There will also be a "Teens Only" Town Hall Meeting where youth can ask important questions to members of Florida's Children and Youth Cabinet. This year, a dozen students will ask questions for broadcast. These 12 students will work with the Cabinet in the following year to address policy issues relating to youth, children and families. After the students finish asking questions, the event will function like a town hall meeting where any young person in the audience may approach the Cabinet with questions and concerns.
In addition to these activities, a wealth of free materials and information will be available for attendees. Crispers will provide 3,500 free lunches to visiting children and families. There will also be free Children's Week T-shirts and informational materials from more than 90 different booths inside the Capitol rotunda and courtyard. Given the large expected attendance, groups wishing to participate in Children's Capitol for a Day should RSVP for free lunches and guided tours at info@childrensweek.org.
Beyond celebrating children and families throughout the state, there is another reason for Tallahassee natives to celebrate at Children's Week: appreciation of the privilege we share as residents of a capital city.
"We're lucky that folks in Tallahassee here can experience this opportunity once a year," Zaborske points out. "That they can be reminded that we have a state capitol right here in our backyard … It's like a living classroom of information."
Tallahassee Native Illustrates Her First Children's Book
Tallahassee artist Pam Talley recently illustrated a new children's book, "Two Foals, a Dash of Sprinkles and a Cherry on Top!" Brittany Bevis, Talley's niece and a multiple world champion equestrian, wrote the sweet story about how horses get their spots. "The delightful illustrations, family-friendly message and 'surprise' twist make this an engaging story and one of those childhood favorites you'll always remember," says Lisa Kemp, of No Biz Like Horsebiz and kempequine.com, in a pre-release review. $18.47 hardback edition, $14.47 paperback edition, caballopress.com