Coton Colors Preview Party: A Warehouse Full of Happy
The 2016 Coton Colors Preview Party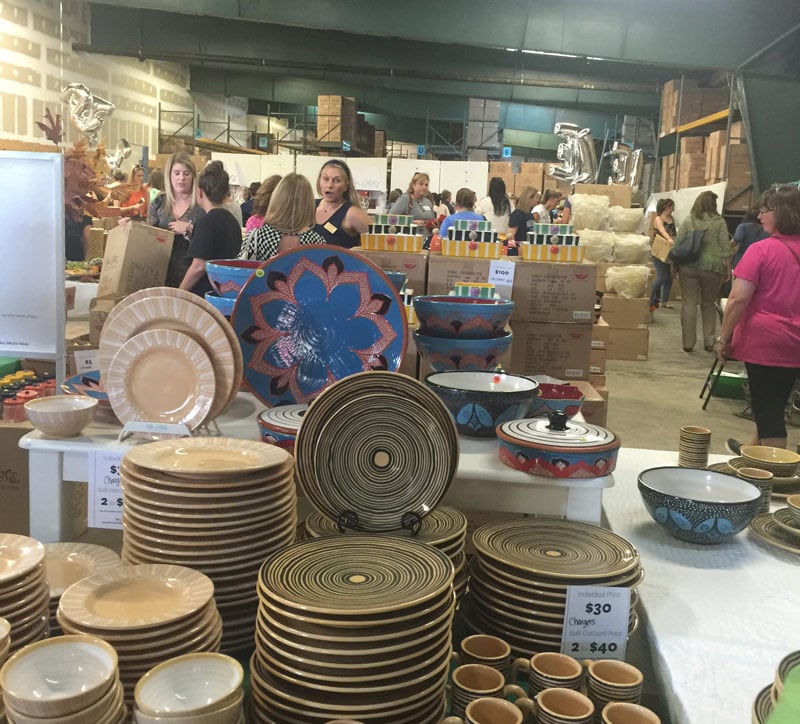 There is not often much commotion among the warehouses at the end of Tharpe Street, but the Coton Colors Warehouse Sale provides an exception to that rule. On Tuesday, Oct. 11, I parked down the street and around the corner, then walked to join the ranks of women waiting in line for the Coton Colors Preview Party.
The line was a bit daunting until I was cheerfully greeted with a cup of red wine. The message on the cup read, "Never Miss An Opportunity to Celebrate Every Day!" I'm for that.
There was an anticipatory buzz in the air as the approximately 150 women surrounding me chatted excitedly and visualized the treasures that they were about to inspect. Suddenly, all heads snapped forward as an announcement was made and the line began to move. It was a little bit like getting caught up in a storm surge.
Each participant was handed a cardboard box to fill with discounted items from the past year. Patterned plates and platters, mugs in a variety of hues, ornaments for every occasion and the famed Coton Colors attachments were a serious steal as many items were up to 75 percent off.
In the middle of the warehouse was an elaborate spread of cheese and crackers, various dips and chocolates. For starters, the only people hovering around it were a few brave men as their wives or girlfriends were off to the races packing boxes and bags.
Preview Party ticket holders got the chance to take advantage of deals before anyone else. Plus, they were eligible for prize drawings held throughout the evening and enjoyed free appetizers and beverages.
Before moving to Tallahassee, I didn't know what Coton Colors was. But, given its relationship with Tallahassee Magazine, I have learned about Coton Colors and the creative, caring and community-oriented minds behind the brand.
As I observed the women around me consulting their friends about plate colors and sorting through stacks, they all had smiles on their faces. And why wouldn't they? Coton Colors had opened up an entire warehouse full of high-quality tableware for deeply discounted prices. The bright hues and prints are enough to elicit excitement, but the sense of community in the room brought about a serious case of the warm fuzzies.
The Coton Colors motto is, "Find A Little Happy In Everything." As a company that is bright, cheery and giving, it does its part to bring happiness to others.
The Warehouse Sale was Oct. 12-14, 9 a.m.–7 p.m., and Oct. 15, 8 a.m.–noon.