A Victorian Christmas
Take the short trip to Thomasville and travel through time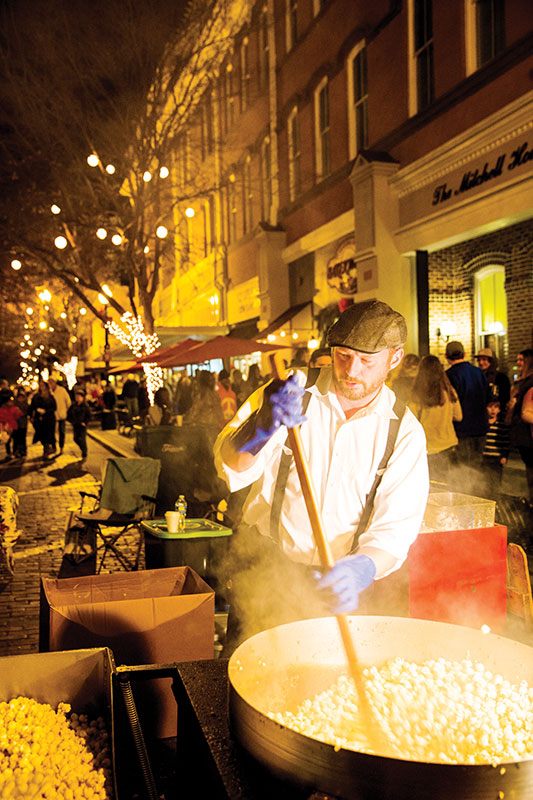 Imagine taking an evening stroll on cobblestone roads. All around you are Christmas lights and carolers, and you can smell the sweet aroma of marshmallows being roasted over a fire. Come December, this experience can be more than just a vision; it can be an experience.
For 32 years, the citizens of Thomasville have been celebrating Christmas by taking a journey through time. Carriage rides, chestnuts roasting, and a live nativity scene help transport guests to the past, more specifically, to the early years of Thomasville.
"Victorian Christmas is a celebration of the history and heritage of Thomasville," says event organizer Sarah Turner. "We really try to highlight the Victorian history of the area, with lots of different historically accurate and authentic events."
For two nights each December, Thomasville closes its downtown streets to motor vehicles to allow citizens and visitors to stroll at will, stopping to hear singers and bell choirs, dining on turkey legs and baked goods, shopping in decorated stores and enjoying the atmosphere. The event includes modern food trucks and live performances, but the focus is yesteryear.
"A magic lantern is basically a film projector, but it's the precursor to film projectors," says Turner.
Before movie theaters, Americans would go to magic lantern shows produced by "showmen."  The lanterns worked like slide projectors, and showmen educated and entertained audiences through the projection of picture slides. Although the devices are now outdated, the American Magic Lantern Theater has gone on tour to revive the art of the magic lantern, and fortunately for all of us, Thomasville is hosting their show.
"The magic lantern has hand-painted glass slides — they're from the Victorian era. It's a beautifully restored machine, and we'll be screening the slides and doing a big show up in the auditorium this year, and it's really fun. It's that old-timey feeling with a piano player on stage while they're telling a story."
While Victorian Christmas is a way in which guests can explore history, the event serves another purpose.
"Thirty-two years ago, we had a group of very involved merchants," says Turner, "who got together and were trying to think of a way that they could encourage people to come up to Thomasville to do holiday shopping.
"They thought, 'Why don't we have a little event with carriage rides and keep the businesses open late?' It started small and now it's ballooned into the big, 30,000-person event it is today."
The event, Turner points out, not only has a positive impact on the economy of Thomasville, but serves as a homecoming for families in the area.
"A lot of people start their holiday season off by coming home for Victorian Christmas and staying through the holiday season, so it's an important cultural moment for Thomasville."
---

New for 2017, shows by the American Magic Lantern Theater will entertain viewers with this revived vintage artform every 30 minutes on both nights in the Thomasville Municipal Auditorium. The shows are free.Magic Lantern Theater
---
Victorian Christmas will be on Dec. 14-15, 6-9 p.m., in downtown Thomasville. For details, visit ThomasvilleGa.com.