A Very Random Christmas
Lessons Learned During Holiday Celebrations at ... Wherever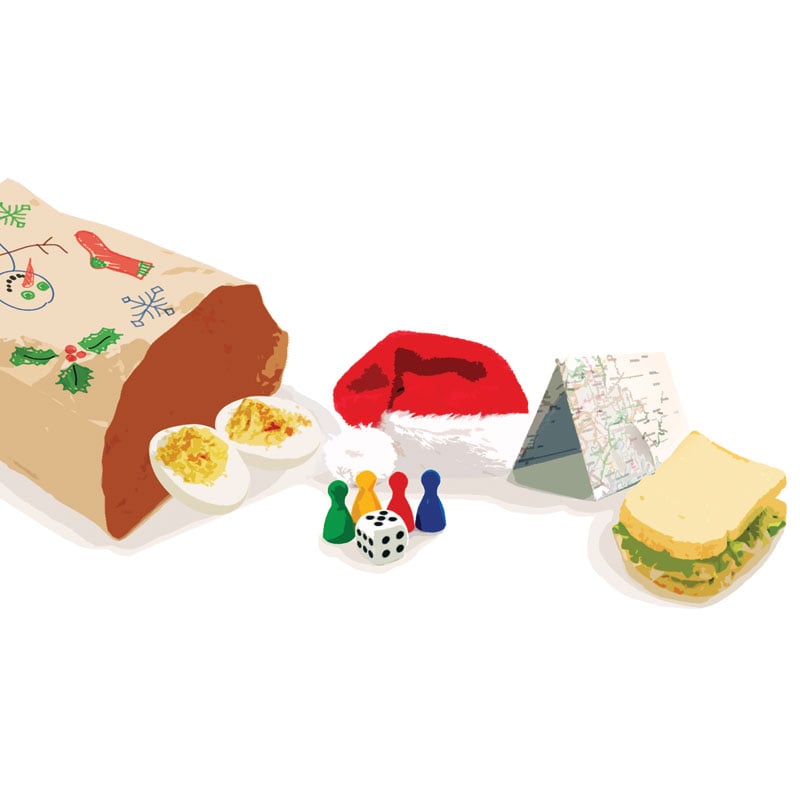 "Christmas just ain't Christmas, without the one you love."
That's how the song goes, but it's not necessarily true. In fact, the more I think about it, I realize I've spent more holidays with randoms in my adult life than my nearest and dearest. 
Don't get me wrong, Santa Claus was a part of my childhood, and I didn't live a Little Orphan Annie life. It was after middle school when the holiday experience changed for me. There was no more waking up before the chickens, no more hosting Thanksgiving dinner at our house and the only kisses under the mistletoe came from some lovey-dovey couple on the television screen in the middle of Times Square. 
My parents separated when I was 14, and not only was I stretched between two homes, but also my people skills were put to the ultimate test as I met and often broke bread with individuals from each of their respective lives. Some were a pleasure. Others, not so much. From my stepdad's vociferous girlfriend's family, to the unique characters at my mother's church, I felt like I had been adopted  — involuntarily — into several different families. Imagine looking to your left and asking: "Can you pass the dinner rolls, um … sir?"
Don't get me wrong; though my holiday experiences are a bit unconventional, they're still interesting. My first Thanksgiving away from home was during my freshman year in college. A girl I knew from back home extended an invitation to come to her house for dinner, provided I bring a dish. Finally, a reason to put that deviled egg recipe to use! Food-wise, dinner was a disaster. The mac and cheese seemed to be missing the cheese, the Cornish hens looked as if the oven had sucked every last drop of moisture and the candied yams didn't satisfy my sweet tooth in the least. Though the food wasn't great, we were thankful to be in each other's company and we shared stories and laughs into the night.
Last Thanksgiving, my mother surprised with me with the news that we would be traveling to Miami to have dinner with some people she used to work with in Philadelphia. The family was from the Virgin Islands, and I was anxious to see what cuisine was going to be served. There weren't many differences in traditions in this family from what I was used to: Thursday night football, board games and, of course, dinner. My mother has always been into different cultures, and I was glad to experience this with her. My only wish is that we flew instead of drove. Perhaps I'll ask Santa for patience for Christmas.
Now that I'm an adult, Christmas at home is as up in the air as a melee of flying trapeze acrobats. When I got word that my little brother, mother and a church member would be feeding the homeless in inner-city Baltimore Christmas morning, I wasn't exactly thrilled. For one, I had packed for a Tallahassee winter, not Maryland's blistering cold. My brother's job was to hand out bottles of water, my mother and I passed out bagged lunches and the church member gave out knitted hats and scarves. The men and women were so appreciative of the gifts they received. It touched my heart that this simple act of kindness would have such an impact on these lives — and mine, too. 
On the car ride home, I reminisced on my past holiday escapades and decided I would rank this as No. 1. Like the homeless, sometimes circumstances bring us closer to others rather than blood relatives. Love allowed me to open my heart to a group of people and, rather judge their physical state, to examine their circumstances. From the backseat, I grinned as I bit into a turkey sandwich from one of the bag lunches. Moments like these are what the holidays are all about.