A Very Manly Christmas
JT Burnett's Holiday Home Trimmings Coordinate With His Vintage-Style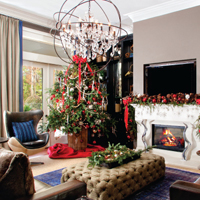 Photos by AJ Abellera
JT Burnett's home represents his style.
To create a comfortable atmosphere when decorating a home, I make sure it represents the owner's personality — and local businessman JT Burnett has plenty of personality.
While his signature development project, Hotel Duval, oozes urban sophistication, JT is a country guy at heart. He started his entrepreneurial career raising chickens for profit when he was 15 and had his own construction company by the time he was 17. Currently JT focuses his efforts as a principal of Inkbridge, LLC, which specializes in investments and what he calls "financial engineering." In his spare time, he enjoys spending time with his daughter, Sophie, and flying.
JT has great style and taste, which tends toward the masculine. He's a man who knows what he wants, and perfection is of the utmost importance. His home is decorated in a manly style, with vintage-style leather, turn-of-the-century industrial antiques and an abundance of style and quality.
After decorating his home, he then asked me to decorate it for the holidays, carrying on with the same inspirational style we focused on with his furniture.
To accomplish this, we used spectacular large-scale holiday products handmade by an international roster of artisans. The red and silver holiday color palette runs throughout all the decorations. Starry lights added a festive glow to mantles, centerpieces, trees and wreaths. Using Mercury glass, antlers and natural materials, we were able to keep the flow cohesive but very manly and festive!