A Versatile Classic, Chicken salad is a Southern staple
Hatching the Perfect Chicken Salad Recipe Can Result in Celebrity Chef Status. Plus, It's Cheep.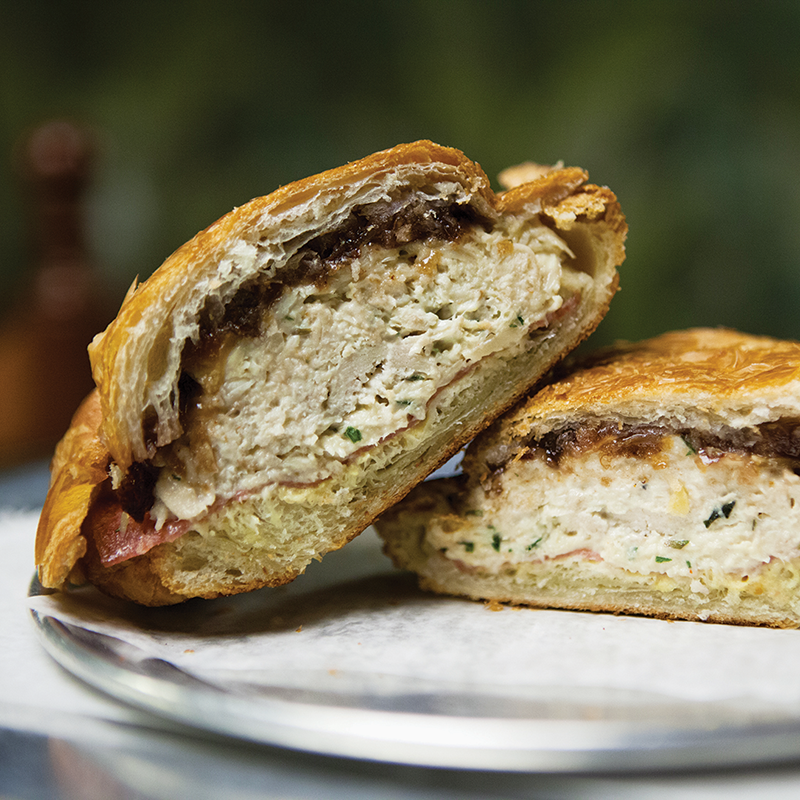 From barbeques to the dinner table, chicken salad is a quick and tasty dish to add to any menu. 
It's easily customized. Some stick to spices, mayonnaise and chicken. For others, a simple extra such as dried cranberries gives the salad a bit of pizazz.
"It's a Southern thing" said Kiersten Lee, owner of Paisley Café. Lee's chicken salad is award winning, but she remains open to other undiscovered delicious possibilities. "Everybody makes it different; go to anybody's house and no two recipes are the same." 
Historically, chicken salad is not as Southern as you might think. The chicken salad that's beloved today originated in Wakefield, Rhode Island. In 1863, Liam Gray, founder of Town Meats, was the first to mix leftover chicken with grapes, mayonnaise and tarragon. From then on, chicken salad was a hit, and Town Meats turned the salad into something of a delicacy. Business boomed. 
Contemporary companies including Chicken Salad Chick have turned this long-running favorite into great success.
"People have come in here and said that this is the most addictive stuff," laughed Bob Gosselin, owner of the Chicken Salad Chick franchise in Tallahassee. Whether your flavor preferences lend toward savory or sweet, crunchy or blended, experts agree there's a chicken salad combo out there for everyone.
---
The Chicken
Chicken, of course, is the cornerstone of all chicken salad and a source of protein. Most chefs (home and professional) choose white meat because it holds the chicken's juices better than the alternative. When choosing chicken, try to avoid preservatives and antibiotics. In regard to cooking the chicken, opinions vary. "We steam our chicken so the chicken tenders get steamed in their natural juices and it never gets dried out," said Gosselin. The combination of water and high heat evenly cooks the chicken until juices run clear. Another option is slow roasting the chicken. "At Paisley, we roast it in its natural juices and add some kosher salt," Lee said. Lee and Gosselin agree that once the chicken is fully cooked, it should be shredded. Shredding the chicken allows for added ingredients to enhance the flavor profile completely.
Herbs & Spices 
Classic chicken salad contains mayonnaise and tarragon. While keeping these two ingredients in the dish, spices such as curry and cayenne pepper provide an added kick. "Take one part sour cream and one part mayo and whip it, then add tarragon and cayenne pepper," suggested Lee. The mayo adds texture while making the chicken salad light. Adding spices allows for different taste experiences. "If you like curry or you like garlic powder, you can mix it in there and it's not going to ruin the chicken salad," Gosselin pointed out.  
Garnish:
Sweet, spicy or savory, the garnish that is added to the salad makes the difference between a fruity or spicy chicken salad. For a sweet salad, add craisins, toasted almonds and blackberries. For a savory and spicy dish, add buffalo seasoning, jalapenos, bacon and ranch dressing, Gosselin recommended. Garnishes including dill and cucumber are favorites in Tallahassee. The classic approach is adding celery and onions to the dish. To give the salad a sweeter crunch, add white and red seedless grapes. 
Beyond the Bun 
The interesting part about chicken salad is that the dish can be paired with anything. Pair the salad with crackers or even add it to an edamame salad. "In my opinion, pair whatever you're craving with your chicken salad", Lee said. Or add it to pasta. The combination of shredded chicken salad and pasta gives the pasta dish a distinctive taste. A healthier alternative? Place the salad on a bed of lettuce and eat it as a lettuce wrap limiting the carbs.