A Tribute Well Deserved
Flight carries heroes to monuments of freedom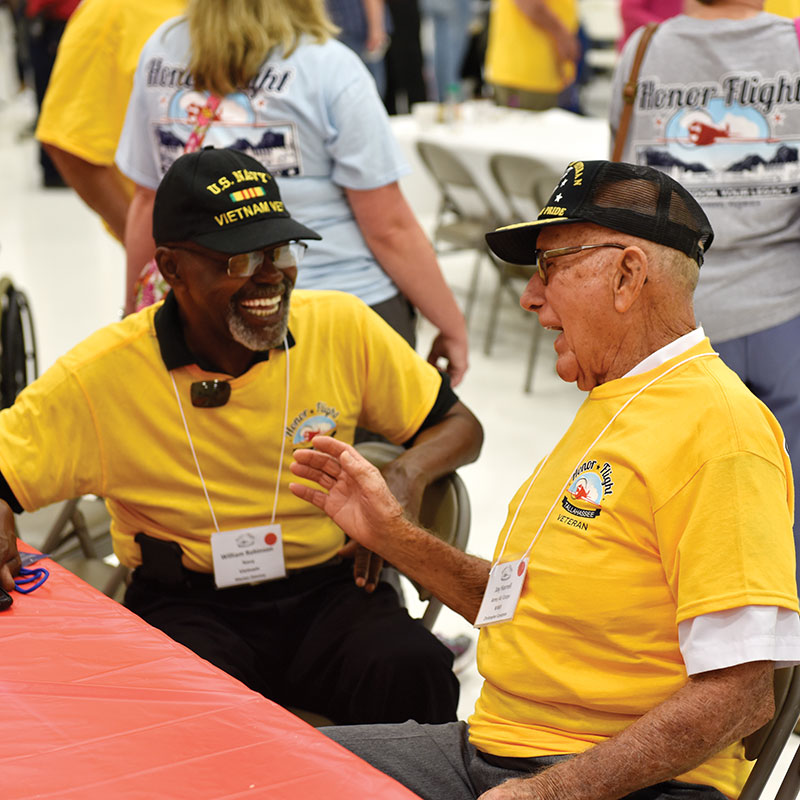 A year ago, in my doctor's waiting room, I noticed a brochure about something called the Honor Flight. So it was that, beyond everything Doc did to assess and safeguard my health that day, I had stumbled upon an invitation to an experience that would change my outlook on life and on service to country.
That brochure led me to make a thoroughly worthwhile investment in becoming an escort who would accompany a U.S. military veteran to Washington, D.C., and the familiar monuments and memorials that celebrate freedom and honor the sacrifices made by all, living and dead, who have selflessly served to preserve the American way of life and our long-running experiment with democracy.
At a pre-flight orientation session, I gained an appreciation for the role that I and about 100 other supports/guardians would play in ensuring a safe and meaningful experience for the 70 honorees — 62 men and eight women — who had made the decision to come together on May 20 for a shared experience and the sharing of memories.
Mac Kemp, the chairman of Honor Flight Tallahassee and its chief coordinator, had planned an 18-hour day down to the minute. It would involve a charter flight from Tallahassee to Baltimore for the approximately 170 people involved, three busses, a police escort and stops at the World War II, Korean War, Vietnam War, Iwo Jima, Air Force and Lincoln memorials. Finally, the distinguished caravan would visit the Tomb of the Unknown Soldier at Arlington National Cemetery and witness that changing of the guard and the lowering of the flag.
Then, it would be back to Baltimore for our return flight.
The day provided remarkable take-aways. Many of the veterans were joined by sons and daughters and, in several cases, by grandchildren. For the relatives of the preciously few World War II veterans who made the trip, the Honor Flight represented an especially poignant and meaningful experience enjoyed with loved ones nearing the ends of their lives.
Throughout the day, people from all walks of life came up to the veterans and, despite never having met them before, shook their hands and sincerely thanked them for their service. I was especially moved in seeing wheelchair-bound, 94-year-old Sen. Bob Dole greet the veterans at the World War II Memorial.
It was a joy to witness some 70 veterans, previously unacquainted with one another, establish connections and discover common bonds. They cried and laughed together, recalling wartime experiences both trying and rewarding.
During these times of political polarization, protracted wars in the Middle East, and demonstrations in our own country that are fueled by hate, it was nice to be around people who cherish America and her freedoms. It was a privilege to honor men and women who stood tall in uniform and stand tall today.
Arriving back in Tallahassee at 10 p.m., we were greeted by a welcoming crowd of 300 comprising family members, friends, a Patriot Guard and the Tallahassee Swing Band, who played songs from the 1940s. We had been in almost constant motion all day long.
I attempted to document the 2017 Honor Flight Tallahassee with the photos you see here. But there is no substitute for making the trip yourself and for seeing through the eyes of a veteran what has always made our country great. I encourage all to make a modest $500 investment and become a guardian on the next Honor Flight.
It will change the trajectory of your life.
See a photo recap of the Honor Flight below