A Temporary Home of Your Own
Create a Personal Style — Even In a Rental Property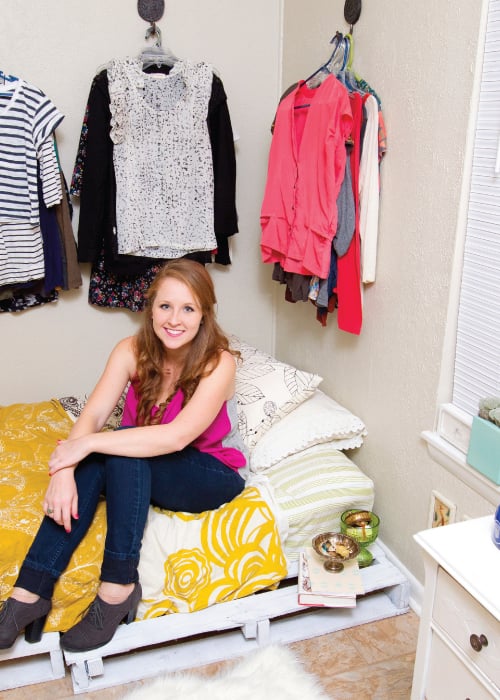 In the not-so-distant past, the American Dream pretty much always included home ownership. But with plunging home prices, instability in the market and credit woes, in today's economy the American Reality has many would-be buyers opting to rent instead.
But renting doesn't have to mean living with plain white walls and dingy carpet.
Stefanie Brawner-Caldwell knows both sides of the equation — she is both landlord and tenant.
Like many affected by today's economy, the 31-year-old chose to rent, rather than sell, her Sarasota home when moving her family back to Tallahassee. Now, after nearly a decade of homeownership, she's renting in town for the first time since she was 20.
Brawner-Caldwell bought her first home in Tallahassee when she was in college. She got the house cheap and fixed it up, using the renovations for her portfolio to interior design school. Once she was accepted to the Ringling College of Art and Design in Sarasota, she sold her house in 24 hours with a profit.
"That was my view of homeownership — that it was really great and easy," Brawner-Caldwell said.
She and her husband would buy a home in Sarasota, but soon realized that, while she still wanted to return to Tallahassee when done with school, she wouldn't be able to be able to sell the Sarasota home without losing $70,000.
"We became landlords more out of necessity than choice," she said.
In the Sarasota house, the couple made decorating decisions they were happy with but that would work as a rental. That included a neutral color palette and faux hardwood floors. She and husband David trellised the backyard and planted jasmine to provide a pleasant aroma and privacy from other downtown neighbors.
"There wasn't a lot of expense to make (the Sarasota) house nice, we just made wise decisions," Brawner-Caldwell said.
They got a lot of interest in the rental, and the couple felt proud handing over the keys to another set of newlyweds.
Still, the experience soured her view of homeownership and motivated her to rent when relocating.
"Knowing how the market is, it makes me wonder, have we even reached the bottom?" she said.
Back in Tallahassee, Brawner-Caldwell scoured the city for a rental property that had the same appeal she gave to her own home.
"We wanted to choose a place that we could make our own. We wanted a place that already had a good blueprint for our style," she said.
It took some effort, but the couple found a townhouse with light teal walls that would help their black-framed artwork pop and faux wood floors that wouldn't be damaged by pets.
Also key in the selection was "finding landlords that would allow us to do these things to make it our own."
Brawner-Caldwell said that was really important to her after having a baby, and she is eagerly using her interior design background to personalize her rented townhouse, starting with a nursery.
The landlords approved her pink, brown and yellow palette. Her father has given her palm bulbs that they've gotten permission to plant.
"We've gotten free landscaping. It's not anything that cost us because we're not invested in the property," she said.
Brawner-Caldwell said she's mimicked this same open communication style with her own renters, who are now painting their own nursery.
"We want to let them transform this space into the way they want it to be," she said.
Bill and Jill Maddox have also found a way to make renting accommodate their family.
The family of six relocated to Tallahassee from the metro Washington, D.C., area in 2007 to be closer to relatives.
Initially they saw renting as a way to get their bearings in Tallahassee while selling their D.C. home and figuring out where to buy. Following a friend's advice to look for a place "in the pie-shaped wedge between Meridian and Thomasville," they found a rental in Waverly Hills in a good school district and big enough to fit the whole family when their two oldest returned for the holidays.
Bill Maddox said their initial two-year lease helped them get settled and out of the house-buying mode.
"We didn't feel like we were transient," Jill Maddox said. "We wanted to get the kids settled."
They've ended up staying put longer than they expected because of all the changes in the economy and housing market, but that's something they view as a positive for their kids.
"Because we've stayed here as long as we have, it's good for our boys. For kids, you associate all sorts of memories with certain places. This has been stable. This has been home," Bill Maddox said.
While the family brought all of their possessions with them, Jill Maddox said what's made the property feel like home the most is watching their children flourish in their new environment, constantly having friends over after baseball and youth group, or for band practice.
"Our house has become the hangout house," she said.
Renting has remained a popular option for Tallahassee's 20-somethings both for financial and mobility reasons.
Partners Lauren Manders and Rebecca Kelley didn't want the financial pressure of a home while making a major investment in their food truck business, Street Chefs.
Though she aspires to homeownership one day, Manders said the economy has made a house risky for those unsure of what may lie five to 10 years down the road.
While the two plan to grow their business in Tallahassee, Manders acknowledged, "We're unique in that everything we own is on wheels!"
The two have settled in an older building
by Leon High School, chosen just as much for its old charm as its space-to-price ratio. The high ceilings, neutral wall colors, ornamental molding and wood floors give the place character while the latter works for their pets. Plus, if something goes wrong, they don't have to dig into their pockets to fix it.
Though eager to get settled immediately, Manders said decorating their place has been a process with the two purchasing pieces when they could, inheriting some from family and using self-made art and black-and-white family photos for the walls.
"Everything we decorated with has a story behind it. There's not much we bought just because it looks cool," she said of the apartment's eclectic appeal.
Libby Armstrong was eager to get out of her parents' house after securing a job at Relics, an architectural salvage business, but needed a place that was right on location and price.
She found just that in a house she shares with roommates in Levy Park. Her room is tiny, but at $150 it puts her away from the college neighborhoods and into a more diverse one that's within walking distance to Midtown's nightlife and stores.
The nearly closet-sized space required careful planning.
"I need things to be useful and pretty. I want to make it feel like home instead of a dorm room, and there are ways to do that that aren't wasteful to the environment or your pocketbook," Armstrong said.
She's used narrow furniture, most of which she's carefully re-done herself. She's utilized all vertical space and under her bed for storage.
"I'm actually using all of my little boxes. They're not just for decoration," she said.
The comfort and roominess of her family home are just a few minutes drive away, but Armstrong said she still wants "to make my own space and nest in it."
While the renters are happy where they are now, they haven't ruled out homeownership in the future.
Brawner-Caldwell said the landlord experience has been so positive, they've thought of buying other properties. She also knows she'll one day want to live in a home she owns.
"I'm definitely not a renter for life. It's a great way to be, but there's still so much joy and satisfaction in owning your own home," she said.