A Taste for Fruit
Dick Puckett's Art Collection Focuses on Pomegranates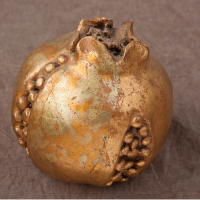 Photos by Ray Stanyard
Dick Puckett's Art Collection Focuses on Pomegranates.
On the outside, Richard "Dick" Puckett's house looks just like any other in his neighborhood near Tallahassee Memorial Hospital. But walk in the front door, and you're in for a surprise courtesy of its owner, who was the founding director of LeMoyne Center for the Visual Arts. Every room and every wall is plastered with art, but his collection is dominated by more than 70 pieces dedicated to just one subject — pomegranates.
Puckett's collection demonstrates how one subject can be interpreted in myriad ways — using ink, paint, clay and metal; two and three dimensional; realistic, abstract and whimsical. When asked, "Why pomegranates?" Puckett grinned.  "I started because my father was in his twilight years and he always had to stay busy. He rented some land, and he grew (pomegranates) from seeds into plants. I was interested in the fruit and the beauty," he said. Puckett's childhood experience was what it took for him to start his artistic collection.
Eventually Puckett's pomegranate collection will be sold and the proceeds will go to nonprofit organizations close to the artist's heart. In the meantime, Puckett's collection, and all of the memories attached, will stay with him at home.
Click through below to see the majority of Puckett's pomegranate collection.
---
---
---
---
---
---
---
---
---
---
---
---
---
---
---
---
---
---
---
---
---
---
---
---
---
---
---
---
---
---
---
---
---
---
---
---
---
---
---
---
---
---
---
---
---
---
---
---
---
---
---
---
---
---
---
---
---
---
---