Here's How to Craft A Stylish Crib
Top tips from nursery designers on setting up a sweet crib that has plenty of style.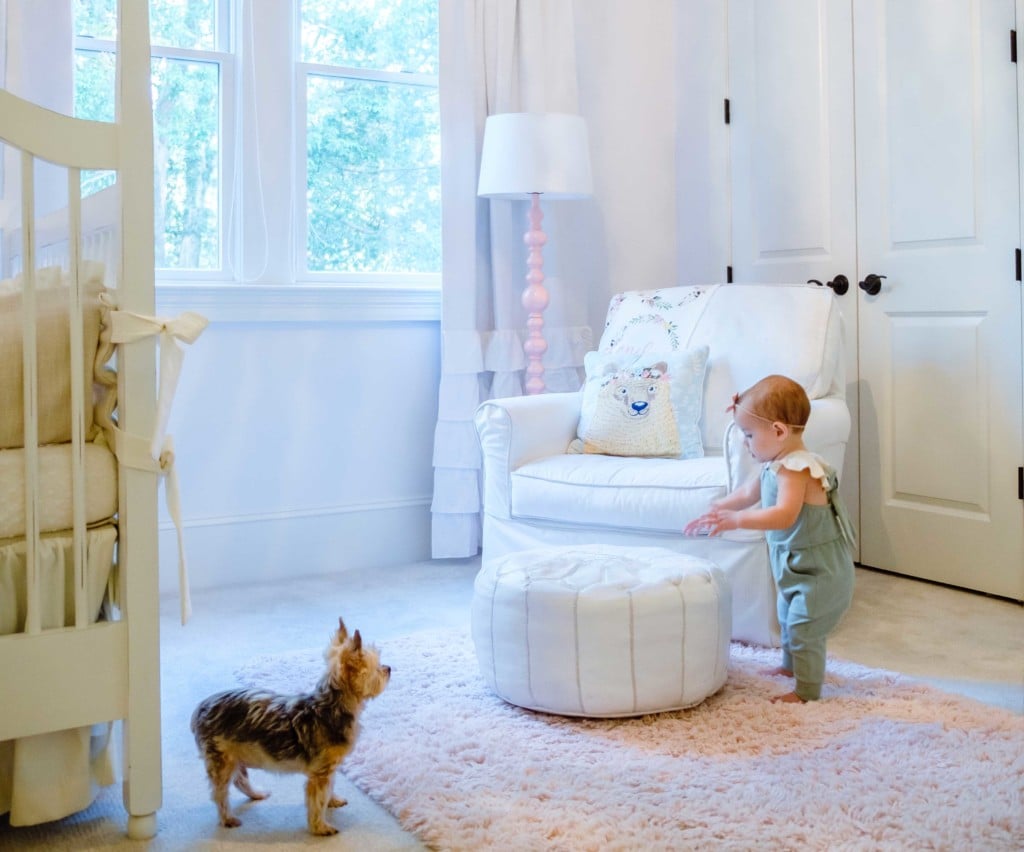 As rooms go, the nursery's function is straightforward: The baby sleeps there. On the other hand, outfitting this particular room is almost never simple.
"It's not like it used to be, where you'd just put something together," said Brittany Dean, owner of Harper Hill Kids' Boutique, a specialty baby and children's boutique in Tallahassee. "You can go crazy decorating a nursery."
All rooms are subject to décor trends. However, unlike a living room or a kitchen, the role of the nursery changes relatively quickly.
"If people haven't had kids before, they'll have these eclectic nurseries, but they aren't practical. As the baby grows, you have to move everything around," Dean said.  
New parents may not know what they need. Baby Bargains Boutique's Keshya Lee sees parents become frustrated when the items they've bought for their nursery can't be used for long. 
"Some things you'll want to buy used," said Lee, the co-owner of this Tallahassee store, which offers new and resale children's items. "Some things only last through the newborn phase, and a bassinet is one of them."
Lee continued, "We suggest you buy a play-yard, like Graco's Pack 'N' Play, with a bassinet. Just check the Consumer Product Safety Commission website to make sure it's not recalled."  Cribs and car seats have expiration dates, she said, so Baby Bargains Boutique doesn't offer these items used.  
Cribs, dressers and rocker-gliders are the must-have items for nurseries, said Lenzy Borden at Our New Baby! Inc., a family owned and operated full-line baby story in Dothan, Alabama. Parents are looking for these items to last a while, too.
"People want something they can use throughout the years," she said.  "Most cribs now will convert to a full-size bed." (Some retailers call this furniture trend "crib to college.")
Colors, patterns and accents are all subject to yearly trends. Bold patterns? Soft pastels? Monochrome? House-frame beds? Wall murals? Marquees with your child's name spelled out in three-foot-high letters? The family's new addition won't notice how his or her parents decked out the room, but if the number of websites dedicated to nurseries is any indication, design matters to parents. Dean recommended seeking inspiration from Instagram sites like Project Nursery, Little Unicorn Official and Loved Baby.  
Pregnancy is a nine-month waiting game, and decorating the nursery can be a fun way for expecting parents to express their excitement. Ultimately though, the most important part of the nursery — and all anyone really sees — will come home with his or her parents from the hospital.   
Trend Report
Brittany Dean
Owner, Harper Hill Kids Boutique
Colors:  Neutral tones — whites, creams and tans, with a pop of color in the form of artwork or a patterned quilt
Themes:  Woodland-themed nurseries (for boys and girls), nautical themes and mermaids
Hot tip: "I've seen wallpaper coming back in, where people wallpaper one wall behind the crib."  
Keshya Lee
Co-owner, Baby Bargains Boutique
Themes:  Disney Princesses (Ariel, Jasmine) instead of "Classic Disney" (Mickey Mouse, Donald Duck)
Furniture: Sets that include a matching crib and dresser/changing table; 4-in-1 convertible cribs
Hot tip: "Most people don't realize this, but cribs and car seats have expiration dates. Even if you're buying a crib that's inexpensive, you'll want to get it new."
Lenzy Borden
Nursery specialist, Our New Baby! Inc.
Themes: Floral for girls, stripes for boys; for boys, colored linens in neutral colors, like brown, gray, white or flax  
Furniture:  The "farmhouse look" — distressed white furniture accented with iron pull-drawers and iron cribs  
Hot tip: "Rugs are really popular. We carry the brand, Lorena Canals. You can finger paint on it and then throw it in the washing machine."
---
Baby Bargains Boutique 2901 E. Park Avenue, Suite 2300, babybargainsboutique.com
Harper Hill Kids Boutique 1350 Market St #105, harperhillkidsboutique.com
Our New Baby!, Inc. 3119 Ross Clark Circle (Dothan, AL), ournewbabyinc.com