A Shorts Story
Keep 'em lean, clean and comfortable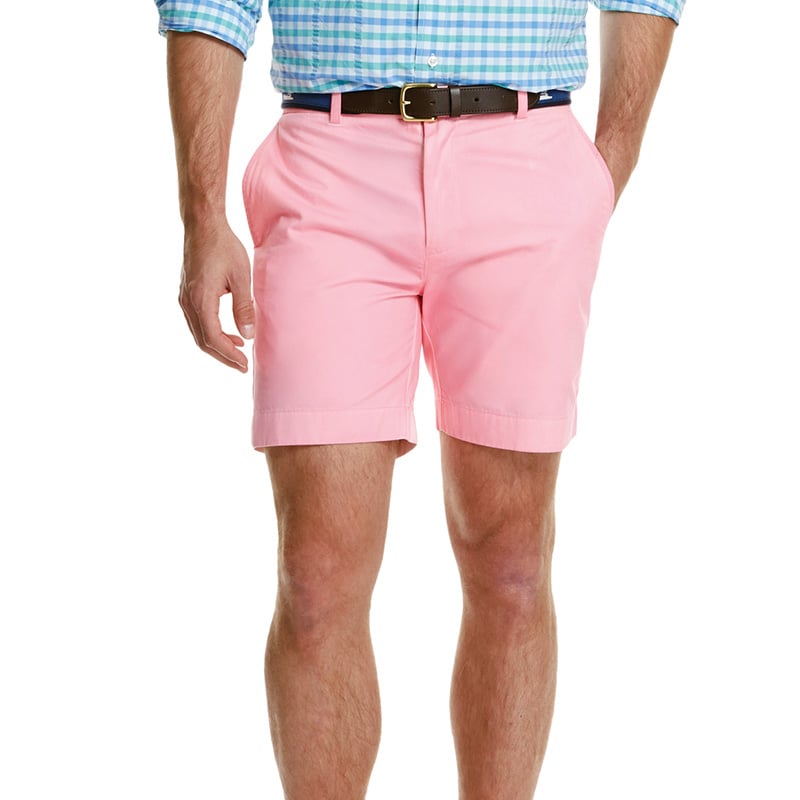 When a guy can wear them nine months out of the year in these parts, it pays to pay attention to his shorts wardrobe.
And while they might be considered a classic, functional clothing item, local purveyors of style say there are definite trends to be followed.
Those seeking out the trendsetters need look no farther than the hallowed halls of higher education.
"Everything starts at the college age and then it trickles up," declares Candice Thompson, a stylist who has been helping Tallahassee dress right for 25 years now. "College people are going to set the trend, and then everybody interprets it for every generation."
Take, for example, color. Stone and khaki are by far the most popular shorts shades, says Lanny Lewis, owner of the Southern prep emporium Southern Compass Outfitters. But the young folk have embraced more colorful shades of teal, turquoise and sunny yellow. "Coral is the hot color this year," Thompson says.
It may take some doing to get Dad to put on the kiwi green, but there is a way to give him a gentle nudge in the fashionable direction. Thompson's strategy to wean him off of his beige-tone bottoms is to pair bright shorts with a neutral top.
"The way I can get my husband to wear color is to put it with a navy T-shirt, a black T-shirt, a khaki T-shirt or a gray T-shirt," she says. "Then you've got only one little statement piece going on." And when the shirt is untucked, only four or five inches of those bright shorts will show. 
Lewis and Thompson agree the trend for shorts this summer is "clean front" — no pleats or big pockets — and lighter fabrics without a lot of bulk. Some styles are 100 percent cotton, while others add in polyester, rayon and other stretchable fibers for comfort and fast drying. More playful options include linen and silk.
Thompson warns against a full embrace of breathable polyester "performance" clothing for everyday wear. "I think when you start putting performance shorts and performance tops it really does look like you should be at the gym," she says. 
Then there's the matter of length. 
The under-30 crowd gravitates to the shorter shorts, usually with a 5- or 6-inch inseam, says Lewis. Some of his youngest clients wear bright and patterned swim trunks as shorts. An older man usually opts for 7- or 9-inch versions that hit right above or at the middle of the knee. (Thompson, who describes herself as "blunt and honest," declares the mid-knee length "looks good on no one.")
To tuck or not to tuck? You're going to want to leave a shirt with a square hem untucked, advises Thompson. A shirt-tail hem can be tucked in or left out. Then again, the decision can be determined by the occasion. "If we're going to a nicer restaurant, I'm going to starch his shorts and put a crease in 'em. I like his shirt tucked in," she says.  
---
Do
Wear a belt if you're tucking in your shirt.
Wear flip flops, driving shoes, moccasin-looks, boat shoes or loafers with your shorts.

Give bright colors a try.

Look for "clean-front" shorts — no pleats or big pockets that cause bulkiness.
Wear what makes you comfortable, both physically and style-wise. If you're a madras or ging-ham-check seersucker kind of guy, rock it!
Don't
Even think about wearing jeans shorts. "Never ever, ever, ever," says stylist Candice Thompson, should a man be seen in this unfortunate style that has been the butt of anti-Gator jokes for years.

Wear athletic shoes with shorts — unless you're mowing the lawn or heading out to the gym.
Wear cargo pants. They are out and unflattering.