A Run 'Round the Racetrack and Other Moments of Sheer Terror
Minutes of Thunder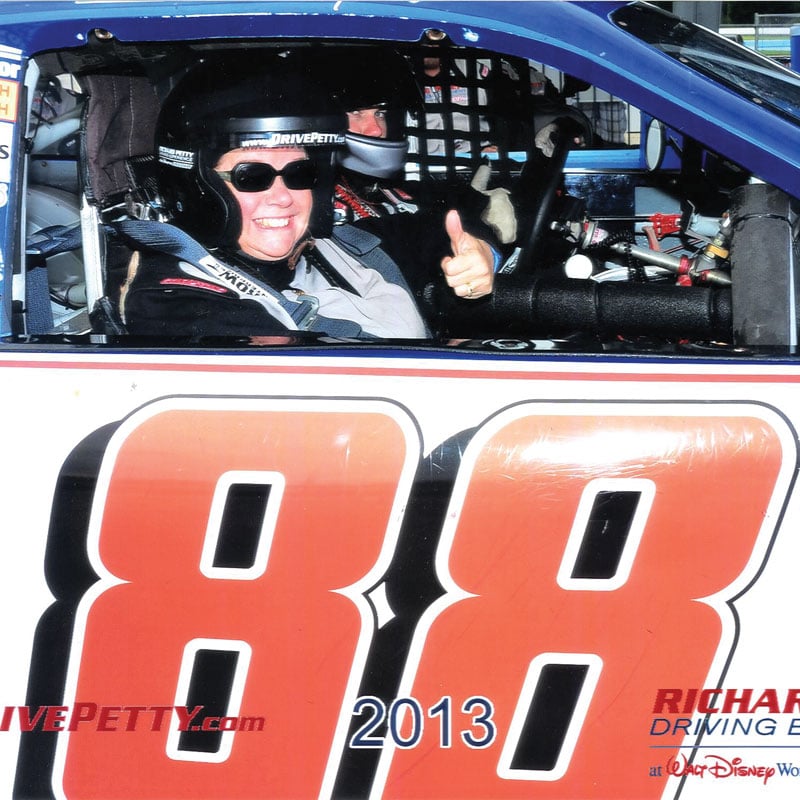 Courtesy Rosanne Dunkelberger
The author gives a thumbs-up to the camera before taking a few 145-mile-per-hour laps around the Walt Disney World Speedway.
I'm not a thrill-seeker by nature, but somehow the thrills just seem to find me.
I was reading a Facebook post from a guy who asked his friends to name all the bones they had broken in their lives. It was a short list for me.
One.
My pinky.
When I was 16.
Playing tetherball.
I do not attribute this to luck (well, maybe a little bit). I make it my business to stay away from activities that have a high likelihood of trauma, injury or death. I tend to drive the speed limit, only drink too much at home and be tucked into my bed before midnight. I'm not up for extreme sports and, in fact, tend to avoid the not-so-extreme ones, too. I never tug on Superman's cape, spit into the wind or mess with Jim.
So why was I, on a sunny Friday morning in July, preparing to take a 145-mile-per-hour joyride in a 600-horsepower NASCAR vehicle at the Walt Disney World Speedway? Why, indeed?
Don't get me wrong; driving around a racetrack sounds fun and exciting, and I'm all for it. Hitting a concrete wall at top speed? Not so much. Never skydived (never will), but the principle is pretty much the same. I'd be happy to soar though the air all day; it's that reconnection with Planet Earth I find alarming.
As I was jump-suiting up for my three turns around the mile-long tri-oval, memories welled up about a similar daredevil adventure I had a couple months earlier — along with their concomitant feelings of abject terror.
That would be the time I went ziplining at Adventures Unlimited, a back-to-nature experience out in the boonies near Milton. For that one, I had a bit of trepidation, but figured: How bad can it be? A few seconds zooming on a wire and it's over.
I still wasn't intimidated when our perky pair of college-age guides had us donning hardhats, harnesses, gloves and caribiners galore to prepare for our "adventure." No, the fear kicked in as I was climbing a ladder 50 feet straight up and then shared the tiniest of platforms with my fellow ziplinees.
With a total of eight people waiting to take the plunge, I had plenty of time to consider the dire possibilities. Waiting my turn, I clung to that center pole as if my life depended on it and tried not to think too much about the tower's construction integrity as it gently swayed amongst the treetops. And how, if and when it toppled over, I could hold onto that pole all I wanted — and I'd still be deader 'n a doornail when it was all over.
When it was my turn to jump off, I was thrilled — anything to get it over with. I made the ride without disaster or embarrassment, and was all set to celebrate my heroics when I realized I had just moved from one platform to another in the treetops and there'd be four more ziplines to navigate before I could once again remain on terra firma — with four more pole-clutching waits in the meanwhile.
Once it was all over and I was divesting myself of the caribiners, the perky guy guide confessed that, as we were climbing that first pole, he figured my chances of finishing were "50-50." And here I thought I was putting on a pretty stoic face for the group.
But that kinda got my dander up. So when the racing opportunity presented itself, I had something to prove. That's how I ended up at the Richard Petty Driving Experience in Orlando, suited, helmeted and neck-braced, doing my level best to cram myself through the passenger's-side window of the 88 National Guard car for the $99 Ride Along. One could do the driving oneself in "experiences" lasting from eight ($449) to 50 ($2,500) laps, but I had never mastered the stick shift, so my lot was to ride shotgun with Dustin in the driver's seat.
I had just about time enough to get my souvenir photo taken and notice Dustin's exceptional blue eyes before he dropped his visor, and we were off in a loud and rumbling burst of speed.
It was all over in a flash. My most vivid memory is that my butt continued vibrating even after I had crammed it back out the window. But I didn't have to remember, because I could actually watch the dash-cam video back inside the gift shop. I did a lot of grinning and "wheee"ing throughout the minute-and-a-half long video and, at the end, exhorted Dustin to pass the slowpoke self-driver ahead of us (he didn't).
My group — mostly ladies — insisted that Dustin get out of the car and pose for a photo with us. Off came the helmet and there he stood — a kid! An 18-year-old kid! I was in equal parts horrified that this guy was younger than my husband's car, and amazed by his skills.
What's next? Who knows? Perhaps a little tetherball redemption.
---
Looking for a Thrill?
For more information and prices for the Richard Petty Driving Experience, visit their website at drivepetty.com.
The company offers a similar experience at Daytona International Speedway, Atlanta Motor Speedway and Homestead-Miami Speedway as well as 20 other racetracks nationwide.
Zipline packages at Adventures Unlimited start at $89 and go up to $129 for a five-hour experience featuring 12 platforms. For more information, visit floridaziplineadventures.com. In addition to ziplining, the venue also offers canoeing, tubing, kayaking, high and low challenge courses, cabins and camping. adventuresunlimited.com