A Restaurant Reborn
Sage Rises from the Ashes — And Comes Back Even Better than Before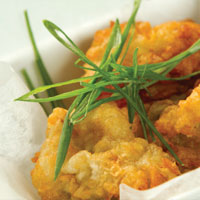 Photos by Scott Holstein
Chef/owner Terry White of Sage Restaurant offers tempura fried oysters with kimchee, sriracha tartar sauce and a soy-chili mignonette ($9).
When Sage Restaurant was vandalized by an arsonist, no one expected it'd come back better than ever.
Owner Terry White, who was recently named one of the nation's best chefs by the inaugural edition of Best Chefs America, bought Sage — then Mon Pere et Moi — in 2006. Having worked as a chef in the restaurant for two years, White already had a rapport with some great customers, and the restaurant continued to flourish in White's care. When an arsonist set fire to the building in October 2011, there was no easy transition — the restaurant had to be rebuilt.
Luckily, the community banded together to help White reopen the beloved restaurant. Within a week, David and Elizabeth Gwynn and Caroline Brewster of Cypress Restaurant had arranged a fundraiser for the reconstruction efforts, eventually raising around $17,000 — an uplifting and much-appreciated gesture White will not soon forget.
With reconstruction came an opportunity. With the help of designer Kelly Horne, the space was entirely redesigned, doubling its seating capacity and expanding the kitchen. The dining room now features banquette seating in the middle and a sophisticated, clean — but cozy — décor that makes the space warm and inviting.
Even the already-popular menu got a facelift; the expanded kitchen allowed for the addition of new items, and weekend menus feature some changing items every week. White explains that it's all about constantly evolving, learning and raising the bar. Signature items including such French classics as One Good Quiche and the Chicken and Mushroom Crepe (both $10 with a petite Sage salad) are ever-popular, as is White's favorite, the lamb.
For all of the shock and stress of reopening a restaurant after a fire, White says he'll always recall the way the community gathered to support Sage as it worked to rebuild.
"The way the community came out after the fire to get us reopened was invaluable to me; I'll never forget that. And to see how we've been able to rise up out of the ashes with the community's support, and do something that's … I don't want to say better, but it is. It's a better situation now, and I have an excellent staff that helps me execute my vision and dream."
Sage is open from 11 a.m.–3 p.m. Tuesday–Saturday for lunch, 6–10 p.m. Thursday–Saturday for dinner, and 11 a.m.–2:30 p.m. Sunday for brunch. Guests can enjoy their food inside the dining room or on the outside patio during good weather.