A Refined Dining Experience at The Hawthorn
Named for a Southern wildflower, The Hawthorn is Jesse Edmunds' third restaurant.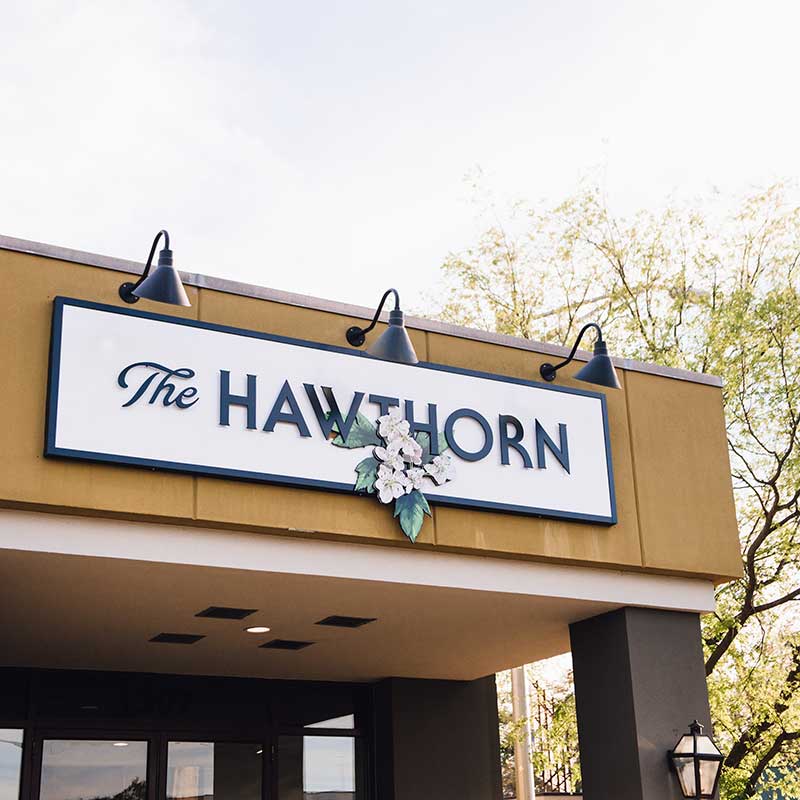 On a Friday evening at The Hawthorn, business was brisk, the main dining room full but not crowded. Guests lingered unhurried over glasses of fine wine and carefully crafted dishes.
Jesse Edmunds has described the dining experience at his restaurant as "refined" — a quality signified by attention to detail, but without fine-dining pretensions.
"We want people to feel that we genuinely thought of them," he said.
"We wanted seats that would be comfortable for a three-hour dining experience, so we sat in hundreds of chairs," he recalled.
Tables are spread with double linens to muffle noise, and a live sprig of thistle decorates each one.
"We sat at all of the tables and asked ourselves, how does it sound, how does it look, how is the lighting?"
Named for a Southern wildflower in the rose family, The Hawthorn is Edmunds' third restaurant, after opening Liberty Bar in 2014 and El Cocinero in 2016.
Its main dining room seats 54, with additional bar and patio seating.
The restaurant shares a kitchen with Liberty Bar, in the former location of Tifeo Italian Tavern/Joe Mama's Wood Fired Pizza.
This is a convenient arrangement.
Sitting on The Hawthorn's patio, Edmunds described sautéing seasonal vegetables in brown butter to Liberty Bar's kitchen manager, who popped over with a quick question about the bar's gnocchi entree.
Edmunds is especially proud of the table bread at The Hawthorn. The restaurant inherited the prior tenant's wood oven along with its location.
"We began our own bread starter before we opened, and we use the same one now. The bread is wood-fired at 4:45 every night, so it's cooling and ready to be cut at 5 o'clock.
The starter is now two months old, and our bread has a deeper character — it's almost sourdough-ready," he said.
He's right about the crusty, soft slices of bread that arrived on my table later that evening: They had a rich and appealing tang.
A chalkboard map announced oysters on offer at the time: Beausoleil, White Stone, Capitol Reserve, Pemaquid and Wild Cat Cove, all served with house-made saltines and distinctive sauces.
I opted for Atlantic oysters from New Brunswick, the Chesapeake Bay, and Maine, each with its own characteristic flavor and texture.
When it opened, The Hawthorn's menu featured items like braised rabbit ragu and wood-fired ribeye, but the menu items change with the seasons.
The citrus poached grouper was my choice.
Prepared sous vide and served with celeriac velouté, shaved fennel, buttered local mushrooms and fermented carrots, the fish was tender and flavorful.
The seasonal and local nature of the food remains constant.
Local suppliers include Ripe City Urban Farm, located just four blocks away from the restaurant; Orchard Pond Organics in Tallahassee; and Full Earth Farm in Quincy.
Live herbs in planters hang on the wall near the kitchen, waiting to flavor a dish.
Trained to cook in kitchens rather than culinary school, Edmunds started washing dishes at 14, then began making coffee, then moved on to plate dishes and fix sandwiches, and finally opened Liberty Bar with two friends from Mockingbird Cafe's kitchen.
Edmunds is now Liberty Bar's sole owner as well as the owner of El Cocinero and The Hawthorn.
He calls himself a self-motivator.
"To learn to debone a chicken, I watched videos of Jacques Pépin deboning a chicken. I bought 12 chickens at Publix and practiced while watching my phone in the kitchen at home," he said.
The learning curve can be steep in the restaurant business. Every job is different, and every job is important.
"A cook is not a chef, and a chef is not an owner," Edmunds said, recalling how he became a chef, and then an owner, at Liberty Bar.
A second restaurant presented new and bigger challenges. "Opening El Cocinero was hands-down the hardest thing I've done in my life. With the second restaurant, you have to know how to create and develop a culture, develop managers, delegate and trust. I feel more comfortable with the third restaurant," he said.
"The team is everything," Edmunds said of his current collaborators, some of whom have been with him since the early days at the Liberty Bar. "Our people are professionals. We wake up every day and work hard to do our best to serve people."
"Food-from-scratch is part of the culture now," Edmunds said. "For people in Tallahassee who want local ingredients and homemade fare, I want to find the business model to serve them."