A Preacher Turned Poet
Seasoned by years of sermonizing, Bob Gibbs turns to verse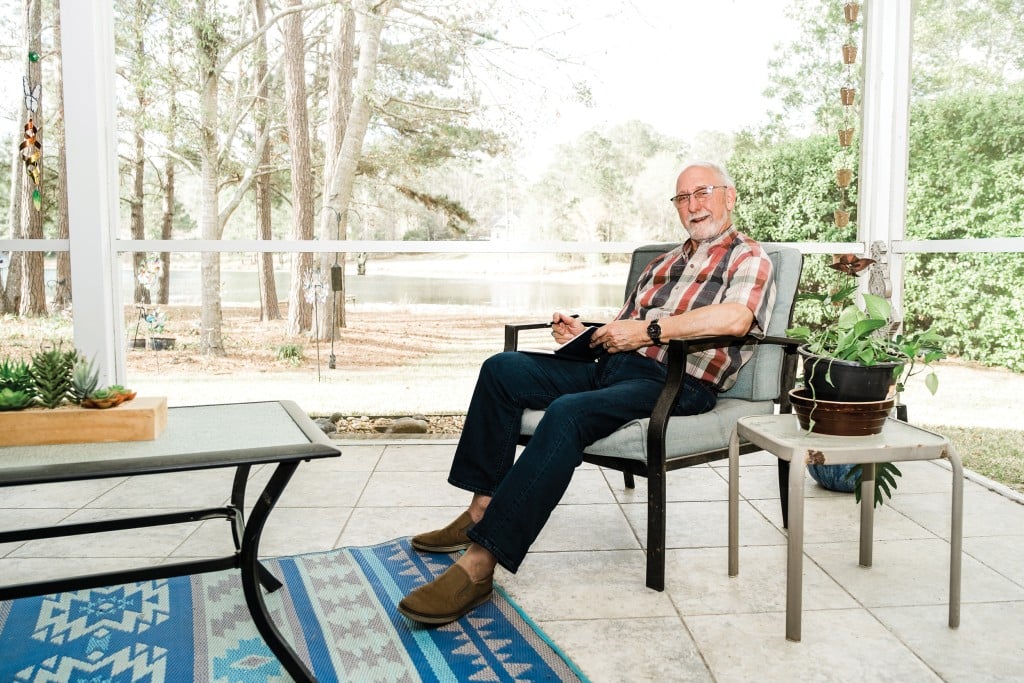 Toward the end of his 42-year career as a United Methodist minister, Bob Gibbs pastored a church that was about to turn 50. Staff there convinced him to write the words for a hymn that would figure in a celebration of the milestone.
That experience led Gibbs to start reading poetry more intently than he ever had before. He encountered writings by Kilian McDonnell, a monk and theologian who resides at St. John's Abbey in Minnesota and who began writing poetry in his 70s. Influenced by McDonnell, Gibbs would do likewise upon his retirement from the ministry in 2016. He hadn't written poems since high school. It was time he got started.
"Most of Kilian McDonnell's poems relate to Biblical passages and religious topics, but he has a beautiful way with images and words," Gibbs said. Too, McDonnell discourages anyone from thinking that there is uniformity among monks. In The Monks of St. John's File in for Prayer, he writes …
"In we shuffle, hooded amplitudes /
scapulared brooms, a stray earring, skin-heads /
and flowing locks, blind in one eye /
hooked-nosed, handsome as a prince /
(and knows it), a five-thumbed organist /
an acolyte who sings in quarter tones /
one slightly swollen keeper of the bees /
the carpenter minus a finger here and there /
our pre-senile writing deathless verse."
Among those monks, Gibbs might most resemble a writer who hopes that his poetry lives a long life. That is, he has lost much of his hair, he has all of his fingers and his ears are not accessorized. His verse ranges from the secular to the religious, but all of it is spiritual.
Gibbs' Tallahassee home is located on a pond, and in seeking inspiration, he often looks out his window onto the natural world. There is poetry in nature, and there is God in nature.
"He created it, as a matter of fact," Gibbs said.
Gibbs is an avid kayaker and an Audubon Society member, but he isn't the kind of birdwatcher who maintains a life list of species seen. Rather, he has a couple of field guides that he consults so that he can know what he is looking at.
"I like all the birds, the big ones and the small ones," Gibbs said.
Gibbs writes about life and death and their interconnectedness. He writes about uncertainty and the foolhardiness of men who believe they can tame the untamable. He is the president of the Tallahassee Writers Association, an organization he joined after he got the poetry bug. There, members critique one another's work, an exercise that he has found valuable.
The association annually conducts two writing contests, one for prose writing categories and the other for poetry and haiku. Gibbs won first
and third prizes last year in the poetry competition, qualifying him for a free book. (All of the prizewinning entries are compiled each year in a volume, The Seven Hills Review.)
Gibbs was born in Gainesville, graduated high school in Jacksonville and did his undergraduate work in Lakeland at Florida Southern College. His father, too, was a United Methodist minister whose career, like that of his son, would carry him about the state. Gibbs pastored churches in locations including Miami and the Tampa area and did two stints in Tallahassee, from 1984–92 and from 2012 until he called it quits.
For three years after graduating from Florida Southern, Gibbs made his living as a long-haired musician in a folk trio, Rainbeaux, that scored gigs mostly in Atlanta and covered songs by James Taylor, John Denver, the Beatles, Leonard Cohen and Bob Dylan. Gibbs and his wife met when both were working in an Atlanta bar.
"The band was fun, but God was calling me to do something else," Gibbs said. He enrolled in the Candler School of Theology at Emory University, and upon graduation, he returned to Florida.
"My poems are usually based on something I've observed or on a Biblical character or scene that triggers a poetic insight," Gibbs said.
Some poems come together quickly, but most require a series of edits.
"I used to carry into the pulpit sermons that were so marked up with lines crossed out and notes in the margins that no one could have read them but me," Gibbs said. "My wife says you never finish a sermon, and that is pretty much right. Poems are hard to finish."
Gibbs's first-place poem from the 2021 contest is Paradise, California 11/08/2018 and deifies the fire that destroyed that community. Funnel shaped, the poem reads from the bottom like flames rising. It intensifies on the way up, culminating in …
I am God, the devastating judgment, the unholy provoker of death and destruction. Call me Wildfire!
New Life, his third-place winner printed below, celebrates a gravid goose, but death hovers nearby.
In Tallahassee, for Gibbs, life is good. He has many friends in town, and he enjoys the change in seasons.
"There is a little bit of cold weather here, and we get to see the beautiful azaleas in the spring."