A Place Like Home
Tallahassee connections abound at Mary Mac's Tea Room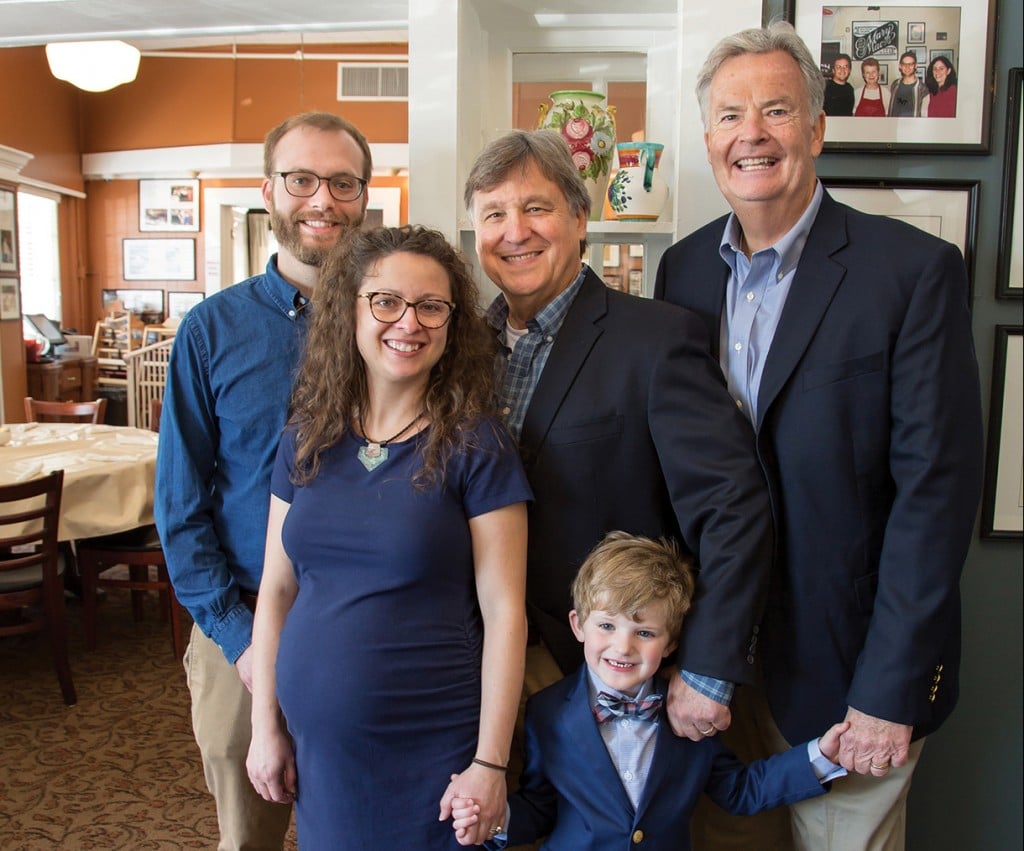 Chances are, if you've spent time in Atlanta, you've heard of Mary Mac's Tea Room. It's the sole survivor among more than a dozen that opened after World War II in booming midtown, all operated by women who needed income but wanted a name with more style than "restaurant."
Many classic Southern dishes have been on the menu for decades, including fried chicken, chicken and dumplings, meatloaf, pork chops, collard greens and cornbread. Others have been added to reflect changing tastes and health goals, including vegan and vegetarian options. An estimated 1,500 to 2,000 people dine there every day.
"I used to always say Mary Mac's is like a big, fast merry-go-round," said John Ferrell, who has owned it since 1994. "At first, I didn't have any idea how big a restaurant I had. It's a hard business but it's worth it, and it has worked out very well for me.
"This place came with a legacy," he continued. "People would tell me 'my grandparents ate here' and 'my parents and I have been coming here since I was a kid.' Everyone wanted it to succeed."
Mary Mac's had been through three turbulent years when Ferrell saw the "for sale" sign on the padlocked doors. He had long dreamed of owning a restaurant serving the food he grew up eating at the family farm next to Wakulla Springs State Park. He also had a connection to Mary Mac's that was forged while he was majoring in hotel and restaurant management at Florida State University. Marie Lupo was a classmate, and her mother had bought the place from Mary McKinsey, the original "Mary Mac." Ferrell had eaten there while in college and toured the kitchen.
Was this destiny? He telephoned his old friend.

Salvaging a Legacy
Margaret Lupo bought the restaurant in 1962, but by 1991, she was widowed and tiring and put Mary Mac's up for sale. Because she owned both the cobbled collection of storefronts that make up the restaurant and the land beneath them, she became the new owner's landlord. Her first buyer kept it only a month before selling it, and the next purchaser ended up trashing the place, financially and physically.
Ferrell's call to Marie Lupo Nygren was the first step in restoring Mary Mac's legacy. It took a lot of hard work and help from family and friends to clean up the mess, but Mary Mac's reopened in 1994. Lupo served as a consultant, and several former employees returned. Over the years, the mission has remained the same: Treat customers to homemade Southern dishes prepared using fresh ingredients and presented in a friendly, attentive manner that makes you feel as though you have come home.
The Georgia Legislature has proclaimed Mary Mac's "Atlanta's Dining Room." Former U.S. Sen. Max Cleland gave his 1996 election night victory speech at Mary Mac's. Almost 15 years later, when Mary Mac's published a cookbook, Cleland lent this endorsement: "It's my home. Period."
Given Mary Mac's proximity to the Capitol, it has always been a popular stop for prominent state and national politicians. The walls along the hallways that connect the seven dining rooms are lined with framed photos, letters, and newspaper and magazine articles. There's a photo of actor Richard Gere with the Dalai Lama. Another of Vice President Joe Biden. Several of Cleland. You'll also see former President (and Georgia governor) Jimmy Carter and First Lady Rosalynn Carter.
But unless you've spent a lot of time perusing those walls, you probably didn't notice the picture of Leonard Hamilton, coach of FSU's men's basketball team, seated in one of the dining rooms. Or the article from the Tallahassee Democrat about the publication of the restaurant's cookbook. It's likely this article will land there, too.
How did Mary Mac's become an Atlanta hub for the Seminole Nation? Good food and family connections.

A Loyal Following
FSU men's basketball coach Leonard Hamilton grew up eating the same kind of food Ferrell did, and he and Ferrell have become fast friends. He reserves space for his teams when the schedule includes Atlanta.
Hamilton's love is forever enshrined in the cookbook: "I never go to Atlanta without stopping by Mary Mac's. All my friends know if we go out to eat, there's no question of where we'll go. Mary Mac's is my home away from home."
Sue Semrau's women's basketball team has eaten there. Mary Mac's fed the FSU football team while on its way to an appearance in the Chick-fil-A Peach Bowl versus Houston in 2015. The most loyal following, though, might be a group of FSU fans who travel together to away football games on one or two chartered buses.
For years, the group included Tallahasseean Bridget Chandler, whom Ferrell describes as his aunt and second mother. Chandler's late husband and John's late mother were first cousins, and the two have been close Ferrell's entire life.
"I asked Penny and Jerry (Scruggs), who organize the trips why they didn't schedule a meal at Mary Mac's when we went to Atlanta," Chandler recalled, "and they said, 'We've been trying to work it out but haven't been able to.' I said, 'Well honey, I can work it out.' And I picked up the phone. That was probably 12 or 15 years ago."
Chandler, now 93, doesn't make the trips anymore, but her friend Billie Reardon, a longtime Seminole Booster and Extra Point Club member, was on that 2017 football trip.
"A lot of people on the bus had been there on family vacations, and everyone was delighted to know that's where we were going," she said. "It was great fun, and the food was fantastic!"
About 13 years ago, Ferrell met and fell in love with Hank Thompson, a divorced father of two. Son Matt Thompson and his wife, Elizabeth, have since taken over most of the day-to-day operations, although Hank and John are still involved in various aspects. Hank Thompson describes himself as a "Surrogate Seminole." Almost two years ago, he and Ferrell adopted a little boy from the Tallahassee area, Jaxson, now 6, and they spend most of their time raising him.
The family chose in March to close the restaurant until the coronavirus pandemic subsides, because it didn't make sense to try to adapt a 75-year-old winning formula to the necessary restrictions.
"But we have our fingers crossed that this will be over soon," Ferrell said. "Mary Mac's will reopen as soon as it's safe."
Chicken Fried Chicken Pepper Gravy
Recipes from Mary Mac's
Ingredients
¼ cup all-purpose flour

¼ cup butter

(or margarine)

1½ cups whole milk

1½ cups heavy cream

1 tsp black pepper,
or to taste
½ tsp salt, or to taste
Directions: In a large saucepan, melt butter or margarine on medium-low heat. Once the butter has melted, whisk in the flour. Stir continuously and turn the heat to low and cook the mixture for about a minute. Slowly whisk in the milk and cream, being careful not to scorch the milk. If the gravy becomes too thick, add additional milk and cream, in equal proportions. Season with salt and pepper and allow the gravy to cook for about 10 minutes on low while you stir frequently.
Chicken Fried Chicken
Ingredients
4 chicken breasts, pounded to an even half-inch thickness

2 cups all-purpose flour

1 cup buttermilk

1 tsp salt

1 tsp white pepper

Canola oil, for frying
Directions: In a large dish, stir together the flour, salt and pepper. Place your pounded chicken in a separate large dish and pour the buttermilk over the chicken. Set aside. In a large cast iron skillet, heat 2 cups canola oil over medium-high heat until it reaches 350°F (oil should be hot, but not smoking). Once the oil is ready, take each piece of chicken from the buttermilk and dredge in the flour mixture before carefully placing in the hot frying pan. Cook the chicken for about 3-4 minutes on each side, until golden brown and the internal temperature of the chicken reads 165°F. Serve chicken topped with a generous pour of warm pepper gravy.
John Ferrell's Cornbread
Recipe works for both corn muffins, which are served at the restaurant, and skillet cornbread, which John likes to make at home.
Ingredients
¼ cup corn oil or bacon drippings, plus

2 tablespoons for the skillet

1½ cups white cornmeal plus 1 tablespoon for the skillet

¼ cup flour

1 tablespoon sugar

1 teaspoon salt

1½ teaspoons baking powder

½ teaspoon baking soda

1 cup buttermilk

1 large egg
Directions: Preheat the oven to 450 degrees F. Grease a 10-inch cast-iron skillet with 2 tablespoons corn oil or bacon drippings and place it in the oven for 6 to 8 minutes, until very hot. Combine the cornmeal, flour, sugar, salt, baking powder and baking soda in a large bowl. Mix together the buttermilk, the remaining ¼ cup oil or drippings and egg in a small bowl. While the skillet is in the oven, stir the wet ingredients into the dry until combined. Do not overstir. Remove the hot skillet from the oven and sprinkle the
1 tablespoon of cornmeal evenly over the bottom. This prevents the cornbread from sticking. Immediately pour the batter into the skillet and return to the oven. Bake for 18 to 20 minutes, or until browning on the edges. Serve hot.
Variation: Alternatively, the batter can be poured into well-greased muffin tins to make about a dozen cornbread muffins.