A Piece of the Soul
Community mourns legendary self-taught artist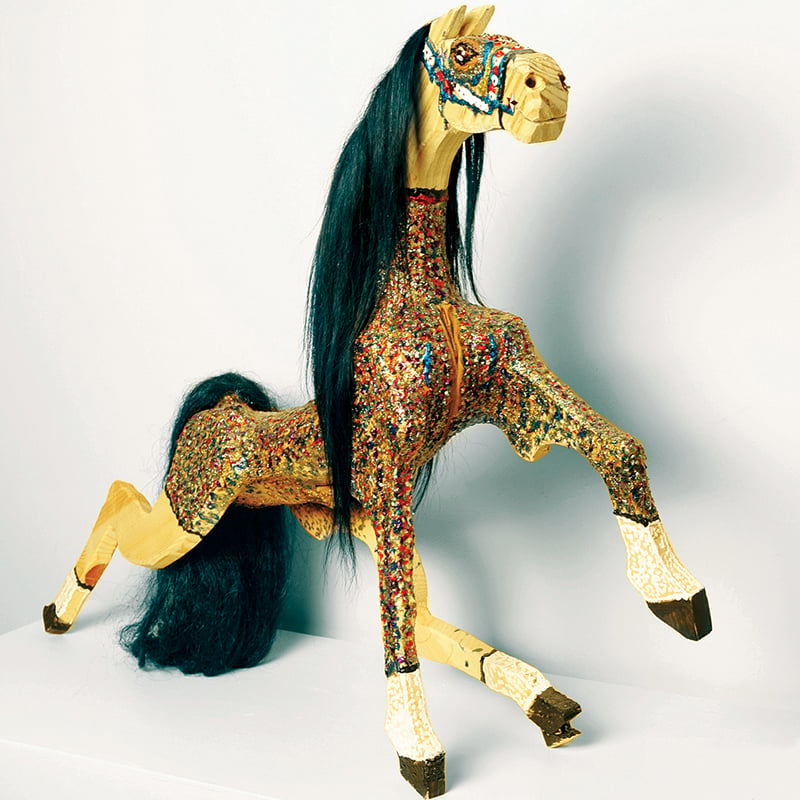 At the time of his death this past July, he was one of the most recognized vernacular artists in the American South. But Ossie Lee Samuels — better known as O. L. — didn't always consider himself an artist.
Samuels' sculptures began attracting attention decades ago, when he lived in Moultrie, Georgia, and asked to borrow $50 from Jane Simpson, the visual arts director of the Colquitt County Arts Center. Instead of lending him money, Simpson was able to sell one of the many carvings Samuels had produced in his home to a law firm in Moultrie, earning $700, according to an article announcing his death in the Moultrie Observer.
Vernacular artists are self-taught and use non-traditional or "found" materials to create artwork about their lives and surroundings, and the genre is primarily associated with southern states like Alabama, Georgia and Florida.
"The expressive power of the work and the unique style of the artist makes the art powerful," said Grace Robinson, the executive director of Gadsden Arts Center in Quincy, which produced a tribute exhibition for Samuels in 2016.
Samuels was born in 1931 and was raised in Wilcox County, Georgia. He lived in New York and Moultrie before moving to Tallahassee in the '90s. None of his friends or contemporaries could say, definitively, why he moved here. Samuels' wife, Gladys, said he received a monetary award. Fellow artist Jim Roche, who has collected several pieces made by Samuels, said, "There was no more audience in Moultrie. We who were buying were here."
Regardless of the reason for the move, Samuels would later produce thousands of pieces from his home studio in Tallahassee.
Roche praised Samuels for being candid about the relationship between his work and his life. "O. L. didn't do harmless work. He would do something specifically about a subject, and he'd tell you what it was, why it was there, the story behind it and everything to do with it. I really liked that."
Writers, artists and documentarians have come from far and wide to Tallahassee to see Samuels work and talk to him about his art. In 2013, the State of Florida presented Samuels with a Florida Folk Heritage Award. Gladys displays the glass award in her living room, next to a large photo of her husband accepting the honor. He appears in the photo, as always, impeccably dressed.
Fame never changed Samuels' personality or his work, said those who knew him well. When asked what she felt was most important to know about the art of O. L. Samuels, Gladys responded, "how sincere he was."
The Florida Folk Heritage Award topped off a lifetime of accolades for Samuels.
By the time he received it, his sculptures and statues had been exhibited at the White House and the Smithsonian American Art Museum, the Arkansas Art Center, the American Visionary Art Museum in Baltimore, the Harriet Tubman Museum in Macon, Ga. And, as mentioned earlier, the Gadsden Arts Center. Ted Turner and Jimmy Buffett are among the famous collectors to own pieces by Samuels. Su and Steve Ecenia, Calynne and Lou Hill, and Carlene and Terry Prince contributed pieces to the Gadsden Art Center exhibit.
Gladys remembered that Buffett traveled to Tallahassee to meet with Samuels in his home workshop. Samuels felt connected to each of his creations and liked to speak with buyers personally, often telling comedic stories about his life or going into the reasoning behind the shape of a particular piece.
For the film, Woodchanger, director Jimmy Joe Roche filmed Samuels using a chainsaw one-handed to carve an alligator. Later in the film, Samuels visits with finished pieces, lovingly petting them as if his sculptures were alive.
"Everything he made was one of a kind," said Jeanne Kronsnoble, who owns Main Street Gallery in Clayton, Georgia, where several pieces of Samuels' work are available for sale. "When you have a piece of his work, you have a piece of his soul."
The gallery owner visited Samuels in Tallahassee several times a year to purchase pieces. "He had this innate ability to make things that were very much his own," she said. "His sculptures were sometimes scary, sometimes funny and sometimes touching."
An O. L. Samuels sculpture is distinctive and nearly impossible to describe adequately. Over Samuels' lifetime, he produced hundreds of carvings representing animals, fish, human figures, fantastic cars and supernatural beasts. An obituary published in Raw Vision, the magazine devoted
to promoting the work of untrained artists (called "outsider art" by the publication), praised the "imaginative hybridity" of Samuels' sculptures, in which physical features from two or more animals were conjoined in a single sculpture.
The artist, who was colorblind, often finished his carvings with a "secret formula" of sawdust, glue and vibrant paint, or clear varnish and small objects such as faux jewels or marbles. Later in life, he developed a "dotting" technique to decorate large surface areas.
"A person cannot decide to be a folk artist," explained Kronsnoble. "It's not just about not having training, but about the 'self' in self-taught art. The style of the artist is innate. Often the artist begins making art after some kind of accident or tragedy."
Gladys said that Samuels had carved his own toys as a child, but he started making sculptures in earnest later in life. At age 50, he was working as a tree surgeon in Georgia when a work accident left him partially paralyzed and wheelchair-bound for close to four years.
"When he started to carve, he would find something in the wood that inspired him," Kronsnoble said, describing Samuels' process. "Sometimes he'd start carving an animal, and the wood would tell him to make something else. 'It started out to be a woodpecker, but it turned out to be a hummingbird,' he'd say."
Among the assortment of dangerous jobs he worked before finding his purpose as an artist, Samuels competed as a boxer in New York and hunted bounties across the country. Upon hearing that Samuels could predict winning lottery numbers in his dreams, his landlady in New York hired him to tell fortunes while dressed in a gown and bonnet — a job he kept until one of the men whose fortunes he told learned from O.L. that his wife was unfaithful and stabbed her.
An ordained minister who was often invited to speak or sing at church, Samuels made work that was inspired by God, said his wife. "Whenever he was doing his art, he'd be over in the corner working. Heat waves, or whatever it was — I decided it was the Spirit — would be right beside him, like they were having a conversation."
Visionary artist Mary Proctor displays her work in the American Folk Art Museum and Gallery, located on the second floor of the Center of Tallahassee. She revised her initial impression that some of Samuels' figures were "weird" after realizing that they had a spiritual component.
"It's like calling God weird, because God made weird-looking animals. God made everything. It was O. L.'s way of showing what he wanted to bring to the world — to show us the monsters."
O. L. Samuels is survived by his wife, a brother, two sons and their wives, and Ms. Samuels' children and their families, as well as countless people in Tallahassee and across the world who appreciate his art in museums or treasure it in their homes.
Gladys remembers that O. L. had a special affinity for birds. He often dreamt of flying, according to his wife, and birds would flock to him in the parking lot when the couple went out to eat.
"Every time he made a bird or an eagle, before the paint was dry, people would want to buy it," she said.
"Anything I want to know, I ask God, and it'll come to me," Samuels once said. "I wanted to know how it would look in heaven. I went to sleep and dreamed I actually flew up there.
"But when I got there, I didn't see nobody. Everything looked clean," he continued. "I was in this little world in the middle of the big world. What color is the sky? That's what color it was. It was so beautiful."