A Perennial Favorite
The simple, versatile sundress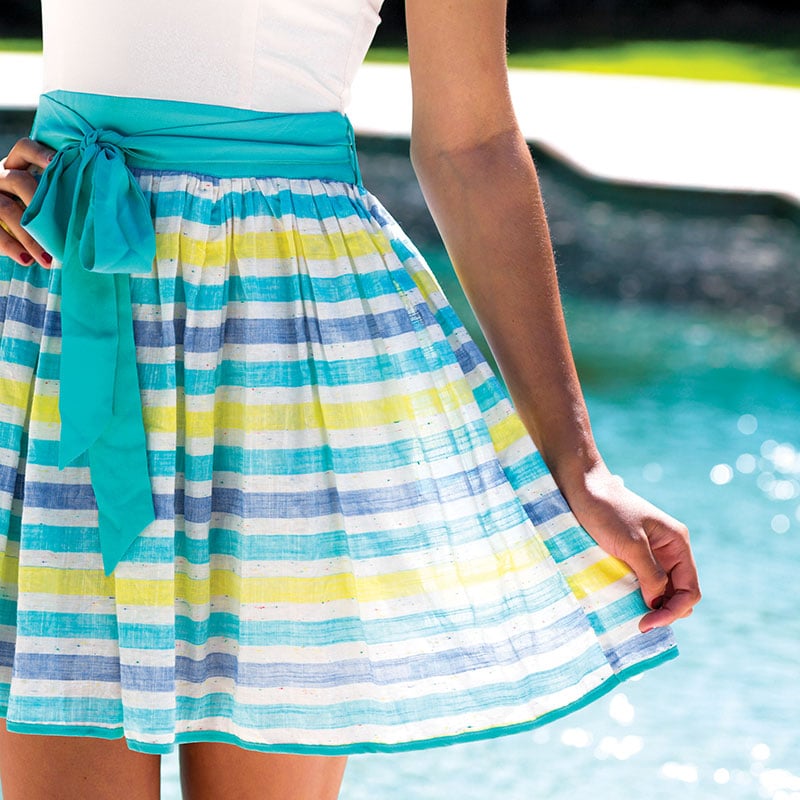 Elle Belle Photography
Fit and flare style sundress from Sparkle by Madison, $30. Mariah Lynn Knight models a trapeze-style sundress from Sparkle by Madison, $30.
When you live in a state known far and wide for its sunny, warm weather, the sundress could well be considered as essential as the proverbial Little Black Dress. Fortunately for women in the Sunshine State, the sundress has never gone out of vogue, due to the many permutations of this very basic piece that have been offered by designers over the years; and it seems that they have only increased in popularity, making their way from runways to real ways all over the world.
There are reasons that the sundress has been a perennial favorite for women of all ages and all socioeconomic backgrounds. Dresses are, in and of themselves, a way to simplify things — they don't require the pairing of a top with a bottom, and that all-in-one appeal has translated through countless fashion trends over the centuries. Naturally, comfort and culture have come into play in the way that dressing has evolved, and one of the results of these many shifts has been the sundress.
Amazingly enough, sundresses have been a player in women's wear since the 1940s, though they didn't really reach the height of their popularity until Lilly Pulitzer put her stamp on them 20 years later. Her interpretation of the dress — one of ease and brightness and bold prints — made them stand out, and women have been happily wearing them ever since.By definition, a sundress is lightweight and breathable, loosely fitting and sleeveless — a killer combo when it comes to warmer weather. Contrary to what some might assume, however, sundresses don't have to be skimpy. In fact, with lower hemlines and necklines that actually leave something to the imagination, sundresses can be relatively modest rather than always having to push the limit on propriety.
With their many cuts, colors and patterns, sundresses are flattering to almost every figure, and an endless variety of fabrics makes them versatile enough to wear for almost any occasion. You don't have to have a trip to the shore on your schedule to wear a sundress — their versatility alone makes them a warm weather staple, something that should be in every woman's closet as a foundational piece, especially if the dress is in a color, style and fabric that can be easily styled in multiple ways — think neutrals like navy, black, white, cream and tan. But even shades like coral, teal, red and pink can be played up or down simply by adding the right accessories or a few other wardrobe pieces. Depending on how you style your dress, even boldly colored dresses can be made more office appropriate — throw on a cardigan or a fitted jacket in a complimentary color, and you'll look polished and professional without ever seeming stuffy.
As is the case with any dress, cut is crucial. If you're petite, you'll hardly want a length that will overwhelm your frame or make you look shorter, so pay attention to hemlines. Maxi, midi and shorter-skirted styles are all having their day in the sun, so you may have to try out a few variations before you find your most flattering fit. No dress is one size fits all, simply because not every woman is built exactly the same. What looks fantastic on your friends might not suit you, so never assume that you'll be able to pluck that showstopper off the rack and love it just as much on you as you do every time you see it on someone else. You are you, and their dress might need to be something you admire from afar.
As the heat index rises, take a peek into your own closet to assess your dress. Is it time to try out sundresses for the first time, or do you have one to put back in rotation? Whatever the case may be, sunny weather is the perfect time to have fun with your wardrobe and say yes to the dress.