A Novel Place To Live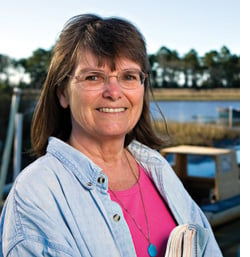 The Forgotten Coast provides the inspiration for four local writersA Novel Place to LiveThe Forgotten Coast Spurs Creativity for its Resident Writers
By Stephen Kindland
Photos by Scott Holstein

Natural wonders aren't the only riches to be found along the Forgotten Coast. The area has its share of human treasures, too. Among them are three novelists and a writer/photographer, all passionate about protecting the Forgotten Coast's environment and preserving its lifestyle. These talented wordsmiths draw unique and varied inspiration from their experiences on the Forgotten Coast.
Dawn Evans Radford
Works: "Oyster Flats" (Pottersville Press, 2007); numerous poems, essays and short stories.
Radford is a novelist who won the Sherwood Anderson Foundation Award in 1993 for her short story "Uncle Jim," based on her stepfather's brother, a lighthouse keeper in the early 1900s. Her poetry has been translated to Russian and published internationally. She holds masters degrees in English and creative writing from the University of North Carolina at Wilmington.
Gracious and delightful, Radford says the area is filled with real-life characters who have made thinly disguised appearances in her novel, "Oyster Flats," and other writings.
She grew up in Apalachicola, spent 30 years in North Carolina and now lives in Eastpoint. Her sense of smell is as keen as her childhood memories of Apalachicola. To her, the oyster shells and marshes of the Forgotten Coast have a distinct fragrance that didn't change during her long absence up north.
"We have a small-town smell here," she says. "There's a way of life here that's in danger of disappearing. I saw that happen in North Carolina with all the uncontrolled development."
Radford bustles around the Forgotten Coast area and teaches a Florida "Panhandle novels" course at Gulf Coast Community College. She also can be found volunteering at local libraries, schools, churches and women's centers.
"I call this place a national treasure," she says. "I can't see living out my old days anywhere else."
Connie May Fowler
Works: "The Problem With Murmur Lee" (Broadway Books, 2006); "Remembering Blue" (Doubleday, 2000); "Before Women Had Wings" (G.P. Putnam's Sons, 1996);  "River of Hidden Dreams" (Random House, 1995); screenplay adaptation of "Before Women Had Wings" for Oprah Winfrey and other writings.
Much of Fowler's work has been translated into 15 languages and published worldwide. She is a former professor of writing at Rollins College in Orlando, and she is the founder and CEO of "Below Sea Level: Full Immersion Workshops for Serious Writers." She has hosted these seminars at Alligator Point and in St. Augustine, where she spent most of her childhood.
Fowler, whose clever and jovial nature belies her dedication to several serious causes, moved from her native state twice. "But both times it was a mistake," she says.
She calls her home on Apalachicola Bay, built as an officer's quarters for amphibious training during World War II, a "sea shanty" that offers spiritual tranquility when needed.
"It's like living on a ship," she says. "It's very magical. Characters gather in my head during my morning walks on the beach. It's very meditative."
When  not traveling the United States speaking out against domestic violence, child abuse and environmental issues affecting Florida, Fowler busies herself on her seventh novel, which carries the working title "How Clarissa Burden Learned to Fly." When not writing, she relaxes with her two dogs and ventures out to mingle with the people who have inspired her literary works.
"I find this (area) very stimulating," she says. "I love the people, and I really like the peace and quiet."
John B. Spohrer Jr.
Works: "Florida's Forgotten Coast" (Two Dogs Publishing, 2004); "Fish St. George Island" (Two Dogs Publishing, 1996).
Spohrer relocated to St. George Island in 1980 from Baton Rouge, La., where he owned an advertising agency. He and his wife, Helen Diane Townsend, share a 96-acre home on the north shore of Round Bay in Franklin County that doubles as a wildlife sanctuary. Spohrer is an accomplished nature photographer who owns and operates a television channel, "Forgotten Coast TV," which airs on Mediacom and St. George Cable.
Intelligent, sincere and articulate, Spohrer's commitment to preserving Florida's wildlife inspired his book "Florida's Forgotten Coast." The book contains dozens of plant and animal photos he took over an extended period. In the text, he introduces each creature individually, because he doesn't want them thought of as potentially being "just another dead animal on the road."
Spohrer says the Forgotten Coast is all about what it is now – not what others think it can be.
"We have something here that no other place in Florida has left," he says. "If you want fancy nightclubs, you don't come here," he says. "Nobody moved here because there was a bunch of people."
Spohrer devotes his television programming to topics about environmental issues and Florida's fragile ecosystem.
He describes himself as "more of an educator than a politician." However, he has spent a great deal of time pressuring public officials to "uphold the laws that exist" – particularly in Franklin County.
"The Forgotten Coast has some pretty good laws, but they don't always follow them," Spohrer says.
John "Jack" Mullen
Works: "My Name is Smith" (Perfect Paperback, 2006); "Chasm Leap" (Rose Printing, 2001); "The Sound of Death" (Dream Catcher Publishing, 2002).
After writing two novels, Mullen produced "My Name is Smith," a nonfiction collection of factoids about people who carry America's most common last name – from Sugar Ray Robinson (his given name is Walker Smith Jr.) to the captain of the Titanic.
Mullen grew up outside Philadelphia, is a four-year veteran of the U.S. Coast Guard, and is a longtime civilian employee of the U.S. Air Force. He moved to the area in 2000 and serves on the Mexico Beach City Council.
Personable and accommodating, Mullen is dedicated to keeping the Mexico Beach area as pristine as possible. You can spot him on the beach, trash bag in hand, as he takes frequent walks to relax and think.
Mullen's clean-up act is symbolic of a deeper commitment. As a city councilman, he has been involved in sea turtle and beach restoration projects, as well as turning down proposals from outsiders to build high-rises along the beach.
"We pretty jealously protect it," he says of Mexico Beach's coastline. "Nobody stands a chance if they're going to run for office and want to develop it."
Though government and the military officials are main characters in his novels, Mullen finds other Forgotten Coast area people interesting and inspirational.
"They're wonderful – very folksy," he says. "It's a small town, and because I'm a city councilman, they're not shy to call."