A New Tallahassee Celebration Highlights Writers and Musicians
Tallahassee's Newest Festival Celebrates Writers and Music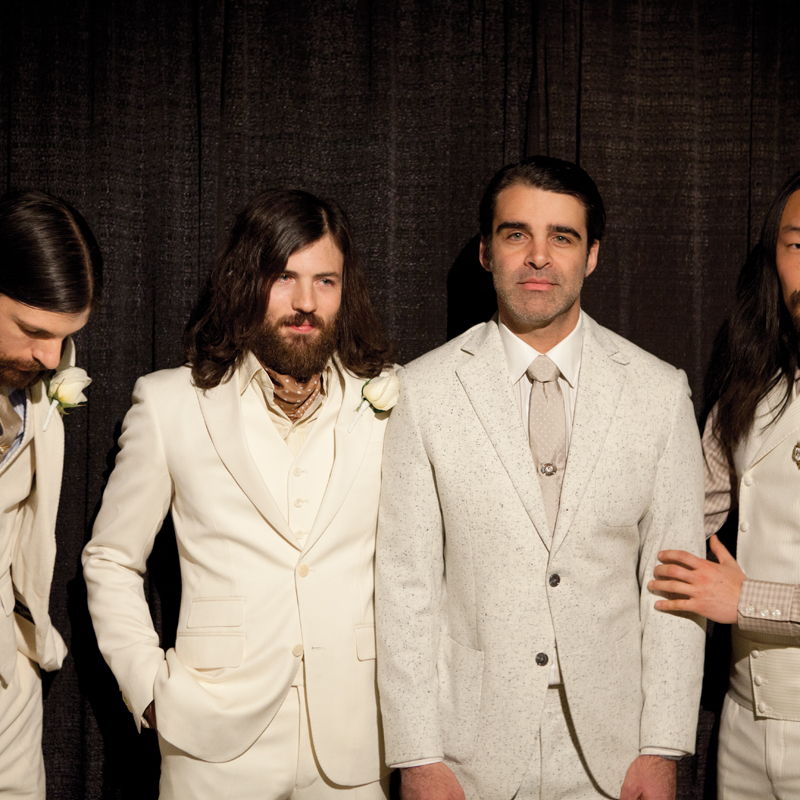 Austin has one. Washington, D.C. does, too. Vancouver, Los Angeles and Nashville have them.
Welcome to the world of the literary festival, Tallahassee.
Kevinkellyphotography.com
Best known as a songwriter, guitarist and human rights activist, Canadian Bruce Cockburn is also the author of a memoir released in 2014, "Rumours of Glory."
Tallahassee's Word of [South] — "a festival of literature and music" — will take place on four stages at the award-winning Cascades Park on April 11–12.
Local author, businessman and public servant Mark Mustian was the brains behind this new Tallahassee tradition. He says he has wanted to do something like this for a long time, ever since he was invited to speak at several literary festivals after his book, "The Gendarme," was published. When visiting Decatur, Georgia, St. Petersburg and Los Angeles, he kept asking himself why this couldn't be done in his hometown.
In true Tallahassee style, though, Mustian, along with his 25-member steering committee, wanted to make this an event all its own.
"Instead of just making it the Tallahassee version of the South Carolina Literary Festival," he said, "we decided to try and do something different and host a festival devoted to both music and literature."
Mustian explains that it's the relationship between music and literature that the event is mainly interested in exploring.
"Clearly, a lot of musicians write and care about literature, and a lot of writers love (and write about) music," he explains. "It's fascinating to see the two blended together, and the enthusiasm generated in connection with it."
Organizers are particularly excited about some of the unique book and music pairings at the festival, including Pulitzer Prize winner Robert Olen Butler and activist/singer/songwriter Bruce Cockburn; best-selling novelist Jeff Vandermeer and guitarist Vernon Reid; author Mary Gaitskill and musical storyteller Peg Simone; Irish writer Clare Lynch and Irish singer Brendan Nolan. 
In addition, they wanted the event to have a distinctly family feel. Children of all ages will find something to love at the event, with performers and writers dedicated to the art of children's storytelling front and center.
A "Young People's Tent" will be up all weekend, with musical and book-related events to capture the imaginations of Tallahassee's children and adolescents. Emmy Award-winning actor Tony Hale will read from his children's book to kick off the event on Saturday, and kid-centric — but decidedly adult-friendly — bands such as Gustafer Yellowgold and Lunch Money will perform.
For older kids, the author and New York musician Michael Hearst will present a "slightly edgier show," while Ramona King will show how stories can be put to music.
There will be plenty of musical and literary diversity, so everyone in the Tallahassee community will find something to love.
"We've deliberately tried to not be pegged as only providing a specific musical (or literary) genre," Mustian said.
From jazz to gospel, alt-country to folk, Word of [South] will have it all. Organizers hope to appeal to Tallahassee's unique "creative class," people ages 25-45 that the area has spent considerable resources trying to involve in the community culture.
While the festival schedule is still evolving, some things are already in place.
PEN/Faulkner Award-winning author Ann Patchett headlines the festival on Saturday afternoon, while the Marcus Roberts Trio plays at brunch on Sunday. The gospel group Sweet Honey in the Rock performs Sunday afternoon, and the Tallahassee Symphony Orchestra will play — with special guests — on Sunday evening. The Avett Brothers will perform at the Capital City Amphitheater the Friday night before the official festival kickoff. 
Organizers want to showcase local artists, too, and an exciting synergy was developed with Tallahassee Music Week, a KCCI-sponsored initiative designed both to encourage local venues to host local musicians and to put local musicians in unusual places during one week — all leading up to the Word of [South] kickoff. Ultimately, more local performers will also be involved in the festival itself.
Mustian and the Word of [South] steering committee recently hired Amanda Stringer, the director of the Tallahassee Symphony, to be its director, too. An investment like this in the planning and structure of the festival is a key element to its future success. And success is exactly what they have planned.
The overall goals are to expand the event to national prominence, both in terms of footprint and talent. Geographically, organizers want to incorporate the Capitol facilities and also grow down Gaines Street as the festival gets momentum.
"We'll be doing significant advertising — even for the first festival — outside of Tallahassee," Mustian said. "To achieve some national publicity and make this a festival that's known throughout the Southeast, if not the nation."
In addition to great opportunities for cultural exposure and pure entertainment, there are countless ways to become involved in the festival experience.
"We need tons of volunteers," Mustian says. "To work at the park the weekend of the festival, to help with artists, to help with transportation," the list goes on.
There's also a great opportunity for vendors. Organizers will have up to 50 spots for those wanting to sell music or book-related items. Application forms for vendors are available online at the festival's website, wordofsouthfestival.com. Tallahasseeans who want to help as volunteers may also contact the organizers via the website.
The vision is large, but the commitment is substantial, too.
To help bring this vision to fruition, Word of [South] is supported by many sponsors already: Tallahassee Community College is the presenting sponsor of the event, and a broad array of public and private participants are also helping, including the Leon County Tourist Development Agency, the city of Tallahassee, the Tallahassee-Leon County Community Redevelopment Agency, the state of Florida Division of Cultural Affairs, Talcor, Tallahassee Memorial Healthcare, the Florida League of Cities, Demont Insurance Agency, CenturyLink, the Knight Foundation, Figg Engineering, AARP, Walmart, Mike and Judy Sheridan and others.
"Our hope is that after the first festival, people come to Tallahassee to try and figure out how we got this done," Mustian says. "The sky is the limit in terms of making something this big. The response from artists we've asked to participate in the festival has been fantastic."
"If we can't do this at a national level [of quality], then I don't want to do it," he told his colleagues. National quality is definitely what they've achieved for this inaugural event.