A New Magazine
Larger and More Refined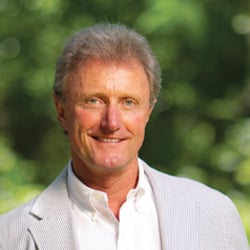 Scott Holstein
Tallahassee Magazine's Publisher, Brian Rowland
In business, I am a firm believer in the need for constant reinvention — to keep moving forward and make necessary adjustments in the ever-changing business and social environment in which we live.
Last year, Tallahassee Magazine earned the prestigious award from the Florida Magazine Association as the Best Overall Magazine in Florida with a circulation under 20,000. One might think "you've made it," and it's time to put it on cruise control and bask in the glory of being No. 1.
But it's just the opposite for me: While celebrating the victory and acknowledging the wonderful staff of publishing professionals I have the distinct opportunity to work with each day, I believe now is the time to begin the process of reinventing and pushing Tallahassee Magazine to the next level of refinement and excellence.
At first, staff thought I was nuts for seeking to make change, however, my job is to look to the horizon and position Tallahassee Magazine to be consistent with where Tallahassee is going over the next five years.
A new generation of professionals is shaping a new Tallahassee — and we have profiled a sampling in this issue. The landscape is under construction with the Cascades Park/Gaines Street corridor anchored by College Town, which will be a significant catalyst in shaping a new and bold Tallahassee. SouthWood will continue to grow, new southeast Tallahassee developments are on the drawing boards and Welaunee Plantation is not too far around the corner.
Today, I am delighted to present to you a completely redesigned magazine that better refelcts our growing town. First, you will see the physical change to a larger format. Secondly, we have repackaged the information we present in each issue. You'll find more stories offering information in an easy-to-digest format as well as more luscious, inviting page designs.
We also redesigned more than 75 of our long-term advertisers' ads to deliver more verve and style to their presentation, a critical factor contributing to the overall success of this effort. As this new issue circulates throughout the community, we anticipate more advertisers will want to upgrade their ads to match the cleaner look.
I want to acknowledge and thank the editorial, design, production and sales departments of Rowland Publishing. Hundreds of hours have been invested in this endeavor.
We all welcome your feedback — positive and negative — and will use your comments to tweak stories and designs over the next couple issues until we feel we have gotten it right.
Why are we doing this? Because that's what we do, and we love our jobs. And we're looking toward the future.