A New Kind of Fur-ever Family
People are taking the humanization of their pets to new heights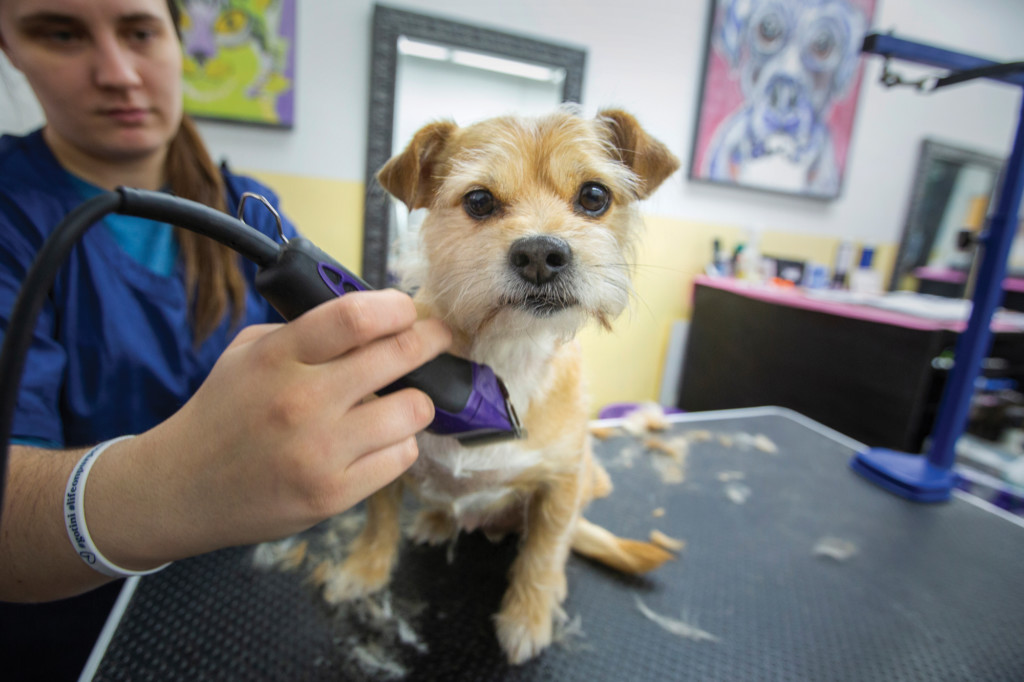 If you asked Tracy Lamoreaux, owner of PAWS Pet Boutique, how customers would describe their animals, the word pet wouldn't come to mind.
"I don't know people who think of their dogs as just pets — not in this store,"
Lamoreaux said. "They're family members."
Customers will put off their own doctor appointments and haircuts to pay for their pet's services. If it comes down to the owner or the dog, it'll be the latter — and that mindset goes for anything from pampering to food.
A 2017–18 survey from the American Pet Products Association, or APPA, which represents pet product manufacturers and suppliers, indicates that millennials have replaced baby boomers as the largest group of dog owners. In terms of care and spending, they're taking the humanization of their pets to new levels, the survey suggests.
The result: a demand for goods and services once reserved for humans, such as interactive toys, day care, behavioral counseling and health insurance.
The number of insured pets reached more than 2 million in the U.S. and Canada last year, according to the APPA. Insurance companies offer plans that include service for exams, alternative therapies and wellness plans.
Jordan Holliday, senior marketing communications specialist at Embrace Pet Insurance, says she thinks millennials have shifted the mindset of pet ownership: They want to protect their pets in the same way they would protect themselves.
They're doing what they can to keep them occupied and entertained as well.
Basil Cousins, co-owner of The Naturally Healthy Pet, said dog puzzles have been especially popular in his Tallahassee store.
Some pet services might have left an earlier generation puzzled. The Animal Hospital and Pet Resort at SouthWood tells online visitors: "Our day care service allows your pet to stay for the day in one of our luxury resort suites."
SouthWood's site describes the suites as a "home away from home," but its accommodations aren't unlike the ones hotels offer. Each suite includes private beds, spacious flooring, windows and televisions — some include their own DVD players. A truly pampered pet can enjoy optional amenities such as massages, "pet-a-cures" or pupsicles.
The facility faced an uncertain reception when it launched in 2007, said co-owner and veterinary physician Julie Moodoyan.
But, she said, "We had a good reception right off the bat — better than we were expecting.
"I think a lot of people, especially professionals with really busy schedules, feel sad that they can't be there to exercise their dogs during the day," Moodoyan said.
Moodoyan said she has seen a higher demand for behavioral counseling, especially for separation anxiety, aggression and common phobias such as loud noise and thunderstorms.
And hoping to create pain-free lives for their pets, owners are straying away from traditional pain medications and turning to alternative treatments such as cold laser therapy, acupuncture and chiropractics.
Also, Moodoyan said, people are starting to recognize the importance of dental health in animals. She emphasizes daily teeth brushing — and the right food.
Store owners such as Cousins, of The Naturally Healthy Pet, say customers admit they feed their pets better than themselves. They look for more organic food options, vitamin supplements and treats.
Whether it's raw-coated or freeze-dried, pet owners want to know what kind of food will help their companion live a long and healthy life, no matter the price.
Yet Moodoyan emphasized caution on grain-free diets, which she thinks mirror the trend toward gluten-free diets in people.
The U.S. Food and Drug Administration said last summer that it was investigating "the potential association between" reports of canine heart disease and "certain pet foods the animals consumed, containing peas, lentils, other legume seeds or potatoes as main ingredients."
"I have pet owners come in every day who think they are feeding their dogs the best possible diet by offering grain-free, and that's probably not what's actually best," Moodoyan said. "That's something all pet owners should know."
We're talking family, after all.