A New Breed of Adventurers Chart Sunken History in the Waters Around the Shipwrecks of Dog Island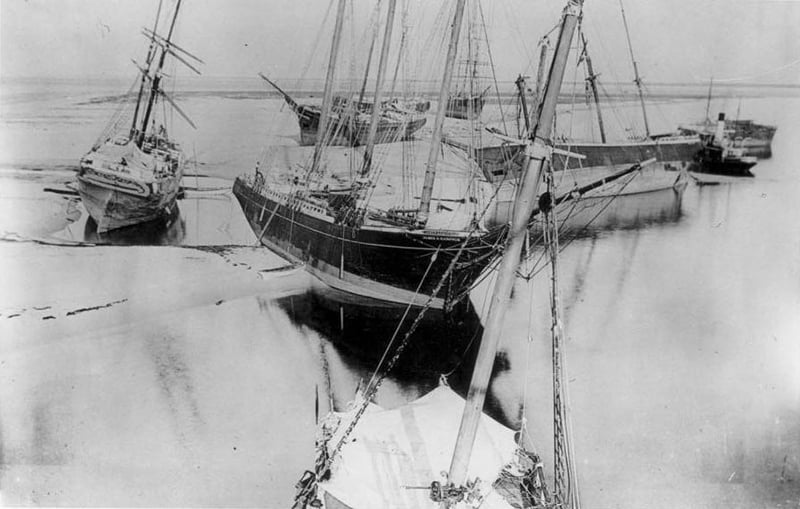 When you think of the word "shipwreck," it's hard not to imagine disasters at sea, terrible hardships, man against the elements and castaways on deserted islands. It's a popular cultural theme throughout literature and movies, much of it grounded in truth. This inherent sense of adventure is so alluring that more than 250,000 visitors come to Key West's Mel Fisher Maritime Museum each year to see treasure raised from shipwrecks such as the Spanish treasure galleon, Atocha.
There are more than 500 wrecks recorded between Key West and the Dry Tortugas, but there are no less than 118 lost vessels in the waters surrounding the Forgotten Coast's Dog Island. This sparsely populated island is 7 miles long mile and is located just off the coast of Carrabelle, 21 miles east of Apalachicola. Its waters are notable for their shallow depths and the little island's ever-changing geography. Hurricanes, tide and wind constantly reshape its beaches, dunes, marshes and hardwood flats.
While numerous, the wrecks of North Florida do not share the same celebrity or notoriety as, say, the Spanish treasure fleet that went down near Cape Canaveral in 1715, claimed a thousand lives and consigned some 3 million silver coins to the depths. This is because the unexcavated wrecks off places like Dog Island have yet to yield enigmatic treasure, and also because the histories of these vessels seem to have been swept under the carpet of history.
A dedicated crew of underwater archeologists is making sure they are not totally forgotten by mapping their location and uncovering their secrets. They've found a treasure trove of ships that weave a tapestry of history from the time of the Spanish on up to the present day.
"No matter how mundane the vessel, each ship wrecking has its special story," said filmmaker and photographer Don Kincaid, the first diver to retrieve treasure from the Atocha in 1971.
Underwater archaeologist Chuck Meide, director of the Lighthouse Archaeological Maritime Program in St. Augustine, spent years surveying the Dog Island Sound. Thanks to his dedicated research, many of the vessels resting in the shallow waters were recorded before the quickly shifting landscape and the elements etched them further into the distant past.
Meide and a team of student archaeologists conducted a shipwreck survey from 1999 to 2000. Using magnetometers and side-scan sonar, they scanned the waters of Dog Island and St. George Island sounds searching for underwater anomalies. His field data is extensive, thorough and dense.
Ten years later, Meide decided to return to the Forgotten Coast to record how the wrecks had fared against the ravages of time and tide.
Meide discovered two ships in particular had not handled their watery graves well. The Vale, a 500-ton Norwegian lumber bark, and the Priscilla, a Maine-built fishing smack owned by a Pensacola seafood company, were lost along with many other vessels during a hurricane in 1899. In fact, the storm caused the largest recorded shipwrecking in North Florida's history.
In the space of a decade, the Vale's exposed keelson has all but disintegrated, leaving behind an iron knee rider (a deck support structure) that just emerged from the water. The hull of the Priscilla, which had previously been completely exposed, was now lost from view. Salt air, tide and time had moved quickly over the bodies of the vessels and stripped away the evidence.
There are much older wrecks around Dog Island. The French merchant vessel, Le Tigre, foundered here in 1766 on its way to New Orleans from Haiti. Its tale weaves a wicked narrative of suffering, cannibalism and survival that went on for 81 days. It is only the second French shipwreck to have been discovered in America, and the only one dating to the 18th century, according to Meide's records.
Thirty-three years later, in 1799, the British warship HMS Fox ran aground and broke up near the eastern tip of St. George Island. Its claim to fame? Onboard was the nefarious soldier-of-fortune William Augustus Bowles, who was being returned to Florida by the British. Historians continue to debate the value of the "treasure" onboard the 150-ton schooner. Since it lies in shark-infested waters, the mystery of whether or not "gold" treasure was onboard is still unknown. It is known that this schooner went down with at least 14 cannon, plus trade goods, personal items and military supplies.
It is likely that many seafarers passed this way over the centuries and used the island for fishing and fresh water, or for riding out bad weather. Some may have been blown off course and landed there by accident.
It's also very likely that Dog Island played host to the illicit trading and raiding of pirates and smugglers.
"This pattern is seen with the 1766 wrecking of Le Tigre and the wrecks associated with the 1899 hurricane," Meide said.
It's not know what treasure lies off Dog Island, but we do know there is a treasure trove of history, woven by centuries of triumph and tragedy at sea, waiting silently to be told.
Karen Cox-Dennis is a local writer and producer. She and her family split their time between homes in Tallahassee and Apalachicola.