A Nest of Eagles
The Hunt and Wood families are scouting royalty, producing more than 25 Eagle Scouts over three generations.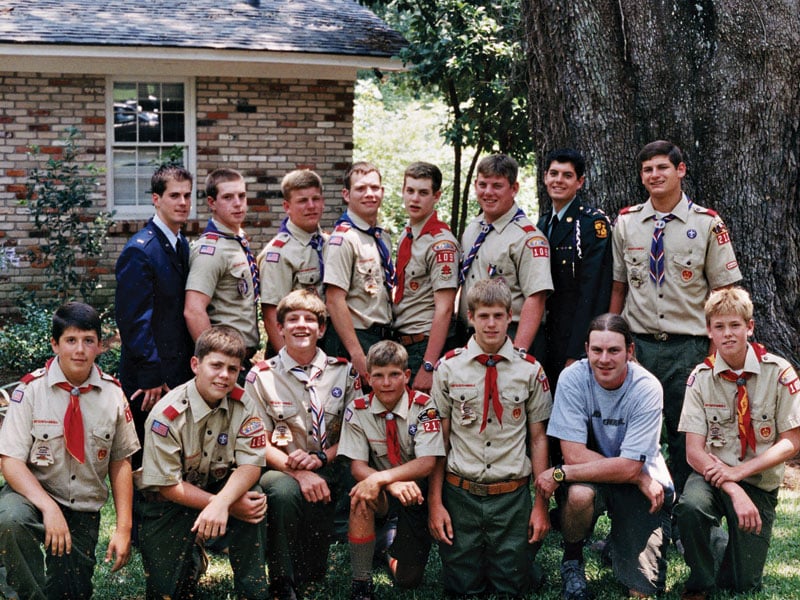 At first glance, astronaut Neil Armstrong, former President Gerald Ford, movie director Steven Spielberg and New York City Mayor Michael Bloomberg wouldn't seem to run in the same circles. But they share a special bond. All attained the rank of Eagle Scout, the highest honor a Boy Scout can receive.
Closer to home, two Tallahassee families have upheld the scouting tradition for three generations, producing more than 25 Eagle Scouts between them.
The story of scouting goes back to 1910, when Ernest Thompson Seton established an organization with the goal of turning America's youth into the leaders of tomorrow. The Boy Scouts of America — now celebrating its centennial year — has turned out some of the nation's leading scientists, businessmen, journalists, military personnel and politicians.
The "Handbook for Boys," the Boy Scouts' first publication in 1911, introduced the Star, Life and Eagle ranks. Star is the first rank a young scout can earn, followed by Life and finally Eagle. Each is attained after receiving a certain amount of merit badges in disciplines ranging from business to ornithology.
While service requirements and badge amounts have fluctuated over the past century, the Eagle remains the highest honor with a requirement of 21 merit badges, at least six months in a leadership position, and an Eagle Scout project — all before the age of 18.
In Tallahassee, the tradition of two major scouting families began with Paul Hunt and Tom Wood Sr.
Born in 1925, Hunt achieved the rank of Life Scout just before graduating from Ocala High School. Shortly after his graduation, he enlisted in the Army, joining the 82nd Airborne during World War II. Parachuting over Holland and fighting in the Battle of the Bulge, Hunt never got the chance to achieve the rank of Eagle. He did, however, pave the way for a number of his children and grandchildren to become Eagles.
After coming back from the war, Hunt met his future wife, Mary Nell Camp, in DeLand, and they married in 1949. The newlyweds moved to Tallahassee in the early '50s to attend college at Florida State University.
Shortly after graduation, Paul Hunt worked with his father and uncle building bridges across North Florida until 1955, when they established Central Heating Consultants.
The Hunts had two boys and three girls. Paul Hunt became active in the Scouts before his sons were old enough to become Cub Scouts, and by the time both earned the rank of Eagle Scout, he had become full scoutmaster of Tallahassee's Troop 109.
"I was 16 by the time I finished my Eagle project. When I started, I was almost 15," says Tim Hunt, Paul's fourth child. In their family, "there was an unwritten rule where you couldn't get your driver's license until you got your Eagle," Tim Hunt said.
All five of Paul Hunt's children had sons who became Eagle Scouts, and they went on to raise a third generation of Eagles. Sally, Hunt's second daughter, married into the scouting Wood family, which also has three generations of Eagle Scouts.
Paul Hunt continued as an active scout leader even after his sons became Eagles. He stayed as scoutmaster of Troop 109 for several more years and eventually went on to become president of the scouts' Suwannee River Area Council. The council serves more than 15,000 young men and covers 13 counties including Leon, Gadsden, Liberty, Franklin, Wakulla, Jefferson, Madison and Taylor in Florida and Thomas, Grady, Decatur, Seminole and Colquitt in Georgia. Hunt also is a recipient of the Silver Beaver award, the highest honor a volunteer can achieve at the council level.
Hunt's younger son, Tim Hunt, took over the family business and also went on to become scoutmaster of Troop 109. When all three of his own sons became Eagles, Hunt passed on the position of scoutmaster to high school friend John Wood, also an Eagle Scout. Like his father, Tim Hunt eventually became president of the Suwannee River Area Council and also has received the coveted Silver Beaver award.
In June 2001, only days before Paul Hunt passed away at an extended care facility, four of his grandsons and four of their first cousins visited him dressed in their Boy Scout uniforms. They later learned of his death when they reached the top of the mountain where they were hiking with other scouts. A memorial service was held for Hunt at the top of the mountain and was attended by all the participating scouts.
Tom Wood Sr., the Wood family's first-generation Eagle Scout, was born in 1929 in McComb, Miss. He earned the honor before he graduated high school at the age of 17.
"There were many Eagles in the area where I grew up, I was not the first one," Wood says. "I knew these people and they were prominent, they were determined to be good people, very productive citizens, and I thought, 'Boy, being an Eagle is really good.' The community recognized Eagle Scouts."
Wood spent less than a year at Mississippi College before joining the Navy.
"That was one of the best things I ever did, getting into the Navy," he says. "My scout experience really prepared me for basic training, no question about it."
Wood eventually married his wife, Nancy Martin, and came to Tallahassee to practice pathology and raise his three children. He also became president of the Suwannee River Area Council, was a troop leader and received the Silver Beaver.
Wood's first child, Tom Wood Jr., married Paul Hunt's daughter, Sally Hunt, thus connecting the two scouting families.
"In scouting, I identified Paul Hunt as one heck of a good scout leader," says Tom Wood Sr. "Tim's daddy, to me, set an example for being a top-notch public citizen and scouter, and I always admired him for it."
Perhaps the most notable component of becoming an Eagle Scout is the Eagle project. Tim Hunt currently sits on the council board that local scouts must face when getting approval for their project.
"The thing about an Eagle project that people need to understand is that it's not necessarily the quantitative numbers or the measuring of the magnitude of what a young man builds or does," he says. "It's the leadership tools and the skills that they develop, of having to follow a plan."
The Hunt and Wood families' Eagle Scouts have done a wide range of projects across Tallahassee to help improve and beautify the city. Tim Hunt's son, Connor Hunt, built a walking trail at the Westminster Oaks assisted living community in 1999 that is still being used today. Other Eagles often do their projects by adding on to existing projects, and Tallahassee scouts have gone on to build benches for Connor Hunt's trail, put up signs and modify it for their own Eagle projects.
"An Eagle gives you the opportunity to become a leader at an early age," John Wood says. "Most kids don't have an opportunity to learn that."
The Woods and Hunts also have done extensive projects to beautify and improve the Lichgate property on High Road. A large metal gate, a gateway made up of large timbers along the front walkway entrance of the parking lot, picnic tables, trash receptacles and a 200-foot brick walkway and arbor at the entrance of the site's garden all were Hunt and Wood Eagle projects.
"The benefits of scouting are not immediately recognized by a young Scout," John Wood says. "A lot of the value comes when you're an adult. The ideals of scouting, the Scout law, the Scout oath are great rules and ideals to live by, and it is drilled into you as a scout. You always value being an Eagle Scout; it's an accomplishment that no one can ever take away from you."