A Modern Take On an Old Good Luck Poem
Something old, something new Something borrowed, something blue And a silver sixpence in her shoe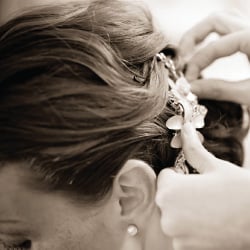 The poem is beyond well known, and its words are still often heeded to this day. The advice is thought to date back to England's Victorian era. The sixpence was a coin minted in Britain from 1551 to 1967, and if a bride put it in her shoe it represented wealth and financial security. Sometimes dimes and pennies are now substituted, although many companies still sell keepsake sixpences for weddings. As we talked to our couples about their special days, we also looked into how (or even if!) modern brides honor this age-old tradition.
Something Old
Honoring the family
The first instruction of the poem is for the bride to wear something old. In addition to giving her a nice retro touch, the "something old" symbolizes continuity with the past and also with the bride's family. Carrying an antique brings the fortunes, traditions and love of her family with her into her marriage.
Most of our brides chose to honor their mother, grandmother or even great-grandmother on their special day with borrowed jewelry — sapphire pendants, diamond earrings and a strand of pearls were all classic choices that gave the brides a chic touch of vintage. One bride even used her great grandmother's wedding band.
For those who want a unique twist, or who do not have access to heirloom jewelry, there are tons of other options. One bride had her grandmother's miniature bible with her, while another used lace petals from her grandmother's wedding dress to decorate the handle of her bridal bouquet.
Other ideas for a vintage touch are endless. Vintage shoes can add a subtle touch of the unique (but watch out — older shoes can be very narrow). An old brooch can make a stunning hair accessory, as can old strand necklaces. Vintage bracelets can also be a timeless touch.
Something New
Moving forward with hope
Brides are also told to wear "something new" to show their optimism and hope for the new life ahead. Buying something new not only symbolizes a bride's happy focus on the present day, but also would have symbolized her faith in her husband's financial security.
Almost all of our brides dove in and dressed themselves in their excited optimism, wearing new wedding dresses down the aisle. Another bride wore a shiny new crystal bracelet, while another donned sapphire and diamond earrings to match her grandmother's pendant.
The new item might be the easiest to shop for. If you don't want to splurge on a brand new dress, a sweet pair of shoes could do the trick. Jewelry can add sparkle to a vintage or family dress, or a new garter (perhaps in blue?) can also work.
Something Borrowed
A transfer of luck
The next line of the poem tells brides to wear something borrowed. Usually this would be borrowed from a married friend or family member, although in practice that detail has become less important. The loved one's good fortune in marriage is supposed to continue with the new bride who carries the borrowed item. Additionally, this item symbolizes a bond between the bride and the giver, reminding her that she can always depend on her friends and family.
As with their old items, many of our brides chose to borrow something from their mother or grandmother. Some borrowed jewelry like a great grandmother's cocktail ring or mother's diamond bracelet. One bride chose to borrow her grandmother's hairpins, while another borrowed her matron of honor's grandmother's handkerchief.
Borrowing something personal will make the gesture very special. Family heirlooms are a timeless, perfect choice — jewelry, hairpins, dress or even a sixpence for inside your shoe. If you're already wearing enough vintage for your taste, how about something a little more subtle? Borrow a spritz of your mother's or grandmother's perfume or borrow some makeup from a friend to get glammed up for the big moment.
Something Blue
A symbol of virtue
The blue item might seem slightly out of place or even arbitrary compared to the others, but the color blue has actually been connected to weddings for centuries. It symbolized love, modesty and fidelity for the ancient Roman brides who wore it. Christianity has also long dressed the Virgin Mary in blue because of its association with purity. Old 19th century proverbs like, "Marry in blue, lover be true" also attest to the color's longstanding association with weddings.
Although none of this year's brides wore a blue dress, one did put her best foot forward in blue shoes. Two had custom embroidery in the lining of their dresses, saying the name, date and/or initials of the couple. The most popular choice, however, was the classic blue garter.
Blue can be very tricky, especially for brides who have a set color scheme (unless the scheme is blue). Our brides all managed to find a quiet way to include blue, but there are always other ways, too! Blue nail polish can always be a quiet workaround; different shades and hues can fit in with almost any color scheme. A dark blue ribbon can be used in many up-dos for a classic, formal look. If all else fails, sapphires will look good regardless of color scheme!