A Lobbyist at 12 and Legally Blind, Paloma Rambana is No Ordinary Pre-Teen
Young Tallahasseean gains national fame as she lobbies for funding for young people who are blind. Consider your mind already blown.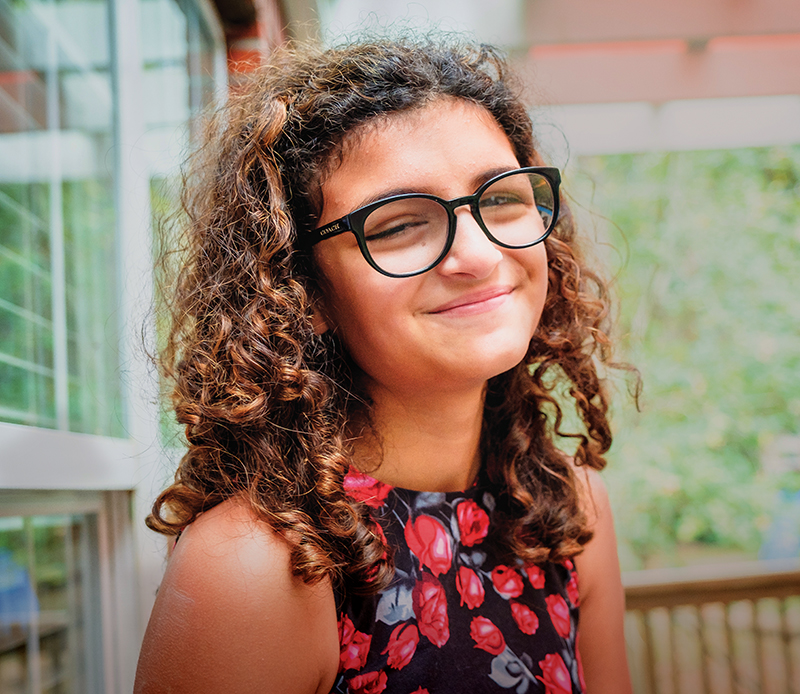 In the state of Florida, vision-impaired children can receive government funding to pay for any special assistance or vision equipment they need, from the time they are born to the age of 6 and from 14 to 18. But from 6 to 13, these same children fall into a gap where they are unable to get state-funded equipment or mobility training outside of school, regardless of their financial situation.
This is where Paloma Rambana comes in.
Paloma was born with a condition called Peter's Anomaly and is legally blind. To help her see at least minimally, her doctors constructed new pupils for both of her eyes. Peter's Anomaly is rare, but it's not the reason Paloma has gained national attention.
She began to make a name for herself three years ago, when she started the "Fund the Gap" campaign, in which she petitioned the Florida Legislature to fund the Division of Blind Services (DBS) Children's Program.
Since that time, Paloma has received many humanitarian awards for her efforts, including being chosen as one of Oprah Winfrey's "Health Heroes" for 2018.
She also wrote and published her memoir, formed friendships with government officials and was even made into a Hasbro Heroes action figure. She's been so successful, in fact, that it's hard to believe she's only 12 years old.
Millions of dollars of secured funding aside, Paloma is your typical pre-teen. A long-legged, curly-haired tornado of energy, she moves from couch to floor, to couch again during her peer-to-peer interview with Molly Thacker, 11, daughter of Tallahassee Magazine writer Kim Harris Thacker.
Paloma shows Molly a scrapbook that she created with her mother, Tallahassee attorney Elizabeth Ricci.
Paloma leans close to the book. "This picture is of me with some of my friends who are lobbyists in Washington, D.C. They're quirky and fun, but you have to be quirky and fun to be a lobbyist."
"What's a lobbyist?" Molly asks.
"It's another name for an advocate. They ask for something they need or a want, but mostly need," Paloma explains. "When I do it, I talk to legislators and tell them, 'There's a gap in funding, and here's what you can do to solve the problem.' I try to be persuasive and help them to understand what's at stake. The first time I did it, my mom came with me, and I got to skip school. I had to do a lot of makeup work, though."
At this point, the family dogs waddle into the room and a discussion about dogs and other animals ensues. Paloma mentions she has done competitive horseback riding.
Paloma explains that she has a special pair of glasses with a bluish tint to the lenses that help her with depth perception — something that was very important when she was show-jumping. These blue-tinted glasses are just one of the many tools she relies on to help her see. Other tools include her iPhone, her iPad Pro and three different sizes of handheld magnifying machines.
"When you watch TV, do you have to sit really close to the screen?" Molly asks.
"I don't watch much TV," Paloma says. "I watch YouTube videos, instead. And I have to put the brightness up all the way."
Paloma shows Molly photos of a recent trip to New York City, when she and several other young advocates were honored as Hasbro Heroes. One of the photos is a shot of Paloma's face, giant-sized and illuminated on the side of the NASDAQ building in Times Square.
"When you go somewhere for an award, do you have to give a speech?" Molly asks.
"Usually," Paloma says. "At the last award ceremony I went to, I didn't have to give a speech, but I did it anyway. It was a lengthy description of me as a human being — a humanoid. One thing that I told the audience is that the front of today's newspaper has more news articles in it than people in the 1800s would've read in their whole lifetime."
"I like to learn super interesting things. And I like to share what I learn, and the ideas that I have and the things I make, too," Paloma adds.
"Is it hard for you to do some things, or are there certain things you do better than most people?" asks Molly.
"I try to do just about everything," Paloma says. "And I have really good hearing. I also really like to show that I can do things. A lot of the doctors, when I was born, said, 'She won't be able to drive, read or write.' Well, I love to read."
"What would you say to kids who want to be like you and do something big for other people?" Molly asks.
Paloma smiles. "I'd say that you have to hit the ground running, but you also have to have ground to run on, or know what your purpose is. No one's going to become a success overnight. Life is going to throw at you some super interesting things, and you just have to open the door to opportunity."