A Life of Pets and Purpose
Foster parenting offers an opportunity to give to community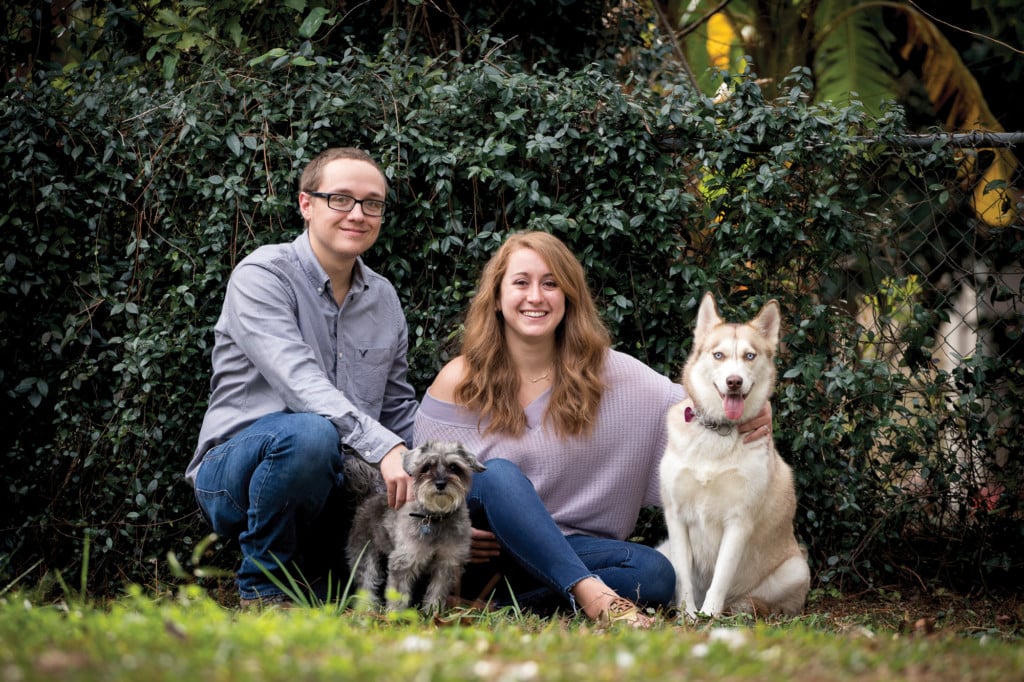 Her name is Kona.
Kona had been in many homes, spent time in shelters and traveled across state lines before she came into our lives.
My husband, Tim, and I adopted Kona when she was 2 and became our first "foster fail."
That's a good thing. Let me explain: Tim and I are foster parents with the Leon County Humane Society. As foster parents, we keep dogs in our home until we can find permanent homes for them.
This is what we set out to do with Kona, a young and broken husky who'd had a rough start to her life as a temporary resident of many homes. She ended up in a Tallahassee animal shelter, and the Humane Society asked us foster her and find her a new home.
We couldn't. We fell in love and decided that we had to keep her. That's what made us a "foster fail," which merely means that we couldn't bear to let her go.
Ours is her "furever" home.
Tim and I got involved in this program in September 2017. As Hurricane Irma approached the Florida peninsula, the Leon County Humane Society put out a plea out for foster homes for large-breed dogs. Tim and I had just purchased our first home, and our hearts had been yearning to open our doors to animals in need.  
We contacted Amy Raddar, the society's dog foster program coordinator, to check on an application. We got approved, and we welcomed Lilly, our first foster, into our home the next day.
Lilly was a short, stubby and muscular pit mix. She just wanted to cuddle and make her family happy. We fostered Lilly for roughly two months before she would become a surprise Christmas present to an elderly man in southern Georgia.
We'd brought Lilly to a Home Fur the Holidays event that year. The man's wife and her daughter had come looking for the perfect dog, and with 
her big eyes and calm demeanor, Lilly stole their hearts. 
Tim and I were grateful, even ecstatic. This new family could provide Lilly with the attention and love she deserved. I kept in contact with the daughter throughout the holidays to see how the surprise went. She said her father was elated and introduced her as "my dog, Lilly."  
With Lilly, Tim and I realized we had made the best decision in becoming animal foster parents. We've found our hearts changed with every dog that comes through our door.
Here's how Leon County Humane Society program works:
As a foster parent, you commit to finding the animals their best forever home. You want to make sure that you can make time for the dog and the adoption process. You can find the application on the Leon County Humane Society website.
Once approved, the organization matches you with a dog whose lifestyle fits you and your family, including all furry members.
Upon taking your foster dog, you want to establish an adjustment period to allow him or her to get to know the rules and hierarchy of your home. 
When somebody wants to adopt one of our dogs, they send us an emailed application. Then we check the pet policy at apartment complexes, and we look over their animal-owning history, among other things.
We also conduct phone and in-person interviews with prospective new owners, and we have the ability to say yes or no. I once said no because I didn't feel comfortable with the dog living in the applicant's home.
I must emphasize: That's the exception. I love making the follow-up phone call to let applicants know that they have been approved and to schedule the adoption paperwork. The happiness that this brings to a person brings such joy to us.
Now we are on foster No. 5, and we love bringing awareness to the plight of homeless pets in our community. I feature our foster dogs on my social media pages, and every time we get ready for an adoption event, I invite our friends to come enjoy a delicious food truck and to love on some pups.
When I see the happiness beaming from a dog's new family, I know we are where we are supposed to be — bringing homeless pups home forever.  
Now, more about Kona. We've had her 14 months now.
She loves playing tug-o-war with Teddy, our little schnauzer who has become her pup brother. Although they have a size difference, they've bonded and love each other's company.
Kona was not always affectionate or willing to receive love or treats. She is still learning to trust our extended family and houseguests, but she trusts us and finds confidence in our approval.
As soon as I'm out of bed, she yawns, gives me a little "good morning" howl and gets in my spot. Occasionally, I'll even get a lick goodbye.
Want to foster?
The Leon County Humane Society says: "Although we place hundreds of animals every year, we turn down many more because of lack of space. The more foster homes we have, the more animals we are able to save." Visit leoncountyhumane.org.
Mackenzie Little is sales and events coordinator at Rowland Publishing, owner of Tallahassee Magazine.