A Home to Good Vibes
GVO adheres to uncompromising standards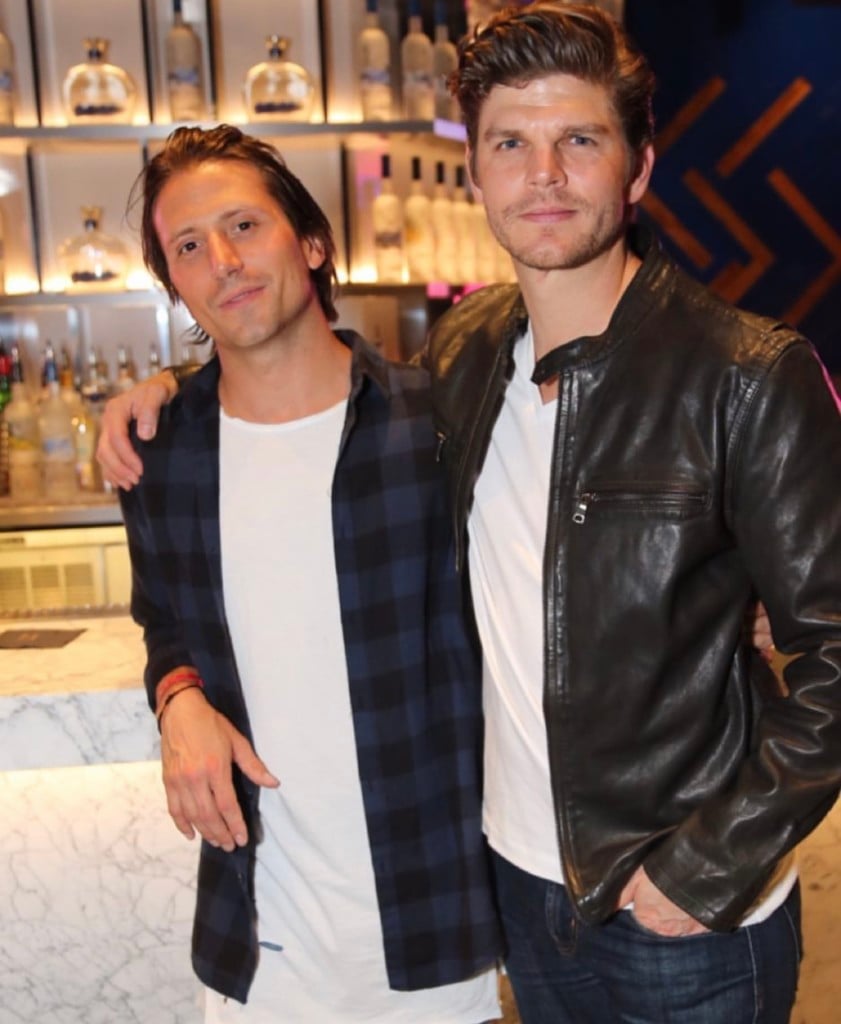 GVO, scheduled to open Sept. 22 at the intersection of Gaines Street and Railroad Avenue in Tallahassee, offers three distinct experiences that revolve around good, good, good, good libations, invite conversation and guarantee relaxation.
Photo by McKenzie Lohbeck
Eric Kemp and Jason Ellefson
GVO — which stands for Good Vibes Only — occupies a 9,000-square-foot space at 809 Railroad Ave. whose 20-foot exterior walls have served local artists as canvasses. Sarah Painter — no, really, that's her name — has coordinated the work of a dozen or so artists who have transformed the building with inspirational, tone-setting creations that will evolve and grow over time.
The muse has been pleased. "I am thrilled with the scope of the artists' work and their desire to keep it local, fresh and unexpected," Painter said.
Now, about those three experiences …
The Art Garden. Laze in hammocks strung from palm trees, settle into a lounge chair or engage in friendly yard-game competitions. Two distinct shipping containers are being tricked out, one as a food depot and the other as an outdoor bar. Anuj Patel, the owner of Taco Republik in Tallahassee, is building menus.
The Lounge. Make selections from an outstanding cocktail menu and enjoy top-flight service in this sensual space featuring comfortable seating designed to facilitate chats about whatever is trending. Here, said interior designer Emily Steiner, GVO "pushed the envelope with artwork while keeping the design classic. I never want to jump on a short-lived trend."
Scratch House is a fresh take on nightclubs. It employs bright colors, neon lights and exquisitely situated VIP seating. Infinite, a highly regarded specialist from Miami whose projects have included the megaclubs LIV and Story, has assembled the audio/visual package. "I like to start with a classic space with timeless qualities and add elements that evoke different experiences for each guest," Steiner said. "From the minute you enter the club, you will know that you are somewhere special and are in for a killer experience."
Photo by McKenzie Lohbeck
Wall art by Sarah Painter
Operating partner JEM Hospitality will manage GVO and Scratch House. The firm was founded by Eric Kemp and Jason Ellefson, who together have successfully launched more than 25 properties including four well-known Las Vegas venues. Kemp is a Tallahassee hospitality pioneer who has moved back to the city he most loves. Ellefson is a West Coast native, with over 12 years of experience in the hospitality industry.
"We are bringing the same level of hospitality, experience standards and types of parties we created in Las Vegas and Los Angeles to the Tallahassee community," Ellefson said.
"It was very important that we stayed true to the district and the city's vision for the area while creating something fresh and interactive for the community," said Chad Kittrell, who has spearheaded the development of GVO. "The most exciting part of the project has been working with talented local artists. I think the community will love their work and be very proud of it."
Kittrell added that a "great team of investors should be credited with bringing this vision to fruition and enhancing this very visual corner of our community."
Sample wall murals by local artists