Miccosukee Root Cellar Focuses on Local Flavors
A Home-Grown Restaurant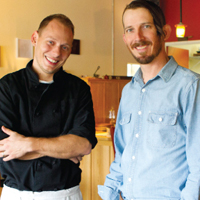 Photo by Scott Holstein
Chef Matt Hagel and Owner Ruben Fields
With its handmade booths and bar, all organic and locally sourced menu and a philosophy based on community, it's hard not to feel at ease at the Miccosukee Root Cellar.
Owner Ruben Fields and Chef Matt Hagel, lifelong Tallahasseans, met while working at local favorite Cypress Restaurant, and together they make up the Root Cellar's homegrown, organic dream team.
Fields had the vision and passion to transform a tired, abandoned sub shop located in Midtown near Tallahassee Memorial Hospital into a cozy, 49-seat eatery. He handcrafted the booths and bar, using deadwood reclaimed from the Wakulla River, and the warm lighting includes 1930s-era can lights "harvested" from the neighboring Uptown Café.
Hagel brings the culinary and artistic knowledge to the mix, communicating with more than a dozen local farms (including Turkey Hill Farm, which is owned by Fields' mom, Louise Divine) to discover what produce, meats and vegetables will be available, allowing his menu to flow with the seasons. It could include juicy meatloaf made from Orchard Pond grass-fed beef with chipotle barbecue sauce and roasted potatoes; a cheese board featuring a variety of Sweet Grass Dairy cheeses; a fresh oyster and mushroom soup; or flatbread topped with eggplant and sausage.
Open for dinner only Tuesday through Saturday, the restaurant showcases local musicians several times a week. Most weekends, the sounds of jazz or bluegrass will accompany your meal.
Both men insist there's room in Tallahassee for a new and different sort of restaurant.
"We aren't in a competition, we are in a community," says Fields.
WHAT DID THE AUTHOR EAT?
With all the wine choices, it's impossible to go wrong when making a selection. I went with the Patz and Hall Pinot Noir from the Sonoma coast, ($9/glass) — it was light and crisp. Just what I was looking for.
For dinner, my party of three decided to make it a tapas night, grazing off many plates. We sampled the bread ($2) and cheese boards with hand-picked cheeses from local dairies, tomato jam, balsamic onion compote, ginger preserves, tupelo honey and cane roasted pecans ($11), a mushroom oyster soup ($9) and a savory sausage eggplant flatbread ($16) — more than enough for three.
We were thoroughly stuffed after dinner and passed on dessert but eyed our neighbor's Ginger Snaps with Tupelo Strawberry Sorbet ($6).