A Helping Hand and a Banana For Horses in Need
For the Animals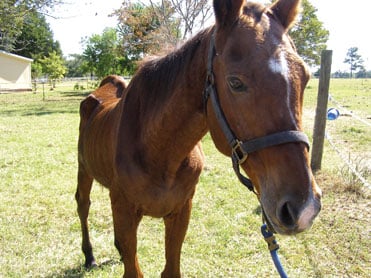 Ninja loves bananas. Peeled, please.
A few months ago, he wasn't so discerning. He gobbled the treat, peel and all. But then the 25-year-old Quarter Horse was starving, more a walking skeleton than a horse the day he was rescued from a sandy lot in Gadsden County.
Today he is about 200 pounds heavier and continuing to put on weight, a testament to his strong will to live combined with the love and care provided by the volunteers who work with Equine Rescue and Rehabilitation Ranch, better known locally as Triple R Horse Rescue.
This month, Triple R celebrates its second year of being one of the last resources for abused and hungry horses in the region. It survives on donations, goodwill from the North Florida horse community, the assistance of local veterinarians and dollars raised through food concessions at area horse shows.
"Horse abuse has always been out there, but it's more prevalent now. Horses are going hungry because their owners can't afford to feed them," says Eric Pelletier, Triple R's president and founder. "Triple R is here to help rescue these noble animals and put them in foster homes, getting them ready for adoption. We also want to work with families who want to care for their horses, but don't have the money. We can offer help."
Horses are taken into Triple R's foster homes after being voluntarily surrendered by their owners or seized by animal control officials.
To find out more about Triple R, check out the website at equinerr-tlh.webs.com or the group's Facebook Cause page, Equine Rescue and Rehabilitation Ranch. Pelletier can be contacted at equinerrr@yahoo.com.
For the Animals
Cats or dogs, puppies or kittens, purebreds or mutts, ferals, birds and horses too, these area rescue organizations are on hand to assist in finding or caring for your companion animals.
Animal Shelter Foundation (ASF)
A nonprofit group established to support the operations of the Tallahassee Animal Service Center. (850) 891-2950, tallyasf.org/
Angels That Purr, Inc.
A nonprofit organization that rescues, spays/neuters and medically treats feral and domestic cats to place them in nurturing homes and safe environments. (850) 264-3425, angelsthatpurr.org
Animal Aid Foundation
Low-cost spay/neuter and medically necessary services for domestic animals. Housed at the Animal Aid & Spay/Neuter facility. (850) 386-4148, animalaid.us
Aussie Rescue & Placement Helpline, Inc. (ARPH)
Volunteers aiming to find permanent homes for Australian Shepard breed canines. (877) 277-4779, aussierescue.org Dan or Barb, dan_barb@bellsouth.net
Be the Solution
Be the solution is a nonprofit organization providing financial assistance to pet owners who want to get their pets spayed/neutered. (850) 545-2043, bethesolution.us
Big Bend Bird Club of Tallahassee
This bird-lovers club provides member support through monthly meetings, newsletters and more, along with educational outreach to the community. (850) 841-BEAK (2325), bigbendbirdclub.com
Big Dog Rescue
This nonprofit organization is dedicated to finding safe and permanent homes for all-sized dogs and cats who face harsh living conditions and/or euthanasia. (850) 562-3200, bigdogrescue.com
Birdland
Education and outreach for companion birds. For information about adopting a bird, or any of this nonprofit organization's products or services, contact: Renee Ewart or Lisa Lazarus, (850) 933-8656 or (850) 877-0128
Boxer Aid & Rescue Coalition, Inc. 
B.A.R.C.'s mission is to rescue and rehabilitate homeless Boxers in North Florida and South Georgia by meeting medical needs and finding secure homes. (877) 633-2108, boxerarc.org
Capitol ARK/ECAH Animals, Inc
Capitol Ark and Rescue Kennel advocates for the spay/neuter of cats and dogs while assisting seniors to ensure they can keep and care for their pets. They also offer pet disaster shelter and
pet adoption services. (850) 668-1004, ecahanimals.org
It's Meow or Never for Ferals
A volunteer-operated, nonprofit organization performing trap-neuter-return for feral and neighborhood stray cats. (850) 576-2676, itsmeowornever.com

EQUINE RESCUE AND REHABILITATION RANCH, INC. (TRIPLE R)
Provides horse rescue for physically or psychologically abused, neglected, troubled or abandoned equines as well as rehabilitation, retraining, and placement or retirement. (850) 219-1497, http://equinerr-tlh.webs.com/
Friends of Gypsy
An organization dedicated to the trap, vaccination, spay/neuter and release of Leon County's feral cats in efforts to prevent overpopulation and/or euthanasia. The public is encouraged to become a caretaker for feral colonies. (850) 926-1002, friendsofgypsy.org E-mail: fog@friendsofgypsy.org
Labrador Retriever Rescue of Florida 
Veterinarians and volunteers collaborate to find the best homes for purebred Labs that are spayed/neutered. Online applications for adoption are available. (866) 464-LABS, labradorrescue.net
Leon County Humane Society
This "no-kill" organization advocates for the adoption and humane treatment of all pets through rescue, and community education and assistance. (850) 224-9193, lchs.info
Southeastern Greyhound Adoption 
Uniting regional greyhound owners, Southeastern Greyhound Club provides exclusive activities from obedience training to pet therapy for members, and an adoption program featuring former racing Greyhounds. (770) GREYPET (473-9738), greyhoundadoption.org
Ssnakes Reptile 
Snake breeders Susan and Michael Sentman provide support and assistance. (850) 421-1894 or (352) 650-4910, ssnakes.com; Susan Sentman info@ssnakes.com
Tallahassee Collie Rescue, Inc. 
Tallahassee Collie Rescue meets the medical needs, including heartworm treatment, of the rescued purebreds in the organization's adoption program. (850) 251-6519, luckydogsolutions.com/collierescue; Foster, adoption or volunteer info: (850) 309-1593
Tally-Ho Mustangs (wild horse and burro rescue & adoptions) 
Promoting the welfare of America's wild horses and burros through education, demonstrations and exhibitions, and mentor and rescue with the goal of preserving and protecting wild horses and burros.
(850) 545-0024, tallyhorses@gmail.com
TLC Rabbit Rescue, Inc.
This organization transitions rabbits from the animal shelter to permanent homes through their animal adoption program. Spay/neuter and other medical needs are met while the rabbits await adoption. (850) 766-1435, petfinder.com; ddwayne@msn.com
T.R.E.A.T.S., Inc. 
Treatment Resources & Education for Animals in Temporary Shelter promotes responsible pet ownership through free spay/neuter procedures and community outreach on humane treatment of pets. treatsinc.org