A Heart for Horses
Triple R Gives Neglected and Abandoned Horses a Second Chance for Happy Trails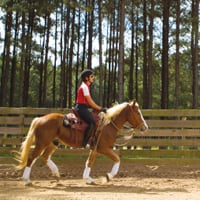 Photo courtesy Linda Kleindienst
Bonita came to Triple R Horse Rescue emaciated and neglected, but after rehabilitation and adoption, she's now "healthy, happy and living the high life."
In her heyday, Bonita was a trained, prized Paso Fino.
But on the hot summer day volunteers from Triple R Horse Rescue found her at a Wakulla County home, she looked bedraggled, her mane was matted, she was hungry — and she looked more like a walking skeleton than a high-priced horse. Even so, she still nickered when her name was called, sidling up to the fence for a little love.
Bonita was a victim of owner neglect, living in a paddock filled with sand and manure — and no shade. On the other side of the fence was lush green grass, but she couldn't reach it.
That was more than a year ago. Today she wanders a 100-acre pasture, is more than pleasantly plump (actually, she looks more like a butterball), gets groomed and ridden regularly and is loved by the woman who adopted her. "I remember the day she and Mo (Bonita's herd-mate) were unloaded at their foster home, Spoon Blue Stables. They were emaciated and I remember thinking, 'How can they even walk in that condition?'" said Sue Hitt of the horse she adopted. "Things are very different now. She is healthy, happy and living the high life."
Bonita (now affectionately known as "Bo") is one of the dozens of neglected and abandoned horses that have found their way to Triple R (formally known as Equine Rescue and Rehabilitation Ranch Inc.), a group of local volunteers who have banded together to help horses. Founded in 2009, it is one of the last resources for abused and hungry horses in the Tallahassee area. The rescues come mostly from a six-county area of North Florida and are housed in a network of 18 foster homes that stretch across Leon, Wakulla and Jefferson counties, as well as into South Georgia.
Eric Pelletier, Triple R's president and founder, is dismayed by what he sees, often having to fight back tears while negotiating with an owner to give up a horse that has been obviously neglected and often abused.
"Horse abuse has always been out there, but it seems to be more prevalent now, probably because of the economy," he said.
Indeed, horses aren't cheap. And this winter, last year's drought that devastated crops in the Midwest is expected to drive up the cost of hay and feed — while some horse owners already have trouble paying that bill.
Photo by Scott Holstein
Marsha Hartford Sapp trains Thor, who was found tied to a tree in Jefferson County and brought to Triple R Horse Rescue.
"I've never seen as many animals suffering because of the economic strain and, to be honest, I'm doing about as much rescue work as I am for my regular clients. That's how significant it is," said Dr. Tom Bevis, the rescue's primary veterinarian. "I think Triple R is a blessing for this area. Horse owners are feeling the pinch of this economy when a bale of hay costs $10 instead of $3."
There are a variety of ways a horse can find itself in the care of Triple R. Some, like Bonita and three of her herd-mates, will be voluntarily surrendered by their owners — and sometimes that will only happen after Triple R has been asked to intervene at the urging of a family member or a friend.
Other owners sign over the animals under pressure from local animal control or law enforcement officials. Some horses are simply abandoned, left to make it on their own survival instincts.
Or then there was the case of Thor, who was found tied to a tree outside the home of a Jefferson County volunteer fire chief. No one knew where he came from or how old he was. (A few days later that same fire chief got another, similar delivery — a mare he named Gypsy.)
After Triple R took in Thor, veteran trainer Marsha Hartford Sapp, coach of the Florida State University dressage team since 2004, volunteered to take on his training pro bono.
"Horses that have good training, good behaviors are much easier to place," Sapp said. "They are also more likely to stay in their newly adopted home. For me to take Thor is my way of ensuring he will find a good home."
Sapp, who runs Southern Oaks Equestrian Center, is no stranger to untrained horses. She's been part of the Extreme Mustang Makeover since 2009, a program that gives chosen trainers 100 days to work with never-before-handled wild horses and then present them at a competition. She's finished in the top five at two competitions.
She said the rescue is an important part of the Tallahassee equestrian community because "we don't have government facilities for horses like we have the shelter for domestic dogs and cats. There has to be a place for horses to go."
While the Tallahassee region is home to many lush horse farms and their well-fed equines, horses in need are spread throughout the community. Some are hidden in walled-in backyards, others in pastures not visible from the road, some in open view. The history of each horse rescued is often hard to determine.
Ninja, a 26-year-old Quarter Horse found starving in a sandy lot in Gadsden County, was once a barrel racer. But the owner, who was forced to sign him over to Triple R, never passed on that tidbit of information. It came from someone who had viewed the rescue's website and recognized the name and the horse. She had raced Ninja when he was young.
Some of the rescues are retired racehorses whose stories can at least be partly traced through the Jockey Club because of their tattoos. One such horse is Hummer, an emaciated gelding who was living in the backyard of a Woodville home. His racing name is Diamonds and Notes — and he was worth $25,000 as a two-year-old. Hummer started 36 races and won more than $160,000, then stopped racing when he was six years old. What happened in the intervening 10 years? No one knows. When he is healthy again, a volunteer will begin working with him to determine what training he may have gotten after he left the track.
Kateri Timmes and David Rigdon have fostered several horses at their Wakulla County home over the past two years. They are currently rehabilitating Gypsy, that Appaloosa mare who was found tied to the tree.
"I've learned how much hard work goes into rescuing a horse, from the fundraising necessary to raise money for feed and care to rehabilitating and retraining the horses to finding adoptive homes," Timmes said. "The best feeling is when a horse successfully finds a new, loving home."
Rigdon said the best and worst day he has experienced as a Triple R volunteer came when at the request of the Jefferson County sheriff's office he went to pick up Seminole, an emaciated mare found wandering the streets of Lloyd.
"This horse was literally nothing but walking bones," he remembered. But then he delivered her to her foster family "where I was met by a brother and sister who immediately provided her with food, water and shelter. With help from kids like this, I predict nothing but good things for Seminole's future."
It was the children who decided on the name Seminole for the mare because of its meaning — runaway.
There have been many successful adoptions, with some of the rescue's horses going as far afield as New York and Illinois. Yet there has also been sadness, the loss of horses that were too far gone to help.
"It's tragic that some horses cannot recover from the ills they have suffered at the hands of the people who were supposed to be caring for them," said Pelletier. "Of the dozens of horses we have taken into Triple R, we have lost three while they were in the rescue. We take comfort in knowing that at least they knew love and weren't going hungry for the last part of their lives."
Triple R raises money to care for the horses by running food concessions at local horse shows, selling calendars and grocery bags, and through its once-a-year Valentine fundraiser, Have A Heart 4 Horses. The funds help care for the horses in foster homes and are sometimes used to help families that have run into a financial bind and need temporary help to buy feed for their horses or get vaccines that will help their horses fend off deadly diseases like West Nile and Eastern Equine Encephalitis.
"We're trying to help these horses that are dependent on their owners for a meal," Bevis said. "I feel like we're providing a much-needed service to the community."
Jenny Wells signed on to help the rescue three years ago when her daughter, Samantha, became interested in volunteering. "I talked them into taking on my 12-year-old daughter as a volunteer — and then I ended up working the concessions too because she wasn't old enough to drive!" Wells said. As time went on, she gave advice on how to run the food operation and improve profitability — and now she's the concession chairman. With help from Samantha, she coordinates food purchases and volunteers for sometimes up to three horse shows running on the same day.
"Our successes have generated a lot of pride. And now I even know what a gooseneck trailer is," she joked. "When I first joined, I was asked what kind of trailer someone had … all I could say was, 'It's white.'"
You can find out more about Triple R and the horses currently in foster care at triplerhorserescue.org.
Want to Help?
Celebrate Valentine's Day with your honey and know that your romantic evening is helping horses in need at Have a Heart 4 Horses, Triple R's marquee fundraising event for the year.
Dinner, live music, an extensive silent auction and a bonfire are part of the festivities planned for this second annual event.
Have a Heart 4 Horses will be held at the Bradfordville Blues Club on Sunday, Feb. 10, from 3 until 8 p.m. Tickets are $60 or two for $100 and can be purchased through the Triple R website (triplerhorserescue.org).